IEA Says Energy Map Must Evolve to Become Sustainable
by Rigzone Staff
|
Bertie Taylor
|
Friday, September 06, 2013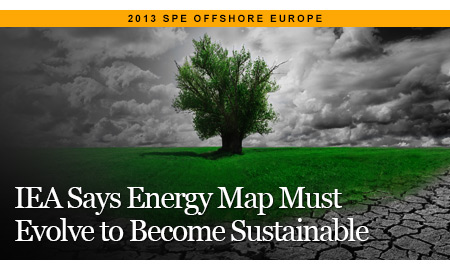 The foundations of the energy system are shifting, and one of the biggest changes is in how oil and gas demand is moving away from countries belonging to the Organisation for Economic Co-operation and Development (OECD) and toward developing countries. During the 2013 Offshore Energy Conference in Aberdeen this week, Capella Festa, senior energy analyst at International Energy Agency (IEA), outlined inevitable market shifts in the energy mix on the horizon through 2035.
In addition to demand changes, other energy shifts include the resurgence of oil and gas production in countries such as Iraq, Brazil, and, most strikingly, the United States. Energy efficiency and pricing are getting more political attention, and this can fundamentally change demand patterns, she said.
"In this changing energy map, people are asking about the implications of it relating to competitiveness and different price differentials. Also, with shifts in demand, what does this mean for geopolitics?"
The current energy map needs to change, because it simply isn't sustainable, she said.
"When you look at our fossil fuel subsidies, over 500 billion is spent each year mainly by countries such as the Middle East, North Africa – oil producing countries paying consumption subsidies on fossil fuels. Hard to see energy efficiency playing the role that it should when those subsidies are there. Also, those governments are finding this harder to maintain economically."
CO2 emissions were at a record high last year, and there are still 1.3 billion people in the world without access to electricity or clean water. All of these things are going to bring about change because they can't be sustained as a status quo, she said.
In the early 1970s when the IEA was founded, 60 percent of global demand was in OECD countries. By 2035 this will be completely reversed. The major players in China, India and the Middle East are the countries that will see the biggest demand growth, according to Festa.
"However, when we look at the energy mix, the shifts aren't so dramatic. We do expect a very rapid uptake in renewables. They will go from about 10 percent of the mix in 2010 to 18 percent in 2035. For fossil fuels, we expect that only gas will increase during the same period.
"While oil reduces its share in the mix, it will remain the largest source of energy (27 percent) in 2035. That percent for oil means just under one hundred million barrels per day. Interestingly, it's not all crude. A good portion of it will be natural gas liquids."
Fields that are producing oil today reduce by two-thirds by 2035. This means we have to find 40 million barrels per day of new capacity just to replace decline. It's why the investments required are so important, Festa said.
On the usage side, the transport sector is where more than half of the oil will be going in coming years. The demand for oil in transport is expected to grow faster than any other sector between now and 2035.
Geographically, the demand growth continues in places such as China, India and the Middle East. But in the OECD countries, demand will actually reduce. In North America, consumption is expected to decrease by around 5 million barrels per day by 2035.
In North America, this shift will be about demographics and saturation, but it's also about energy efficiency, she said.
"In the states, we see an amazing resurgence of production. In 2011, more than 9 million barrels of oil were being imported to the United States. By 2035, this gets closer to 3 million barrels. Today, the story is about increased oil supply backing out the imports, but as we get closer to 2035 it's more about a reduction in demand through fuel efficiencies and emerging use of natural gas in transport.
"As these shifts occur globally, there will be many implications from competitiveness to politics. What needs to be found to replace production during the next twenty years is enormous and as a part of this industry we need to understand it's critical to a sustainable energy future."
Generated by readers, the comments included herein do not reflect the views and opinions of Rigzone. All comments are subject to editorial review. Off-topic, inappropriate or insulting comments will be removed.
RELATED COMPANIES
Company: International Energy Agency (IEA)
more info
MORE FROM THIS AUTHOR
Rigzone Staff
e-mail us at news@rigzone.com