Australian Election Campaign Pledges Impact Oil, Gas Industry
by Ben Creagh
|
Rigzone Contributor
|
Friday, September 06, 2013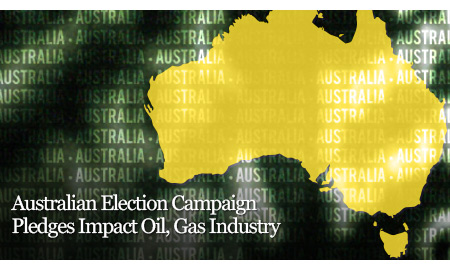 Australia's oil and gas industry will be relieved of the burden of the country's controversial carbon tax if a change of government takes place at this weekend's federal election.
Opposition leader and Liberal Party head, Tony Abbott, has vowed to scrap the carbon tax if his party is elected at the expense of Prime Minister Kevin Rudd and the Labor Party.
Pre-election polling has indicated that Liberal, with coalition partners The Nationals, will be elected to run the country following the official ballot Saturday.
Abbott has used his intentions to abolish the carbon tax post-election as a key driver of his campaign to bring Liberal back to office for the first time since 2007.
The carbon tax has taken a toll on Australia's oil and gas industry. Last month, leading Australian producer Santos Ltd. reported that its earnings took a hit during the first half of 2013 due to the levy.
Santos said it paid $32.6 million (AUD $36 million) in carbon-related costs for the period as part of a total tax bill that reached $173.8 million (AUD $192 million).
In its place, Liberal intends to introduce what is currently being labeled the Direct Action Plan as a way of reducing carbon emissions. The replacement proposes to directly fund companies like Santos to lower their emissions.
Meanwhile, Rudd, who has endured a tumultuous relationship with Australia's resources industry since his first appointment as Prime Minister six years ago, has relentlessly said that Labor would stand by its carbon pricing scheme, if re-elected.
Rudd has twice visited the resource-rich state of Western Australia during the election campaign to talk up the oil and gas industry's future.
The Prime Minister outlined plans to invest in a pair of new projects he believed would bolster oil and gas research and innovation.
Rudd told reporters: "With investment growth from China slowing, now is the time to diversify, to innovate and to put in place strategies that will see our resources sector keep creating jobs and export revenue."
A key feature of Labor's proposals includes a $30 million National Floating Systems Research Centre in Perth.
As part of a plan to support local content, Labor would also establish an Oil and Gas Innovation Partnership (OGIIP) under a $1 billion package for Australian jobs.
The Partnership, also to be headquartered in Perth, would focus on areas where collaborative innovation and research and development can improve the competitiveness of Australia's oil and gas industry.
This would include improving construction productivity, gas technology development in areas such as floating LNG, computational geosciences and subsea production.
The Australian Petroleum Production & Exploration Association (APPEA) applauded the proposed Partnership, saying it comes at a vital time as Australia's oil and gas industry looks to build on a period of unprecedented growth, investment and job generation.
"The industry-led partnership can make an important contribution to more competitive supply chains, increased productivity, advances in cutting edge oil and gas technology and a greater understanding of the social impact and contribution of the industry in Australia," APPEA chief executive David Byers said.
Elsewhere, industry groups in Australia have weighed in with post-election recommendations for the prevailing party.
According to the South Australian Chamber of Mines and Energy (SACOME), Australia's Petroleum Resources Rent Tax (PRRT) needs urgent attention and is currently leaving the state disadvantaged.
SACOME believes that since the inclusion of onshore operations to PRRT regulations designed for offshore projects, the lack of a high profit threshold tax is imposing heavily on the state's junior companies.
The industry group is calling for oil and gas companies with profits below $50 million to be exempt from paying the PRRT, as is the case with the equivalent tax for the mining industry, the Mineral Resources Rent Tax (MRRT).
"Such a mechanism is currently provided to ensure vulnerable junior miners with low profits are protected from the effects of the MRRT, so it only seems fair that this mechanism be introduced for junior petroleum companies, where the cost per well can range between $10 to $14 million per well for unconventional projects," SACOME chief executive Jason Kuchel said.
"In the Cooper Basin as well as other key onshore basins in South Australia, large oil and gas companies operate alongside junior companies, and the importance of the junior sector is critical to the further development of our oil and gas sector."
The Chamber of Minerals and Energy of Western Australia (CMEWA) released a report covering its recommendations for the state's resources industry.
A key element of the CMEWA's report covered the "cost of doing business" in Australia and how this growing issue should be controlled.
CMEWA said governments must minimise policy, regulatory risk and ensure the efficiency of administrative processes were in place to protect the future of the industry.
"Addressing the escalating cost of doing business in Australia must be a key factor in all Australian government policy to ensure Western Australian resources projects remain internationally competitive and continue to spread long-term economic benefits across Australia," CMEWA explained.
Generated by readers, the comments included herein do not reflect the views and opinions of Rigzone. All comments are subject to editorial review. Off-topic, inappropriate or insulting comments will be removed.