UK Chancellor Restates Support for Shale Gas at Offshore Europe
|
Tuesday, September 03, 2013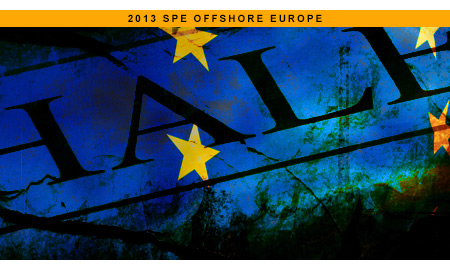 UK Chancellor of the Exchequer George Osborne used a speech at the Offshore Europe 2013 conference in Aberdeen Tuesday to reiterate the UK government's support for the development of unconventional oil and gas resources in the UK.
Speaking at the show's opening plenary session, Osborne acknowledged the UK public's concerns about the safety of shale fracking but insisted that the country would suffer competitively if it did not look to develop shale gas and oil resources.
"Of course we want exploration of our shale resources to be safe, to avoid environmental damage and to be done in a way where communities get the benefit of what's happening in their backyard. And that is why we got the industry to commit to generous community benefits," said Osborne, referring to a scheme announced in mid-July to ensure that local communities receive at least $150,000 of benefits from operators for every fracked well site.
"But let me also say this. Britain led the world in finding new sources of energy: coal in the 18th and 19th centuries, oil in the 20th Century and renewables at the turn of the 21st Century. If we turn our back as a country on sources of new energy, which countries like China and the United States are exploiting, then we are we are saying to British families: 'You pay energy bills that are higher than those paid by families elsewhere.' We are saying to British companies: 'You'll face costs that are higher than those faced elsewhere.' And we are saying to our country: 'You'll have fewer jobs and less investment and a higher cost of living.' But I am not prepared to say that to the British people.
"Britain is not going to turn its back on the energy sources of the future. So we've set out a generous new tax regime for shale gas to remove the bureaucratic obstacles to its use onshore and offshore."
In July, the UK Treasury announced that companies exploiting shale gas resources would likely have to pay a profit of just 30 percent as opposed to the current 62 percent levy on hydrocarbons produced by conventional means on the UK Continental Shelf.
Following Osborne's speech Sam Laidlaw, Chief Executive of UK integrated energy firm Centrica, backed up the Chancellor's sentiments.
"Whether or not we as a country decide to seize the opportunity there is no doubt that others will grab the competitive advantage that it offers. That advantage is not simply one of price or security of supply; it also confers the ability to attract energy intensive industries, with all the downstream value added that they bring," he said. "It's estimated in the United States that production of unconventional gas now supports more than one million jobs, while traditional industries such as petrochemicals have been repatriated and given a new lease of life."
Osborne also used his speech to argue the case against Scottish independence – a year ahead of the independence vote in Scotland that is scheduled for September 2014.
"Separate the UK, create an international border and the loss to every Scottish household would be £2,000 per family [per year]."
Pointing out the economies of scale that a greater United Kingdom can provide to the Scottish oil industry, such as the UK government's commitment to decommissioning relief for certain projects, Osborne dismissed the Scottish Nationalist case that Scotland would be better off economically by being outside of the Union.
"When you hear big numbers bandied around that aren't impartial and it sounds too good to be true it probably is," he said.
"Scotland could go it alone but to suggest that spending can be increased, tax bills cut, an oil fund established, household energy bills kept down and investment in renewables increased simply doesn't add up."
Referring to the Texan phrase "All hat and no cattle" Osborne said: "I hope those who advocate Scottish independence will offer a little less hat and a bit more cattle."
Generated by readers, the comments included herein do not reflect the views and opinions of Rigzone. All comments are subject to editorial review. Off-topic, inappropriate or insulting comments will be removed.