Career Spotlight: Petroleum Engineers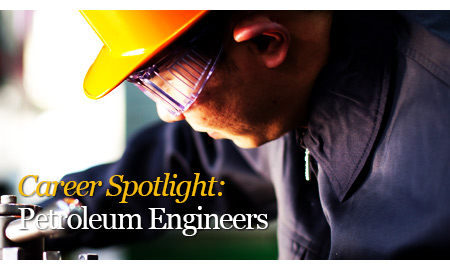 Petroleum engineers rank high on some "best job" lists. Salary levels are significantly higher than the national average for all salaries, and demand is good. Positions are available in the United States and in many countries around the world.
About half of all petroleum engineers work in the oil and natural gas industry, where they play a critical role in helping energy companies profitably extract deposits of oil and gas from below the surface of the earth, working as reservoir engineers, drilling engineers and production engineers.
Other opportunities for petroleum engineers include careers in the mining industry, and in petroleum and coal products manufacturing.
Petroleum engineers in the oil and gas industry work with geologists to understand the geologic formation of the rock where the reservoir is located. They evaluate potential oil and gas reservoirs, often using computers in the analysis of exploration data, and in performing a simulation of reservoir behavior. They then determine and implement the drilling methods to be used in a particular application, which may include the need to design and develop specialized drilling equipment.
Petroleum engineers also look for new and better ways to extract oil and gas from new and older wells. They make sure that wells, well testing and well surveys are complete and are properly evaluated. They must also ensure that oil field equipment is installed, maintained and operated correctly.
Traditionally, most oil and gas jobs, including petroleum engineering, were filled by men. However, career opportunities for women in the energy industry have been increasing, and energy companies are increasingly open to hiring qualified women as petroleum engineers.
The employment outlook for petroleum engineers between 2010 and 2020 is expected to be about 17 percent, which is average to slightly-better than average, according to the Bureau of Labor Statistics.