North Sea Crash: Alternatives to Super Pumas Sought
by Jon Mainwaring
|
Rigzone Staff
|
Tuesday, August 27, 2013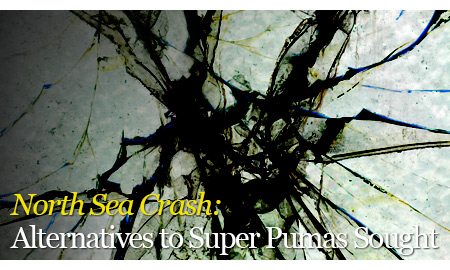 Oil & Gas UK reported late Monday that it is working with oil and gas operators and major contractors to find solutions to help obviate the effect of the current grounding of Super Puma helicopters. All versions of the aircraft were grounded in the UK after an AS332L2 variant crashed into the North Sea Friday, killing four people.
The organization held a meeting Monday with 80 representatives from the UK oil and gas industry to discuss the operational impact of the temporary suspension of Super Puma flights. Attendees discussed how operations could be affected across the UK Continental Shelf and what collaborative actions might be taken to minimize this and the operation impact on the offshore workforce.
Oil & Gas UK Chief Executive Malcolm Webb commented in a statement:
"The industry met today to set in train appropriate actions to address the operational consequences of the current situation. The Super Puma helicopter fleet represents over 50 percent of the capacity in the North Sea. The immediate knock-on effects of this are delays and flight backlogs with considerable inconvenience to the workforce and their families, and potential adverse effects on offshore activities.
"Our primary concern is assuring the safety of the workforce. The Helicopter Safety Steering Group (HSSG), which met on Saturday, recommended that flights of each of the various models of Super Puma helicopter should only resume when sufficient factual information to support this decision becomes available. Today's meeting endorsed that position.
"Individual operators have contingency plans in place for when flights are suspended due to bad weather for example, but preparing for a wider or potentially longer-term issue will require industry-wide collaboration. Oil & Gas UK will therefore work with its members and the regulators to ease the adverse impacts of this loss of capacity."
Also on Monday, the Unite union – which represents offshore oil and gas workers – called for an urgent reform of how the authorities respond to fatal accidents and demanded an emergency debate in the Scottish Parliament.
1
2
View Full Article
Generated by readers, the comments included herein do not reflect the views and opinions of Rigzone. All comments are subject to editorial review. Off-topic, inappropriate or insulting comments will be removed.
RELATED COMPANIES