Oil Spill Hits Southeast Asia, Responses Scrutinize
by Chee Yew Cheang
|
Rigzone Staff
|
Wednesday, August 21, 2013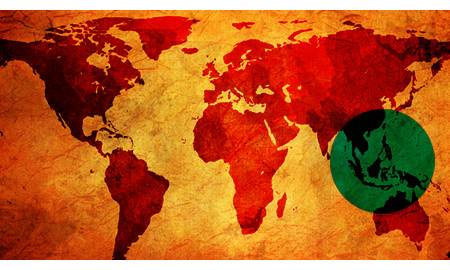 The prospect of an oil spill has always been a recurrent concern for the energy industry given the world's dependence on petroleum in keeping its economies humming along. Since the start of July, Southeast Asia has witnessed four oil spills and a vocal public closely monitored the way in which the authorities dealt with the impact of these incidents. While some countries responded expeditiously and efficiently, others were bogged down by the oil spill.
The Oil Spill Season
The oil spill "season" began in Singapore, when a South Korean-registered bulk carrier, Oriental Pioneer, and a Bahamas-registered bulk carrier, Atlantic Hero, collided July 2 about 4 miles south-west of Tanah Merah Ferry Terminal off Singapore. The collision damaged one of the Oriental Pioneer's bunker tank and approximately 100 tons of fuel oil was spilled.
Thailand came next when crude oil spilled July 27 while being transferred from a tanker through the single point mooring (SPM) to the pipeline for delivery to a refinery owned by PTT Global Chemical pcl (PTTGC) – a subsidiary of Thailand's PTT pcl. The leak occurred in a 16-inch diameter pipeline at the SPM, which is located around 12.4 miles southeast of the Map Ta Phut port in Rayong province. The leak spilled about 50 tons (50,000 liters) of crude into the Gulf of Thailand, PTTGC said in a press release.
Three days after the Thai incident, an Indonesian tanker – MT Patriot Andalan – that belonged to national oil company PT Pertamina crashed into a jetty at an oil terminal in Ternate, North Maluku, eastern Indonesia as it was unloading gasoline and diesel. The crash broke one of the tanker's 12 storage compartments, Pertamina spokesman Ali Mundakir told The Associated Press Aug. 2. The tanker, which carried 7,000 tons of oil from Wayame in Maluku province, spilled 5,400 tons into the Molucca Sea, Bagus Handoko, Pertamina's distribution manager told Indonesian daily Jakarta Globe.
Philippines firm Petron Corporation was involved in the last oil spill Aug. 8, when over 132,086 gallons (500,000 liters) of diesel was leaked into Manila Bay in the Philippines. Philippines Coast Guard (PCG) investigated and concluded that the leak was from an offshore pipeline operated by Petron, causing a slick that spread across 12.43 miles of the coastline. Petron had contracted the MT Maksig tanker to discharge diesel to its Rosario Terminal in Cavite in Manila Bay.
Dealing with the Spill
The Singapore oil spill was contained fairly quickly, with the Maritime Port Authority of Singapore (MPA) reacting immediately by dispatching a patrol craft to deal with the incident. Oil spill response companies provided nine anti-pollution craft, supporting the patrol craft for the clean-up operations. Nine craft were deployed for surveillance, containment and recovery, and the MPA reported a day after the incident that no significant patches of oil were sighted in the affected waters. Oil stains found along the rock bunds and sandy shoreline near Tanah Merah Ferry Terminal were cleaned up by the National Environment Agency, which coordinated cleaning efforts along these affected areas.
"These kind of situations [oil spills] have been foreseen, with many agencies cooperating when they are activated to deal with this," a MPA source told Rigzone.
1
2
3
4
View Full Article
Generated by readers, the comments included herein do not reflect the views and opinions of Rigzone. All comments are subject to editorial review. Off-topic, inappropriate or insulting comments will be removed.