LNG Exports: A Chat with CLNG's Bill Cooper
by Matthew V. Veazey
|
Rigzone Staff
|
Monday, August 19, 2013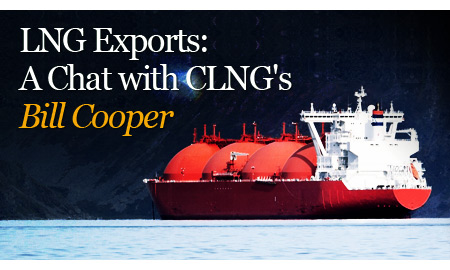 Rigzone recently featured a series of articles highlighting different viewpoints from prominent individuals on the issue of exporting liquefied natural gas (LNG) from the United States. Shortly after the six-part series ran, the U.S. Department of Energy (DOE) added a new "twist" to this evolving story by granting conditional approval to a third LNG export terminal: BG Group and Energy Transfer Partners' Lake Charles Exports project in southwestern Louisiana. The two other LNG export terminal investments include Cheniere Energy's Sabine Pass Liquefaction Project and the Freeport LNG Liquefaction and Export Project, which is owned by ConocoPhillips, Dow Chemical, Osaka Gas and others.
As the head of a trade association of LNG producers, shippers, terminal operators and developers, Center for Liquefied Natural Gas (CLNG) President Bill Cooper is naturally pleased with the latest DOE action on the LNG export issue. However, he finds the pace at which DOE has rendered LNG export decisions too slow.
Cooper points out that many more applications for LNG export projects await action from DOE. Moreover, he stated in a subsequent CLNG press release that comment periods for 16 of the 19 pending applications have closed.
"[T]here should be no new information to consider," remarked Cooper. "The facts are clear: increased LNG exports will unlock significant benefits to our economy, workforce and trade partnerships. It is time for DOE to follow its rules and act quickly on the pending applications."
Following DOE's Aug. 7 decision on the Lake Charles project, Rigzone contacted Cooper for his insights on this latest development as well as the broader dialogue about LNG exports among various stakeholders. A transcript of his conversation with Rigzone follows.
1
2
3
4
View Full Article
Generated by readers, the comments included herein do not reflect the views and opinions of Rigzone. All comments are subject to editorial review. Off-topic, inappropriate or insulting comments will be removed.