Getting Connected: the 'Industrial Internet' in Oil, Gas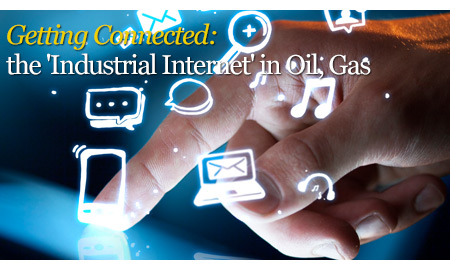 The Industrial Internet is a term coined by General Electric to describe the convergence of machines and intelligent data. Put simply, it means an open worldwide network that connects people, data and machines.
Just as the Internet has, over the past two decades, significantly improved how people and businesses communicate with each other, GE believes that the Industrial Internet can improve communication between industrial equipment and the people who manage it.
GE used a London conference in June to highlight the findings of a report titled "The Industrial Internet – Pushing the Boundaries of Minds and Machines: a European Perspective". The report made some bold claims, including that the Industrial Internet could add some $2.9 trillion to Europe's gross domestic product by 2030. In addition, it stated that European industry could save billions of dollars annually if the Industrial Internet were adopted throughout the region.
"Our research has found that the productivity benefits driven by this marriage of machines and analytics are multiple and significant," GE Chief Economist Marco Annunziata, who was addressing attendees at the Minds+Machines event, said.
As far as the European oil and gas sector is concerned, GE reckons the adoption of the Industrial Internet by the sector could lead to significant savings, pointing out that a one-percent reduction in capital spending on exploration and production would lead to $9.3 billion in savings over 15 years.
Of course, data collection from industrial machines has been going on for decades. The use of SCADA (supervisory control and data acquisition) to monitor and control industrial processes is common across a number of sectors. But usually this data collection is done by, and on behalf of, engineers and technicians who work directly with the machines at the same location.
Preventative Maintenance
"What we are doing here that is new is to provide this data to people who in the past didn't see this data. For example, in the business of turbomachinery (rotating assets like gas turbines and compressors), we collect the data from the operations facilities and we make it available to people who can add value wherever they are located in our company," Roberto Baccani, who is general manager for engineering at GE Oil & Gas, told Rigzone in a recent interview.
1
2
3
4
5
View Full Article
Generated by readers, the comments included herein do not reflect the views and opinions of Rigzone. All comments are subject to editorial review. Off-topic, inappropriate or insulting comments will be removed.