Musings: Shale Alters Energy Market, But Players Face Challenges
by G. Allen Brooks
|
PPHB LP
|
Friday, August 02, 2013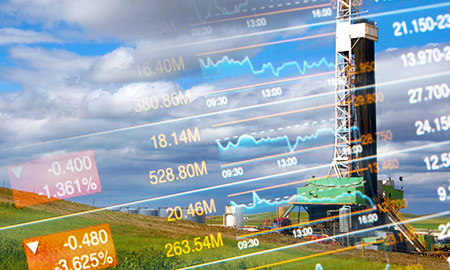 This opinion piece presents the opinions of the author.
It does not necessarily reflect the views of Rigzone.
When domestic natural gas output grew like a phoenix from the ashes of an industry projected to be completely dependent on Canadian and liquefied natural gas (LNG) imports to meet future demand, the gas shale revolution was hailed for its role. Gas executives, analysts and investors were amazed by the volumes of gas being unlocked by shale wells as a result of the technical success of marrying horizontal drilling with hydraulic fracturing. The gas industry's phoenix-like recovery, however, was halted by the global financial crisis in 2008. But prior to that time-out, it appeared the gas industry was going to enjoy an unusual era of high natural gas prices coupled with strong oilfield activity, i.e., substantial production volumes and high drilling rig counts. That view even led some industry participants to begin imagining a world in which gas demand might never be constrained by inadequate supply.
The siren song of unlimited, cheap natural gas unleashed by the shale revolution created a boom for land leasing and drilling activity. Demand for drilling and completion services was so strong that it outstripped supply, boosting service prices and attracting huge capital inflows. This boom, which some refer to as the gas shale traveling road show, drove players to scour the landscape in hopes of finding the next most promising shale and swooping in to establish a large land position cheaply before the rest of the industry caught on. What many of these promoters failed to anticipate was how the prolific gas supply being unleashed by this boom would negatively impact gas prices, and in turn the profitability of gas shale plays.
Students of the gas shale revolution are quite familiar with the chart in Exhibit 1 (page 2) that shows the recent history of U.S. gross natural gas production and U.S. land gas output component compared to the rig count for those targeting natural gas prospects since 2005. From the early 2000s until the summer of 2008 when the financial crisis exploded, there was a steady increase in gas-oriented drilling along with a steady rise in land gas output. Overall, U.S. gas output did not climb as steadily as the land gas output component since production trends offshore in the Gulf of Mexico and in Alaska often rose and fell due to local situational events.
The dramatic decline in the rig count as a fallout from the financial crisis can be clearly seen in the chart, but notice also that land gas output declined. Total domestic gas output also fell, but it declined at a faster rate than the land output suggesting that Gulf of Mexico output also suffered from the financial crisis fallout. The important trends to observe are what happened to output and gas-oriented drilling as the nation struggled to extricate itself from the 2009 recession, which undercut economic activity, energy demand in general, and natural gas output in particular.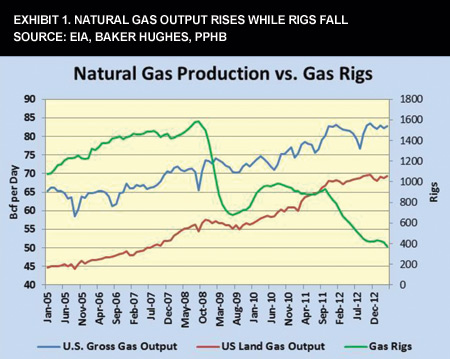 Starting just about a year after the 2008 peak in gas output, production turned up, both for land output and overall U.S. gas supply. That production rise continued until the fall of last year when it appears that both total gas output and land gas production reached peaks. Shortly before the gas production upturn in late 2009, gas-oriented drilling began to recover. The rig count upturn lasted just about a year before flattening out and then declining until early fall of 2011, at which point the rig count began a steep slide that has only recently moderated.
To understand how the gas industry became convinced it had entered a new era of unprecedented prosperity, one needs only to look at the price of natural gas during 2005-2013 as shown in Exhibit 2 (page 3). In broad terms, the history can be divided into pre- and post-financial crisis periods. With the exception of two significant spikes in natural gas prices between 2005 and 2009, gas prices essentially traded in the $7-$8 per thousand cubic foot (Mcf) range, a very healthy price. As the financial crisis and resulting recession trimmed domestic energy and natural gas consumption, while at the same time gas output was growing, gas prices slid until they bottomed in early 2011 in the $3/Mcf range, or less than half what prices had averaged in the pre-crisis era. While natural gas futures prices have recently rebounded above $4/Mcf, they are now trading in the mid-$3/Mcf range. The average price for the post-financial crisis era appears to be in the $3-$4 range, which is about half the average price for gas before the crisis. What appeared so promising and profitable for the gas business at mid-decade now looks to be a distressingly difficult challenge.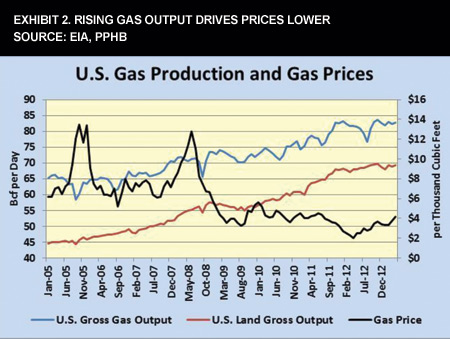 From an economic viewpoint, the best explanation of what happened to the gas industry over the past few years is demonstrated in two charts presented by energy communications firm EnerCom at its London conference earlier this summer. The two charts show supply and demand curves from the pre-crisis era and the post-crisis era. The first chart (Exhibit 3, page 4) shows what would be expected in classical economic theory if the gas supply curve of 2007 remained stable while gas demand grew to 2012's level – higher natural gas prices!
The reality was that as demand grew, largely due to increased consumption in the power generation market in response to gas prices being below coal prices, the shale supply boom grew faster resulting in falling natural gas prices. The questionable assumption with this analysis is that the marginal cost of gas supply fell. In this post-crisis era, the decline in marginal costs was driven by questionable assumptions influencing the mathematics of calculating that cost.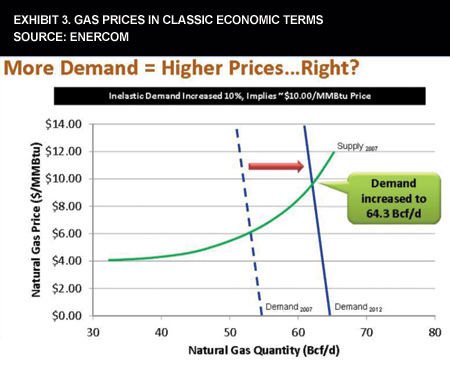 If you excluded "sunk" costs – largely lease acquisition costs, geological and geophysical costs and often G&A expense – and divide the remaining costs of finding and developing gas by a liberal estimate for ultimately recoverable gas volumes, the resulting cost per Mcf was low. That belief supported (deluded?) operators into continuing to drill more highly prolific gas shale wells. What if less liberal assumptions had been used? Maybe marginal costs wouldn't have seemed so low, causing drilling to slow sooner.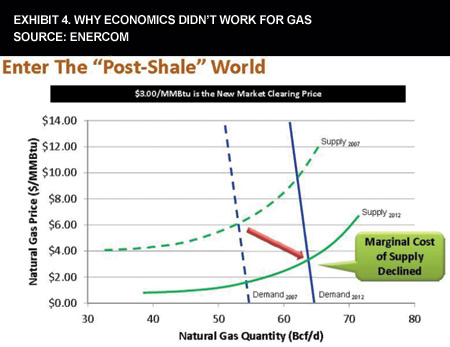 The natural gas industry's response to sliding prices in 2010 was traditional – stop drilling. Unfortunately, the gas shale revolution had imbedded in its DNA an impediment for halting the price slide. That impediment was the commitments producers had made in their leasing agreements with landowners that the companies would commence drilling wells quickly and bring them into production in order for the landowner to receive his royalty income. These clauses were used to convince skeptical landowners they would not be yielding future income by signing leases, when past industry practices saw leaseholders often sitting on the acreage until larger property tracts were assembled, or waiting for higher gas prices. There was always the risk for the landowner that his acreage could be condemned by a neighboring dry hole. While these drilling commitment clauses were inserted by companies with a marketing edge in mind during the land-frenzy, they were not considered a potential problem since conventional wisdom at the start of the shale revolution was that the gas was sealed in blanket formations extending over the entire area and that the wells would be universally productive throughout. If true, why would a company worry about having to drill a well in order to retain leases since every well would be productive and presumably profitable?
What we have learned about the shale revolution over the past few years is that all shale formations are not alike, let alone uniform in their productive capabilities. This fundamental truth lies at the heart of the problems and challenges now facing gas producers, service companies, pipeline companies and investors. That truth could also be extended to include governments who now face lower-than-anticipated revenues and higher-than-expected infrastructure costs. This reservoir truth about shale formation diversity also helps to explain why the traditional industry adjustment mechanism of stopping drilling hasn't worked as usual.
As the geological challenges of shale haven't derailed the shale revolution, although they have caused it to shift from a dry-gas to a liquids-rich and crude oil focus, understanding other key driving forces behind the shale revolution becomes paramount for understanding the future direction of the domestic oil and gas business. One of those forces is capital flows into the industry while another is technological improvements in extracting gas volumes. Both forces are critical to understanding why certain decisions are being made and what future decisions companies must make in order to position themselves in the fairway of the industry's future. Side issues involved in shaping the industry's future include the price of natural gas, the pace of gas demand growth and whether new markets for domestic gas can be created or exploited.
If we focus on money as the force that drives, and continues to drive, the shale revolution, one can almost start with George Mitchell and his Mitchell Energy Company that cracked the code to begin commercially unlocking shale gas reserves from the Barnett formation in Central Texas. The willingness to experiment with drilling the shale formation was in response to the need for Mitchell Energy to meet a gas supply contract. Without additional supply, Mitchell Energy might have become a victim of a contractual supply shortfall, rather than becoming the George Washington of the shale revolution. Once the shale revolution was established, corporations on the outside that wished to become involved began acquiring small producers who were early participants but lacked sufficient capital to undertake the drilling to which they had committed. The shocking move by ExxonMobil (XOM-NYSE) to buy XTO Energy for $41 billion in cash and debt assumption in 2009 in order to achieve overnight a significant position in this business set off a wave of copycat transactions. Demonstrating how important this acquisition was for Exxon's corporate strategy was the decision to move Exxon gas employees into XTO's offices in Fort Worth, along with retaining key XTO executives.
Since Exxon's move, the industry has witnessed numerous transactions, including outright company purchases, equity investments and the formation of joint ventures. Much of this outside money came from foreign and national oil companies seeking to boost their gas reserves, but more importantly to learn about the shale revolution for potential export to their home markets. Exhibit 5 shows a history of the funds involved in these foreign joint venture investments.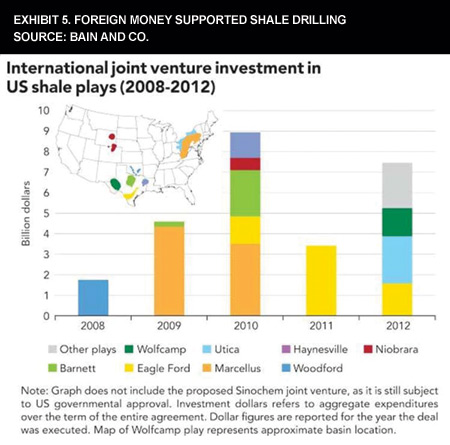 Additionally, there has been a huge wave of private equity money seeking to participate in the shale revolution. New companies backed by private equity funds were formed. At one point several years ago, we had a discussion with an A&D professional (acquisition and divestiture of producing assets) who said that all the properties she had for sale were conventional oil and gas wells and prospects, including entire portfolios of private equity-backed companies who were convinced that unless they were 100% focused on shale, it would be impossible to tap public capital markets. The flood of private equity money into the oil and gas producing sector, as well as the oilfield service industry, is being driven by the promise of a future natural gas and crude oil bonanza. That may prove to be a risky strategy, however.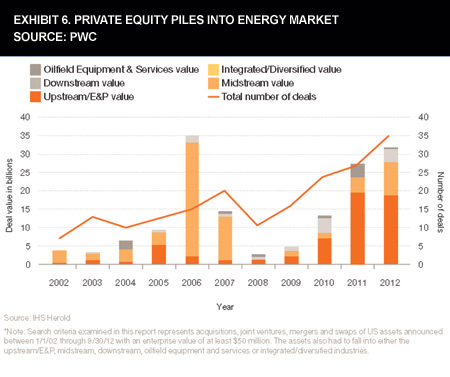 Forecasters around the world have declared America to be the new Saudi Arabia and a disruptive force in OPEC's and Russia's future. Moreover, the supposed 100 years of U.S. natural gas supply suggests that new gas markets for vehicle transportation fuels and liquefied natural gas (LNG) exports offer huge profit opportunities. Rising global demand for American shale gas could lead to higher domestic prices bringing producers huge profits. Of course that potential bonanza has triggered a debate over whether the United States should allow natural gas exports, or whether by restricting them we ensure low gas prices for a long time and enhance a revival of the American manufacturing sector with its large job-creating power. Only time will tell. But we do know that piles of private equity money are resting on the sidelines awaiting new opportunities to invest in the shale revolution. How can they do otherwise given the promise of long-term rewards?
The love-affair with the shale revolution, even though its financial rewards have not been prolific, has created a dilemma for all oilfield service companies, but in particular the contract drillers. The decline in natural gas prices since 2009 has forced operators to focus on cutting costs in their shale programs. The first reaction of producers to falling prices was to shift from drilling dry gas wells in favor of crude oil and liquids-rich targets. Simply put, these latter outputs earn higher prices, thus providing greater profitability for producers.
For those who could not completely shift their business focus, the pressure of low gas prices has become a significant driver to lower field costs. Much can be, and has been, done to reduce drilling time through greater use of seismic data, better understanding of the various formations to be drilled through to reach the target formation through downhole telemetry devices, improved bits and drilling fluids, better directional drilling hardware, and the use of drilling pads to reduce rig moving time.
Significant improvements have been made in downhole drilling and completion software and hardware. Many of these improvements eliminate or reduce the input of humans. The same thing is going on above ground. Pad drilling reduces rig mobilizations and well stimulation setup times, saving time and expense. Additionally, the industry is working toward developing fully-automated drilling rigs, i.e., rigs without human control. While that goal still remains in the future, there have been significant improvements in drilling time – known as rig efficiency. There has been so much improvement that Nabors Industries (NBR-NYSE) even cited drilling efficiency for creating a problem for producer capital spending during the second half of this year. Since wells are being drilled much faster than in the past, producers are spending their budgets faster and will exhaust their authorized funds much earlier in the year than normal. A recent exploration and production company spending survey projects that instead of a 0.8% decline in U.S. capital spending in 2013; it will fall by 2.6%. If true, drilling activity in the fourth quarter could become a rarity. Another survey says spending will increase.
Faster drilling means that the cost of rig time per well is reduced, but the amount of money spent on drilling consumables along with drilling and completion services remains constant for each well. If a rig is on a term contract (one year, for example) there is no savings on this cost component when drilling wells faster, but since all other costs remain stable for each well drilled, the more wells, the greater the cost. This is why improved rig efficiency is consuming capital budgets faster. This is not good news for drillers who are finding that fewer rigs are needed to drill the same number of wells each year. Unless capex budgets expand, the drilling rig count is unlikely to improve during the balance of this year and it raises questions about the pace of drilling and the number of rigs needed in future years.
Longer term, the unanswered question for drillers is what will the rig fleet of the future look like? How big will it be? What types of rigs will be needed? If the future of North American drilling is truly all about shale, then a certain rig fleet profile is dictated. On the other hand, what happens to that profile should shale prove less successful requiring greater drilling for conventional resources? Can we learn anything from examining the history of the evolution of the domestic rig fleet? Has there been another time in history when the drilling industry confronted a similar market and equipment shift in response to changing market trends? To examine the rig fleet we have relied on the annual rig census now compiled by a subsidiary of National Oilwell Varco (NOV-NYSE). While the survey originated in 1955, it was not as detailed then as now. Additionally, the survey was not conducted in 2002; therefore we have a one-year break in all the charts.
Since 1988 there has been a meaningful gap between the number of land drilling rigs available for work and those active during any particular year. That gap was wider in the late 1980s and early 1990s due to weak natural gas and crude oil prices. As prices rose in response to the late 1990s economic boom, the effective utilization of the fleet rose. What we noticed is that starting in 2006 the gap between available and active rigs widened and has remained wide through last year's survey. Based on the current active rig count reported by Baker Hughes (BHI-NYSE), we suspect the gap has continued to be wide.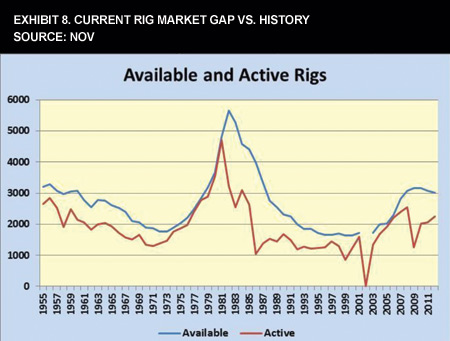 When we look at the total fleet of active versus available rigs over the entire survey time period, we find a similarly wide gap existed during the 1980s industry depression. A noticeable gap also existed in the 1950s and 1960s, but not as large as today. What we also know about that earlier period is that Baker Hughes reported a peak active drilling rig count in 1951 of over 3,000 rigs, suggesting that the available fleet was similar to that reported in the NOV survey for 1955.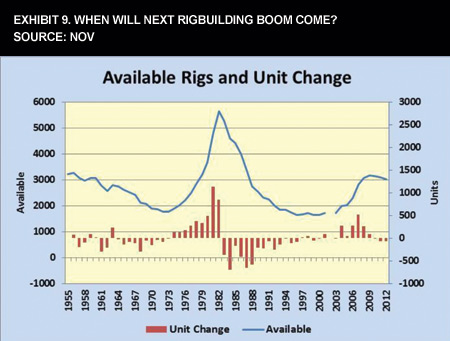 In order to see how the available rig fleet has changed over time, we calculated the unit change each year, which is a composite of new rigs built, rigs reactivated, rigs returned to the United States from abroad minus rigs lost due to accidents, rigs mobilized abroad and those retired. What is evident from Exhibit 9 is the great rig building boom of the late 1970s and the industry depression of the 1980s. We also see the fleet expansion in the early 2000s and its contraction in recent years, despite new rig building programs underway by several prominent land drilling contractors. Their new rig additions have been offset by rig retirements.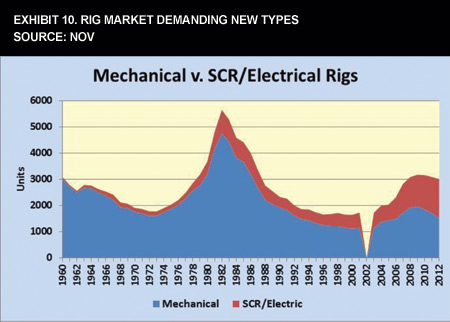 It is interesting to examine the types of drilling rigs that make up the fleet. While there are various power sources under the mechanical definition – diesel, gas and steam – their share of the entire fleet has shrunk in recent years. You will note that we started the chart in Exhibit 10 (page 10) with 1960 since the survey data suggests greater fleet information about rig power was not collected prior to then. Another way of looking at the evolution of the rig fleet is to examine the unit change by rig power as displayed in Exhibit 11.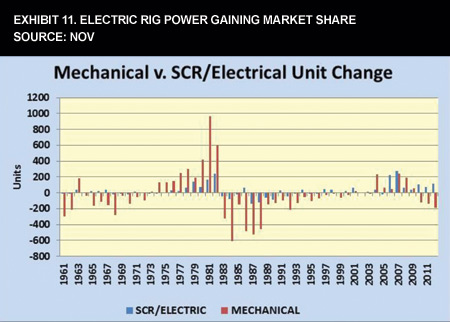 What we see in the change in the rig fleet by power source is that during the 70s and 80s boom and bust cycle, mechanical rigs were preferred. There were a number of SCR/electric rigs added to the fleet in the early 80s but nearly a similar number were retired in the remainder of the decade. If we examine what has happened since 2000, although there were a number of mechanical rigs built, the power source mix has steadily shifted in favor of SCR/electric rigs. The reason for this shift is the greater power needs of shale drilling rigs and the greater control required over the drilling process.
Improving the drilling process has become extremely important for producers seeking to boost their financial returns. Improvements have manifested themselves in the rig design (taller masts to handle longer pipe sections reducing the number of pipe make-ups; modularization to reduce mobilization times), increased automation (top drives; automated pipe rackers; automatic iron roughnecks), drilling activity (pad drilling; multilateral drilling; pinnate drilling; using different size rigs to drill the shallow, intermediate and deep sections of the well) and the drilling process (MWD; LWD; TBL; synthetic drilling fluids; new drillbit designs; improved downhole drilling motors). All of these items have increased the efficiency of drilling and the accuracy of wells.
Drillers are wrestling with comprehending how the drilling process may change in the future. Will it involve more improvements in the rig design, the realm of the driller, or in downhole software and hardware provided by service and equipment companies? A paper several years ago by researchers at the Energy Information Administration (EIA) who were trying to understand the impact of drilling efficiency on the growth in reserves and production offered some insightful points. Horizontal drilling has become a significant portion of total drilling. In the 1990s, barely 9% of wells were drilled horizontally. By 2010, they accounted for more than 50%. There has been a steady reduction in the number of days needed to drill wells in all the shale basins. A chart on Haynesville wells illustrates this trend, but it is true for virtually every shale basin.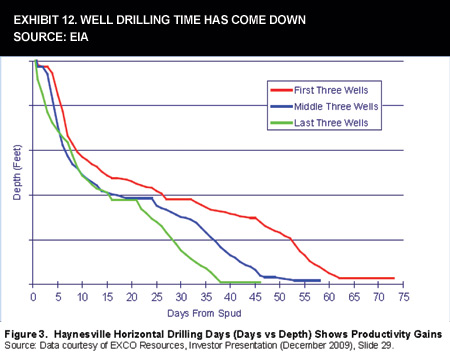 Another measure of rig efficiency improvement is demonstrated by the steady increase in the average amount of footage drilled per rig per year.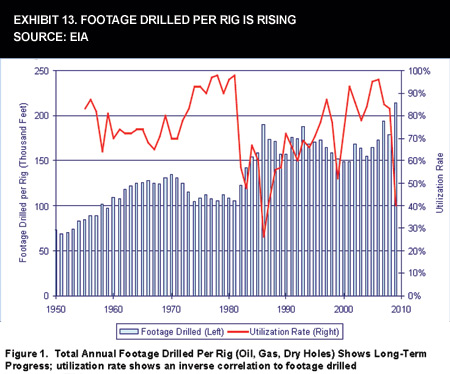 Another way to observe the impact of drilling efficiency is to look at the long-term trend in the number of wells per year drilled per rig. Although the data in Exhibit 14 ends in 2008, the chart shows a generally higher sustained number of wells drilled per rig in recent years compared to the 1950-1980 period. We suspect the wells-perrig number is higher today than shown in the chart due to recent technological improvements. This phenomenon is what was referenced earlier with respect to producers drilling up their capital budgets faster than they normally have done.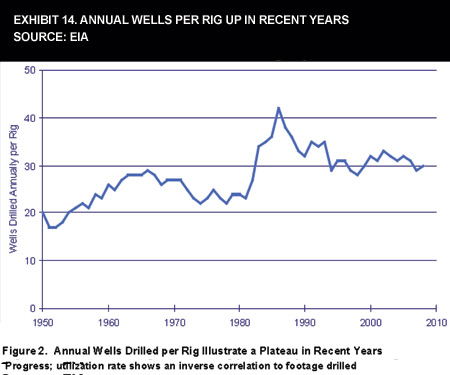 Unfortunately, we have no roadmap for how the contract drilling business will change in the future. We are confident, however, it will change, and maybe in ways that are not obvious today when looking at industry data. What new drilling technologies will emerge is difficult to anticipate. We know producer cost pressures will drive change. Likely, it will mean fewer but more efficient electric drilling rigs that employ greater technology and software but fewer people. As the shale revolution has altered the debate over the resource and production potential of America and the world, it will also impact the producers and service companies trying to navigate their way to the future. These sectors will change, just how we aren't sure.
Generated by readers, the comments included herein do not reflect the views and opinions of Rigzone. All comments are subject to editorial review. Off-topic, inappropriate or insulting comments will be removed.
MORE FROM THIS AUTHOR
G. Allen Brooks
Managing Director, PPHB LP