China Opens Pipeline to Bring Gas from Myanmar
by The Associated Press
|
Louise Watt
|
Monday, July 29, 2013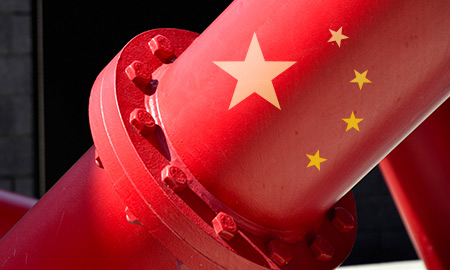 BEIJING (AP) — China has switched on a pipeline bringing natural gas from Myanmar, a state company said Monday, in a project that has raised concerns in Myanmar's nascent civil society about whether its giant neighbor's resource grabs will benefit local people.
The 793-kilometer (493-mile) pipeline connects the Bay of Bengal with southwest China's Yunnan province and is expected to transfer 12 billion cubic meters of natural gas to China annually, according to a news release on the website of China National Petroleum Corporation (CNPC). A parallel 771-kilometer (479-mile) pipeline that will carry Middle East oil — shipped via the Indian Ocean — is still under construction.
China's investments, largely in energy and mining, have generated controversy in Myanmar because they have done little to relieve that country's chronic power shortages. In response, the Myanmar government abruptly suspended construction in 2011 of the China-backed Myitsone dam, which would displace thousands and flood the spiritual heartland of Myanmar's Kachin ethnic minority.
While the pipelines are expected to provide only a small proportion of China's oil and gas consumption, they are strategically important to Beijing. The gas pipeline that began operating Sunday offers a nearby source of gas, and the oil pipeline would eliminate the need for tankers from the Middle East to pass through the crowded Malacca Strait between Malaysia and Indonesia.
The two joint ventures are between state-owned China National Petroleum Corporation (CNPC) and Myanmar's national petroleum company Myanmar Oil and Gas Enterprise. Four other companies from India and South Korea also have stakes in the project, according to CNPC.
For years, China was the closest ally of Myanmar's military regime, which was shunned by the West because of its poor human rights record and failure to hand power to an elected government. Since 2011, when an elected, though still military-backed, government took office, Myanmar has undergone political and economic reforms and has courted investment from the West.
The reforms have brought heightened activity from nongovernment and civil society groups in Myanmar, said Tony Nash, Singapore-based managing director of economics and risk consulting for IHS, an independent economic consultant. This, together with growing competition from Western companies in Myanmar, will push Chinese companies to be more transparent about how their investments will affect the local population, he said.
1
2
View Full Article
Generated by readers, the comments included herein do not reflect the views and opinions of Rigzone. All comments are subject to editorial review. Off-topic, inappropriate or insulting comments will be removed.