SHARC Cuts Down on Cost, Risk in Plugging and Abandonment
by Karen Boman
|
Rigzone Staff
|
Friday, July 26, 2013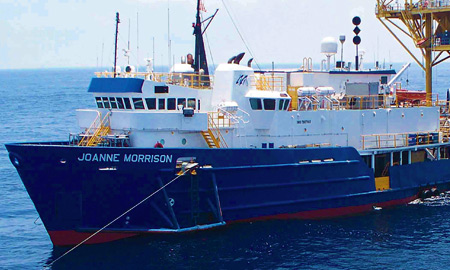 Chet Morrison Contractors' new subsea hydraulic abrasive rotating cutter, or SHARC, can decrease the cost, time and environmental impact of subsea plug and abandonment operations as well as the exposure to hazards that commercial divers face.
Officials with the Houma, La.-based company say SHARC can reduce overall time spent on a job by 60 percent, and could make a major difference in the oil and gas industry as thousands of wells are set for abandonment in the future.
SHARC, which is rated for work with diving support vessels in up to 1,000 feet of water, is deployed from Chet Morrison Contractors' 240-foot saturation/surface vessel DSV Joanne Morrison. The vessel is outfitted with a six-man Sat system and a hyperbaric rescue chamber – required when divers are in a saturation system as an escape "capsule" in an emergency such as a fire or vessel sinking.
Using the DSV Joanne Morrison allows the higher costs of larger spreads, including personnel, equipment, vessels and support services to be avoided. By deploying SHARC directly over a well casing, jacket leg, pilie or caisson opening via a remotely operated vehicle or diver, operations can be controlled and monitored from the surface.
SHARC can make clean, even cuts on tubulars from as small as two inches in diameter and larger, and can handle wall thicknesses up to three inches thick, or multiple grouted strings. SHARC can cut any size caisson or jacket leg from above the surface or below to water depths up to 1000 feet, according to Chet Morrison Contractors.
How SHARC Was Born
The SHARC prototype was developed for use last year in a subsea plugging and abandonment (P&A) operation at three fields in the Vermilion, South Marsh Island and High Island area of the U.S. Gulf of Mexico.
SHARC was developed from an existing "Surface Operated" abrasive cutting method that had in the past been deployed from a fixed structure – a platform, drilling rig or liftboat. The SHARC has all bearings enclosed and the gearbox, or method of cutting to rotate the downhole assembly, is built to equalize with hydrostatic pressures to 1,000 feet.
1
2
3
4
View Full Article
Generated by readers, the comments included herein do not reflect the views and opinions of Rigzone. All comments are subject to editorial review. Off-topic, inappropriate or insulting comments will be removed.