Lundin Finds More Oil at Johan Sverdrup
by Rigzone Staff
|
Friday, July 12, 2013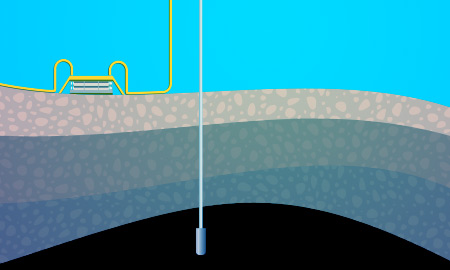 Sweden's Lundin Petroleum reported Friday that it has completed appraisal well 16/3-6 on the Johan Sverdrup discovery in the Norwegian North Sea, finding a 37.5-foot oil column in good quality sandstone of Upper Jurassic age.
The well is located at the eastern flank of the Johan Sverdrup discovery. It was drilled approximately three miles southeast of the discovery well 16/2-6, approximately 1.2 miles north of well 16/3-4 and two miles southeast of well 16/2-13S. The well found a 78.5-foot gross reservoir section of which 37.5 feet were above the Oil Water Contact (OWC) – which was established at 6,320 feet below mean sea level.
Lundin said the reservoir sequence is entirely of late Jurassic age and consists of reservoir sandstone of excellent quality with a high net to gross ratio, and that the reservoir is resting directly on granitic basement.
The well was drilled to a total depth of 6,645 feet below mean sea level into granitic basement. A comprehensive coring and logging program has been successfully completed, including a log-inject log wireline run for EOR screening. A pressure gauge was installed in the hole to monitor the reservoir pressure for a period of between two and five years.
Lundin CEO Ashley Heppenstall commented in a company statement:
"We are very pleased with the latest Johan Sverdrup appraisal well which encountered a good quality reservoir section above and below the Oil Water Contact. The lower OWC encountered and the thicker Draupne sandstone reservoir are both positive results."
The well was drilled using the Bredford Dolphin (mid-water semisub) rig, which will not drill well 16/4-7 on production license 544.
Lundin Norway is the operator of production license 501, where the Johan Sverdrup discovery is located, with a 40-percent interest. Statoil also holds 40 percent, while Maersk Oil Norway has 20 percent.
Generated by readers, the comments included herein do not reflect the views and opinions of Rigzone. All comments are subject to editorial review. Off-topic, inappropriate or insulting comments will be removed.
RELATED COMPANIES
For More Information on the Offshore Rig Fleet:
RigLogix can provide the information that you need about the offshore rig fleet, whether you need utilization and industry trends or detailed reports on future rig contracts. Subscribing to RigLogix will allow you to access dozens of prebuilt reports and build your own custom reports using hundreds of available data columns. For more information about a RigLogix subscription, visit
www.riglogix.com
.