New Rail Facility to Open in Permian Basin
by Robin Dupre
|
Rigzone Staff
|
Tuesday, July 09, 2013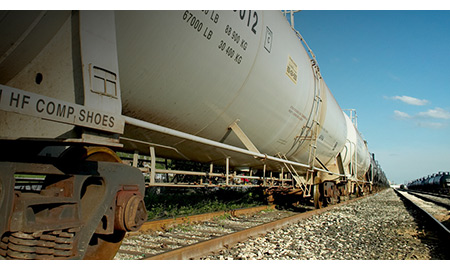 Frontier Logistics and Kyle Kinsel Co., developers of Mission Rail Park, will begin constructing a 550-acre rail-equipped industrial facility, situated between Big Spring, Texas and Midland, Texas.
The Permian Rail Park, slated to open in second quarter 2014, will be situated in the Wolfcamp and Cline Shale plays in the Permian Basin. It's also 100 miles of the Delaware Basin's Bone Springs Shale, Avalon Shale and Wolfbone play, Kyle Kinsel Company said in a July 8 press release.
"Permian Park is important because it is located within 4 miles of 10 major pipelines used to carry petroleum products to and from refineries," Kyle Kinsel, the developer said. "This makes it an ideal location for crude oil storage, blending or processing facility. We also see this as a logistical hub for the Cline and Wolfcamp shale plays."
The Rail Park will serve industrial tenants ranging from large distribution and manufacturing facilities to small rail users, the developers added. It will also house oilfield service and pipeline operations that need rail to move products to and from nearby shale plays.
"It will be the only rail facility capable of accepting unit trains on the eastern side of the Permian Basin which is essential in servicing the increasing production from the Cline and Wolfcamp Shale plays," Kinsel added. "What is key is our ability to tap into pipelines giving our customers the option to load and store crude by rail or pipeline."
The Permian Basin, a 102,000-square mile region that is considered the largest U.S. oil basin, has produced around 30 billion barrels since the early 1920s. Companies filed 845 oil and gas drilling permits in February alone in the basin, according to the Texas Railroad Commission (TRC).
One of the most prolific plays in the Permian Basin is Wolfberry, a commingling of the Spraberry trend and Wolfcamp zones. Recent estimates are that Wolfberry could yield around 2 billion barrels of oil. Wolfberry extends about 100 miles long and 15 to 20 miles wide from Upton County south of Midland all the way to the east of Andrews, Texas. Wolfberry wells are producing in Upton, Midland, Ector, Crane and Andrews counties on the western flank, according to TRC.
Generated by readers, the comments included herein do not reflect the views and opinions of Rigzone. All comments are subject to editorial review. Off-topic, inappropriate or insulting comments will be removed.