Women Fill 40% of Vacancies in Oil, Gas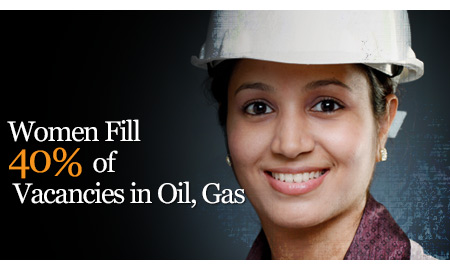 In the first quarter of 2013, more women than men entered the oil and gas industry. Specifically, about 3,900 positions were added in the oil and gas sector with about 46 percent of these positions, or 1,800 positions filled by women, according to the Bureau of Labor Statistics. Since 1991 (when the Bureau of Labor Statistics began tracking this trend), there has never been a year where more than a third of new hires in the industry have been women.
"While there is a concerted effort to recruit women into the field, that number stands alone in this recovery and only time will tell if its sustainable," said Paul Caplan, president, Rigzone, in a recent interview.
Many of the filled positions are not on oil rigs, but instead are in offices as technicians, geologists or engineers.
"I see more and more women and minorities within my company every day," said Kelly Emanuel, NAM credit manager at Weatherford International. "It makes me feel good knowing that they are willing to hire the best candidates for the job despite their gender or ethnic background."
Oil and gas companies are actively recruiting women with many launching internal goals for gender representation among senior leadership. BP plc has a goal of raising its percentage of female group leaders to 25 percent by 2020, according to the company's 2012 Sustainability Review. In 2012, 17 percent of the group leaders were female, up from 9 percent in 2000.
This goal reflects a broader rise of women in the workforce as a whole.
"We've seen a lot of women apply for positions and they're very, very qualified," said Mile Melillo, Repsol USA recruiting manager.
1
2
View Full Article