Myanmar Prepares Ground to Boost Upstream Oil, Gas Investments
by Chee Yew Cheang
|
Rigzone Staff
|
Monday, July 01, 2013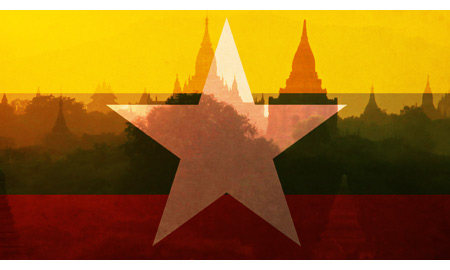 While Myanmar prepares the ground to attract overseas investments to its upstream energy sector, major international oil and gas (IOC) companies are still weighing the merits of injecting funds into the Southeast Asian state. The latest government tender - which closed mid-June - offering offshore blocks for oil and gas exploration may provide a clue on whether its standing as an investment destination has improved in the eyes of these foreign firms.
The country's economy has been in a shambles following half a century of inept military rule, prompting the new government under Thein Sein - who assumed the presidency in March 2011 - to actively pursue reforms to revive Myanmar's economic fortunes, including making it a more attractive place for foreign investment.
So far, progress has been fairly slow as the government has yet to fully address foreign investors' concerns. But as these companies are constantly seeking investment in upstream oil and gas resources around the world, they may find it lucrative to help unlock potentially one of the largest energy reserves in the region.
Potential Upstream Opportunities in Myanmar
Although Myanmar is one of the world's oldest oil producers, having sold its first barrel in 1853, its upstream sector is relatively underdeveloped. The country's proven oil and gas reserves are small compared with its neighbors in Southeast Asia, including Malaysia and ex-Organization of the Petroleum Exporting Countries (OPEC) member Indonesia. Myanmar's proven natural gas and crude oil reserves are at 10 trillion cubic feet of and 50 million barrels, respectively, according to the United States Energy Information Administration (EIA).
With its long history as an energy producer, independent oil and gas companies such as Australia's Roc Oil Company Limited is optimistic about Myanmar's upstream potential. The country is a "world class petroleum province … as fundamental geology (there) favors hydrocarbons," Roc Oil's General Manager for Exploration, Geoscience & Business Development Dr. Pierre Eliet said in a Feb. 4 Myanmar Oil & Gas Summit presentation in Yangon. Moreover, the country's upstream sector is currently "underexplored (and has) significant potential for offshore and onshore plays."
Paving The Way to Boosting Foreign Upstream Investments
Efforts are being made by the government to improve Myanmar's upstream investment environment.
"The energy sector will be a key enabler for wider economic development," The World Economic Forum (WEF) in a recent report "New Energy Architecture: Myanmar Report" noted.
The energy resources will provide Myanmar with much needed revenue and could help it meet a projected increase in domestic electricity demand as the country develops its economy. Natural gas accounted for around 40 percent of Myanmar's total exports in recent years, according to the WEF report.
Therefore, Myanmar needs foreign upstream energy investment urgently. The EIA in its March country analysis report on Myanmar noted that "sanctions, a lack of technical capacity, opaque regulatory policy, and insufficient investment by foreign firms have significantly impeded the country's efforts to realize its oil and gas production potential."
Major Western countries have responded to the introduction of political and economic reforms by the Thein Sein government. The United States and the European Union have ease or suspended economic sanctions since the beginning of 2012, around the same time that Myanmar started to reform its foreign direct investment law to provide greater revenue incentives for global companies.
Further steps have been taken to encourage global energy firms to invest in Myanmar's upstream energy sector. These include the government's plan to implement the Extractive Industries Transparency Initiative (EITI), which is a global standard promoting revenue transparency and accountability in the extraction of natural resources, including energy. The United States is now working with the Myanmar government to help it meet EITI's membership criteria.
Rising Interests in Bids for Exploration Blocks
With their attention constantly fixed on tapping oil and gas resources worldwide, foreign energy companies have gradually began taking notice of the improved investment climate in Myanmar. The opening up of the Myanmar market has generated greater interest among foreign firms participating in tenders offering onshore and offshore exploration blocks.
So far, foreign investors in Myanmar have centered their oil and gas interests on the physically and financially accessible onshore exploration blocks. In 2011, Myanmar Oil and Gas Enterprise (MOGE) - a state-owned enterprise responsible for the upstream petroleum sector - said that a tender offering 18 onshore blocks for exploration drew 27 bids from 18 countries. Nine of these blocks were awarded to seven companies.
The Ministry of Energy followed up with a second tender in January in which 18 blocks were offered. The tender attracted over 75 letters of interests, before the government shortlisted 59 bidders. Major industry players such as Esso Exploration International Ltd., Total E&P Myanmar, Eni International B.V. and China's Sinopec unit Sinopec International Petroleum Exploration and Production Corporation participated in this tender. Other major regional energy companies, including Australia's Woodside Petroleum Ltd., India's ONGC Videsh Ltd., Malaysia's Petroliam Nasional Berhad (PETRONAS), Vietnam's PetroVietnam Exploration Production Corporation Limited and Thailand's PTT Exploration and Production Public Company Ltd. (PTTEP), were also among the bidders.
Latest Offshore Tender
Given stronger investment interest in Myanmar's upstream sector, industry players are now tracking the latest tender in which the Ministry of Energy has offered 30 blocks - 11 shallow water and 19 deepwater - for an indication of foreign investment interest, especially from IOCs. The tender was originally planned for launch in September 2012 but - as the WEF pointed in its Myanmar report - was delayed by the government as it wanted the tendering of exploration contracts to be transparent and conform to international standards.
The latest tender attracted around 60 bids, with "British, American, Australian and others" among the foreign bidders, an MOGE source told Rigzone. The government is "now processing and evaluating the bids" and "prequalification is expected to be completed early next month (July)."
The winning bids for these exploration blocks are expected to be announced at the end of the year.
Among these bidders are three state-owned firms in India - ONGC Videsh, Indian Oil Corp. and GAIL (India) Ltd., said India's Oil Minister M. Veerappa Moilya in a Dow Jones Newswires report. These Indian companies were expected to bid either jointly or separately for eight of the offshore exploration blocks on offer in Myanmar. Meanwhile, bids from traditional sources were also expected, including those from Thailand and China. However, observers will be keenly watching whether Myanmar succeed in attracting major Western oil and gas firms to invest in Myanmar.
Investments in deepwater blocks are "quite risky … (and the) investments required are quite high, infrastructure (to develop these projects is also) quite a problem," said Sugi Handoko, vice president of Operations at Interra Resources Limited - a Singapore-incorporated company listed on the Singapore Exchange with onshore exploration blocks in Myanmar - to Rigzone.
The huge outlay needed to drill in deepwater - according to Rigzone's RigLogix Database shows a semisubmersible rig costing as much as $428,000 - probably serves as a limitation in the participation of these blocks to large IOCs. To further incentivize bidding for the deepwater blocks, Myanmar has waived its requirement for the participation of a local partner in such projects. In contrast, foreign firms bidding for onshore and shallow water blocks require a local partner.
"U.S. companies might be there, maybe ExxonMobil, Chevron and European majors like Total ... (but since) oil and gas reserves (around the world) are getting smaller… new discovery (is still) needed … (and) Myanmar may draw interest," Handoko said.
Only time will tell whether Myanmar can realize its potential as a major energy player in Southeast Asia and results of the latest tender for offshore exploration blocks could serve as a reference point for the upstream industry players.
Generated by readers, the comments included herein do not reflect the views and opinions of Rigzone. All comments are subject to editorial review. Off-topic, inappropriate or insulting comments will be removed.