How to Become An Abstractor or Landman
|
Wednesday, July 03, 2013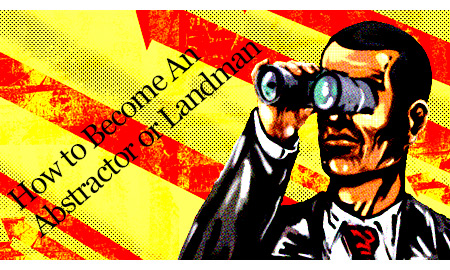 Do you enjoy learning about the past? Do you possess solid writing and math skills and enjoy meeting a wide variety of people? Would you like to apply these interests and abilities to a career in the oil and gas industry? If you answered in the affirmative, a career as a title abstractor or petroleum land manager – or "landman" – might be for you.
Before leasing privately held acreage to drill onshore wells or obtaining the right-of-way for a new pipeline, oil and gas companies need to verify who owns the land in question and the mineral rights beneath it – and who is entitled to royalties from the production of oil or gas. In much of the world, governments own the mineral rights and receive royalties. Making this determination in the United States is less clear-cut because private individuals can claim ownership of the minerals beneath their land. The same holds true in Canada but to a lesser extent because governments hold most mineral rights, according to the Canadian Association of Petroleum Producers. Some Canadian surface landowners do own the mineral rights under their land and collect royalties, a spokesperson with Natural Resources Canada told Rigzone. The occupation oil and gas title abstractor is primarily a U.S.-based profession, but landmen work in both the United States and Canada.
Oil and gas companies determine mineral rights ownership by obtaining certified title opinions, which are legal documents showing who owned the land and when over the course of perhaps hundreds of years. A title abstractor pieces together this "chain of title" by writing an "abstract" that details the ownership history of the land. The abstract is the product of a title search, which is an exhaustive review of available public records. Abstractors spend much of their time in county courthouses and other government buildings poring over property transaction documents, tax records, court records, death notices, wills, maps and other public information.
An abstractor usually works as an independent contractor. A landman, who typically is an employee of a title company or an oil and gas company, may also perform the duties of an abstractor. In addition, a landman will often negotiate drilling leases or rights-of-way for the oil and gas company and manage the leases after they have been signed.
The paths to becoming an abstractor or landman are not always well-defined. There are formal courses and degree programs to gain entrée into the fields – particularly petroleum land management – but some do manage to carve out careers built primarily on a combination of networking, aptitude and initiative.
In order to provide more insight into how one can become an abstractor or landman, Rigzone has invited a pair of practitioners who have taken the informal route to present their perspectives on the rewards and challenges of the professions. One individual, Pennsylvania-based Jacob Ferrari, is relatively new to the abstracting profession and to the workforce – he is in his early-20s. In contrast, 60-something Chuck Cantrell – a Louisianian who spends much of his time working in Texas – has discovered a second career as a landman.
Ferrari and Cantrell's stories provide evidence that individuals at various stages of life with different educational and professional backgrounds can find fulfillment in these important oil and gas industry professions.
Generated by readers, the comments included herein do not reflect the views and opinions of Rigzone. All comments are subject to editorial review. Off-topic, inappropriate or insulting comments will be removed.