Arctic Oil, Gas Vessels: The Next Generation
by Jon Mainwaring
|
Rigzone Staff
|
Thursday, July 04, 2013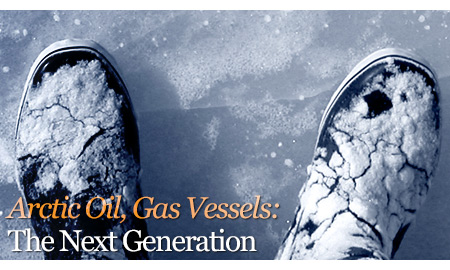 As oil and gas firms look to exploit resources in increasingly hard-to-reach places, several countries whose territories extend into the Arctic see the region as a potential source of large amounts of hydrocarbon wealth. As Arctic exploration and production begins to step up a number of new vessels have emerged that are specifically designed for operation by the oil and gas industry in Arctic waters. Here, Rigzone takes a look at a few of them.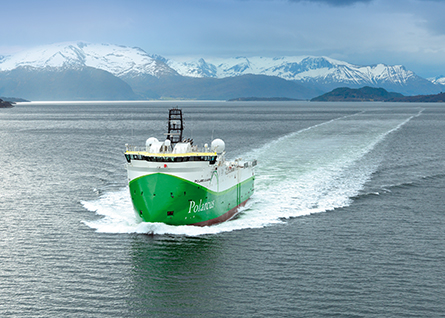 Polarcus Amani Photo courtesy of Ulstein/Per Eide Studio
The first of two specialized Arctic-ready 3D seismic vessels ordered by offshore surveying firm Polarcus from Norwegian ship constructor Ulstein, the Polarcus Amani was delivered in March 2012.
The Polarcus Amani holds the highest ice class ICE 1A, which means she is prepared for extreme ice conditions where ice floes of a thickness in excess of 3.2 feet (one meter) are anticipated. Enhanced propulsion and other innovative efficiency features, along with her Winterized Basic classification make her a state-of-the-art seismic vessel, according to Polarcus.
Although Polarcus plans to use the vessel to conduct seismic surveys in a variety of offshore regions and environments, the vessel was delivered in time to take part in Polarcus' first Arctic seismic survey offshore Greenland late last year.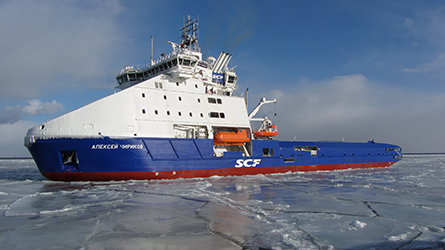 Aleksey Chirikov Photo courtesy of ABB
Named after the 18th Century Russian navigator, the Aleksey Chirikov is an offshore supply vessel designed for extreme environmental conditions in the Arctic Sea. This icebreaking multipurpose vessel will be able to operate in drifting ice of up to 5.5 feet (1.7 meters) thick and in temperatures as low as minus 31 degrees Fahrenheit (minus 35 degrees Celsius).
The vessel is 328 feet (99.9 meters) in length and 71 feet (21.7 meters) wide. Swiss engineering firm ABB Group supplied its four diesels engines and its two 6.5-megawatt Azipod VI propulsion units – which are specifically designed for icebreaking vessels.
Built by the Arctech Helsinki Shipyard in Finland, the vessel was delivered in April this year to Russian shipping company Sovcomflot – four months after the delivery of its sister vessel, the Vitus Bering, in December 2012. Sovcomflot plans to use both vessels to transport supplies to the Sakhalin-1 platform, which is part of the development of the Arkutun-Dagi field off Sakhalin Island in the Russian Far East.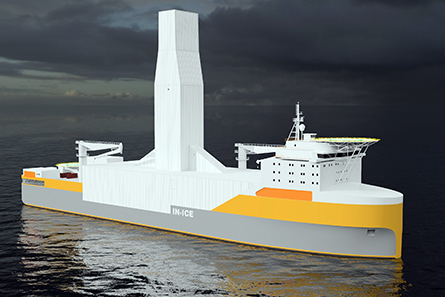 IN ICE Concept Drillship Image courtesy of Inocean
Statoil ASA is currently holding a competition among ship builders for its CAT-I unit: a drillship designed for Arctic environments. Norwegian firm Inocean's IN ICE concept is one of three designs being considered.
The IN ICE concept is based on Inocean's INO-80 drillship – a compact, dynamically-positioned drillship that has large free deck areas designed for year-around operations in ultra-deep waters.
Announcing the firm's participation in the CAT-I competition in early May, Inocean CEO Jon Eirk Borgen said in a company statement:
"Given the extreme challenges and framework conditions associated with activities in Arctic waters, we are probably speaking of the most advanced and sophisticated technology ever evolved in this field."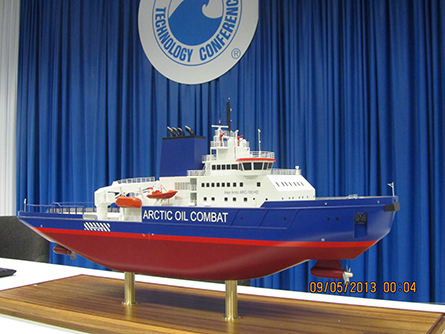 ARC 100 Icebreaker Photo courtesy of Aker Arctic
The ARC 100, currently being built by Finnish shipbuilder Aker Arctic Technology, is a new concept icebreaker that can cut through ice in an oblique mode. Its three 2.5-megawatt engines drive three asymmetric propellers so that the ship cuts through ice sideways, using the length of the hull to cut a channel that is 165-feet wide.
The vessel is dual-use, which means it will also be able to use its sideways movement to use its length as a "sweeping arm" to collect up oil from oil spills.
Aker Arctic got the commission for the vessel from the Russian Ministry of Transport, which plans to use the vessel in several Arctic seas – including the Chukchi Sea, the Beaufort Sea, the Pechora Sea, the Kara Sea and the Okhotsk Sea – for escort and oil spill clean-up duties. Profiled at the recent Offshore Technology Conference in Houston, the vessel is set to be delivered to the Russian Ministry of Transport in early 2014 when it will complete ice trials.
Generated by readers, the comments included herein do not reflect the views and opinions of Rigzone. All comments are subject to editorial review. Off-topic, inappropriate or insulting comments will be removed.
RELATED COMPANIES
For More Information on the Offshore Rig Fleet:
RigLogix can provide the information that you need about the offshore rig fleet, whether you need utilization and industry trends or detailed reports on future rig contracts. Subscribing to RigLogix will allow you to access dozens of prebuilt reports and build your own custom reports using hundreds of available data columns. For more information about a RigLogix subscription, visit
www.riglogix.com
.