Rosneft, Eni Sign Pact to Jointly Explore Russia's Offshore Blocks
by Chee Yew Cheang
|
Rigzone Staff
|
Monday, June 24, 2013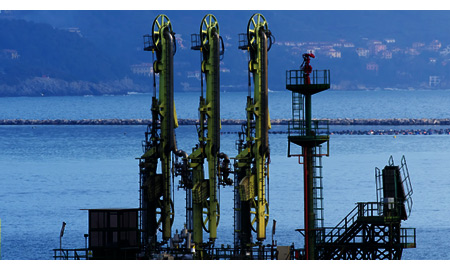 Rosneft's President and Chairman of the Management Board, Igor Sechin, and Eni's CEO, Paolo Scaroni, signed a Completion Deed relating to the agreements for their joint exploration in Russia's Barents Sea and Black Sea.
Russian President Vladimir Putin witnessed the signing of the joint exploration agreement at the Saint Petersburg International Economic Forum. Rosneft and Eni will conduct jointly exploration of the Fedynsky block and Central Barents block in the Barents Sea and the Western Chernomorsky block in the Black Sea.
The projects come under the Strategic Cooperation Agreement entered into by both companies on April 25, 2012, which provides for joint development of the Russian offshore blocks, technological and staff exchange and Rosneft's participation in Eni's international projects.
Three Joint Venture companies were formed to operate the Russian offshore projects, with Rosneft holding a two-third stake and the remaining one-third going to Eni.
Eni undertakes to provide full carry-based funding, under conditions laid out in the existing agreements, to perform license obligations for oil and gas exploration. The Italian company will also compensate Rosneft for 33.33 percent of the expenses on acquisition of licenses.
The Fedynsky block covers an area of 14,671 square miles in the ice-free southern part of the Barents Sea. Water depth at the block varies from 656 to 1,050 feet. To comply with license conditions, 4,039 miles of 2D seismic must be carried out at the Fedynsky block before 2017 and 386 square miles of 3D seismic by 2018. One exploration well should be drilled before 2020, and, if successful, one more exploration well is to be drilled in 5 years.
The Central Barents block adjoins Fedynsky to the North. Water depth there varies from 525 to 985 feet. 1,988 miles of 2D seismic are to be performed by 2016 and 621 miles of 3D seismic by 2018. The first exploration well has to be drilled by January 2021, and if successful, a second exploration well is to be drilled in 5 years.
Eni said the two Blocks hold significant hydrocarbon potential in several geological "leads".
The Western Chernomorsky block in the Black Sea is the third area to be jointly explored. The block covers an area of 3,320 square miles at water depth ranging from 1,969 to 7,382 feet. Rosneft has carried out seismic works to study the area in its entirety and identified six promising leads with high potential. Two exploration wells are to be drilled in 2015-2016 in line with license obligations.
Generated by readers, the comments included herein do not reflect the views and opinions of Rigzone. All comments are subject to editorial review. Off-topic, inappropriate or insulting comments will be removed.
RELATED COMPANIES