Electrical Safety Growing Focus for Oil, Gas Industry
by Karen Boman
|
Rigzone Staff
|
Tuesday, June 11, 2013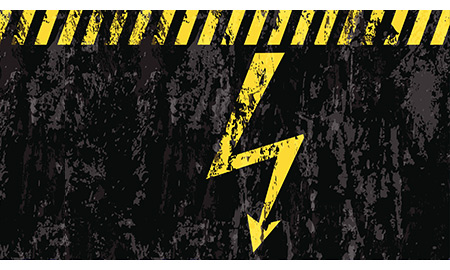 Arc flash, a release of heat energy that includes molten metals, hot metallic oxides and toxic burning smoke, is often violent, resulting in serious injury and sometimes death, according to GE's Industrial Solutions business. Arc flash temperatures exceed 35,000 degrees Fahrenheit, hotter than the sun's surface, with 700 miles per hour projectile-producing pressure, which can throw a person across a room.
An estimated five to 10 arc flashes occur each day in the United States, according to a report from the National Institute for Occupational Safety and Health. One arc flash incident can cost up to $15 million, including healthcare costs, workers compensation, replacing equipment, increased insurance premium, and lost production time, according to an Electric Power Research Institute (EPRI) study.
A 2010 report from the International Oil & Gas Producers Association found that 16.1 percent of all fatalities at oil fields were caused by an electrical accident, explosion or burn.
Fires and explosions are the third most common cause of worker death in the oil and gas industry, according to a recent paper by Scorpion Protective Coatings Inc. One out of seven occupational fatalities in the oil and gas industry results from a fire or explosion. From 2004 to 2008, fires and explosions caused 18.7 percent of worker deaths in the oil and gas industry, according to the U.S. Bureau of Labor Statistics.
The issue of safety in the oil and gas industry will not likely subside soon. With energy demand in countries in the Middle East and in China and Brazil expected to continue growing and global oil demand expected to total 90.2 million barrels per day in 2013, oil and gas activity worldwide is expected to keep growing to meet that demand.
While the danger of arc flashes has not grown, awareness focused on preventing arc flashes has increased, said Marty Trivette, North America product marketing leader for GE Energy's Industrial Solutions Business, in an interview with Rigzone.
Arc flashes pose a particular risk offshore, where lower voltage machinery with between 480 and 600 voltages while not recommended is frequently worked on without the machinery being shut down. While no work is or should be done live on medium voltage machinery in general, work done on low voltage motor control centers and distribution boards cannot typically be shut down in a critical operation, Trivette noted, adding, "As a manufacturer we never recommend working on live equipment but the reality is that people sometimes do."
1
2
3
4
View Full Article
Generated by readers, the comments included herein do not reflect the views and opinions of Rigzone. All comments are subject to editorial review. Off-topic, inappropriate or insulting comments will be removed.