Petronas Plans to Invest $20B in Canada Gas Project
by Dow Jones Newswires
|
Chester Dawson & Jason Ng
|
Tuesday, June 11, 2013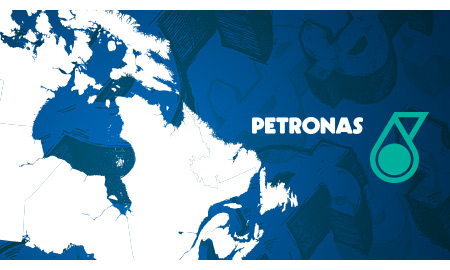 Malaysia's state-owned energy company, Petroliam Nasional Bhd., plans to invest $20 billion in a liquefied natural gas project in British Columbia, upping the ante in a bid to remake North America into a global export hub for natural gas.
The company, known as Petronas, is planning two LNG trains of 6 million tons a year by the end of 2019, according to Anuar Ahmad, a senior executive in charge of the Kuala Lumpur-based firm's gas and power business.
The project, known as Pacific NorthWest LNG, is one of a dozen LNG terminals being mulled for Canada's west coast. These proposed plants, none of which has been formally approved by their sponsors, are designed to capitalize on Asia's growing demand for LNG by tapping into abundant supplies of cheap, landlocked Canadian natural gas.
Several other projects are being proposed to ship gas from the U.S.
Petronas has emerged as one of the biggest champions of Western Canada but hasn't made a final decision yet on its own multibillion-dollar project. "No final investment decision has been made and we don't expect one before late 2014," said Spencer Sproule, a Pacific Northwest LNG spokesman.
Still, Petronas' latest spending estimate for its own project underscores the massive scale of overall LNG investment now on the drawing board across North America.
The LNG plant will cost an estimated $9 billion to $11 billion, with the remainder of the $20 billion earmarked for a $5 billion pipeline and "several billion dollars" in spending to develop upstream gas reserves, Mr. Sproule said.
The export terminal, which is to be built from scratch on an undeveloped island in northern British Columbia, was acquired by Petronas in December as part of its $5.2 billion purchase of Canada's Progress Energy Resources Corp.
Since then, it awarded preliminary engineering contracts in May to Bechtel Corp. and others, and brought aboard Japan Petroleum Exploration Co., the No. 2 Japanese oil and gas development firm, in March with a 10% stake in the project.
Due to the billions of dollars needed to create the infrastructure in a remote and rugged region of Western Canada, Pacific NorthWest LNG and similar projects have wooed co-investors and sought long-term buyer contracts.
Other energy titans with competing projects nearby include Royal Dutch Shell PLC, which has partnered with Japan's Mitsubishi Corp., Korea Gas Corp. and Petrochina Co. Another rival LNG project is a 50-50 joint venture between Chevron Corp. and Apache Corp.
Petronas has said it aims to start commercial operations at its facility on Lelu Island near Prince Rupert, B.C., as soon as late 2018. That is two years after Chevron and Apache's project but two years ahead of the Shell-led consortium.
Progress Energy selected TransCanada Corp. to build, own and operate the pipeline required to transport natural gas to the terminal. The line would cross a mountain range to connect it to gas fields hundreds of miles inland.
The project is crucial for Petronas as well as Malaysia, which has the third-largest oil-and-gas reserves in the Asia-Pacific region but is struggling to maintain its status as a net exporter of fossil fuels.
Recent new discoveries have helped to boost reserves, but maturing oil fields and the interruption of Petronas' oil shipments from South Sudan--due to a dispute between newly independent South Sudan and its northern neighbor, Sudan--have intensified Malaysia's search for overseas energy sources.
Generated by readers, the comments included herein do not reflect the views and opinions of Rigzone. All comments are subject to editorial review. Off-topic, inappropriate or insulting comments will be removed.
RELATED COMPANIES