'Open Fuel Standard' Proponents Want More Flexible FFVs
|
Wednesday, June 12, 2013
A $100-Solution?
Fuel pumps that dispense gasoline and diesel are ubiquitous in the United States. There are approximately 700,000 gasoline dispensers alone at roughly 160,000 retail outlets nationwide, according to the Petroleum Marketers Association of America. Figures from the U.S. Department of Energy reveal that far fewer stations sell substitute fuels such as E85, CNG and LNG.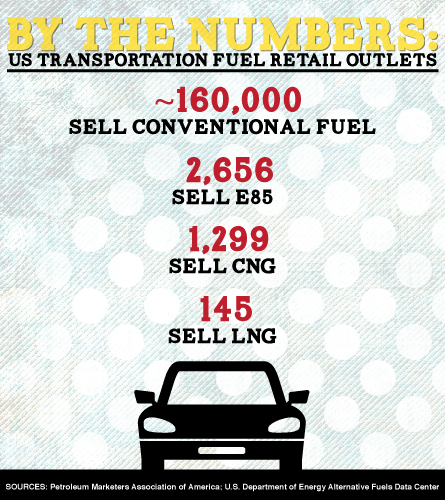 An open fuel standard would provide a catalyst for making substitute fuel pumps more commonplace because it would expand Americans' transportation fuel choices, Anne Korin, co-director of the Potomac, Md.-based Institute for the Analysis of Global Security (IAGS), said. She explained that such a standard would allow motorists to select from the conventional fuels gasoline and diesel as well as ethanol and natural gas-based fuels. She argues that one particular natural gas-based fuel – methanol – could dramatically help natural gas to command a greater share of the transportation fuel market.
"The U.S. is really missing the boat on fuel competition," said Korin, who co-authored the 2012 book "Petropoly: The Collapse of America's Energy Security Paradigm", which addresses the natural gas industry's potential in regard to flexible fuels. "The natural gas industry, which has expended so much focus on CNG and LNG and a bit on gas-to-liquids [GTL], is missing the boat on the potential of flex-fuel vehicles that would open cars to natural gas-based methanol."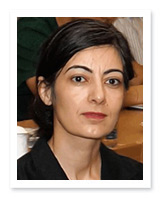 Anne Korin. Photo courtesy of IAGS.
FFVs make up a small share of new cars sold in the United States, and the ones that are sold are only warranted to run on gasoline and ethanol. There are more than 8 million FFVs on the road in the United States – less than 1 percent of the country's total auto fleet, according to the U.S. Department of Energy. Under an open fuel standard, FFVs sold in the United States would be certified to run on any combination of gasoline, ethanol and/or methanol, Korin explained. For automakers, modifying FFVs to also safely run on gasoline-methanol blends would add approximately $100 to the cost of a vehicle, Korin added.
"Given the very low cost for automakers to allow gasoline-ethanol-methanol fuel flexibility in a vehicle, and the very attractive cost of methanol as compared to gasoline on a British thermal unit basis, this is a huge missed opportunity," she said.
Implementing an open fuel standard would drive investment by fuel retailers seeking to meet methanol demand because they would either need to retrofit existing pumps to dispense methanol blends or install new pumps, Korin said. However, she emphasized that automakers – not fuel retailers – would be subject to a statutory requirement under an open fuel standard.
"With heftier retail profit margins on methanol than on gasoline, station owners would recoup their investment rapidly," she added. "For there to be a business case for a fuel station that has 10 pumps to retrofit one to serve methanol or install a new one, at least 15 percent of cars in its area need to be flex fuel. Given vehicle turnover times in the U.S., if an open fuel standard is enacted requiring new cars to be open to fuel competition, this 15-percent threshold would be hit in 3 or so years."
Both Korin and Hofmeister agree that a large country such as the United States can successfully make broader fuel flexibility a reality. They pointed out that other large countries and regions have made great strides in making alternative fuels widely available within their internal markets.
1
2
3
4
5
View Full Article
Generated by readers, the comments included herein do not reflect the views and opinions of Rigzone. All comments are subject to editorial review. Off-topic, inappropriate or insulting comments will be removed.