West Africa: Firms Persevere with Pre-Salt Drilling
by Jon Mainwaring
|
Rigzone Staff
|
Monday, June 10, 2013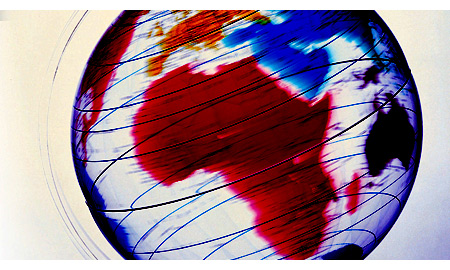 Oil discoveries in pre-salt layers of Angola and Gabon in 2011 and early 2012 led several companies to take an interest in Namibia's own pre-salt zones last year. But after a couple of disappointments in the southwest African country, what now for West African pre-salt?
The term "pre-salt" comes from the aggregation of rocks that is located offshore in a large portion of the Brazilian coastline, including the Santos Basin. This aggregation forms a rock interval that ranges under an extensive layer of salt that, in certain areas of the coast, can be as much as 6,500 feet thick. And the total depth of these rocks – the distance between the surface of the sea and the oil reservoirs that lie beneath the salt layer – can be as deep as 23,000 feet.
Firms exploring in the pre-salt areas off the west coast of Africa believe that they share the same geology found in the Santos Basin pre-salt. This is because, prior to the Atlantic Ocean opening up (more than 100 million years ago), the Namibe Basin lay adjacent to the Santos Basin.
Tapir South, Kabeljou Disappoint
Junior explorer Chariot Oil & Gas Ltd. had hoped to strike it lucky in the Namibian pre-salt during 2012, but the two wells it was involved with turned out to be disappointments. The first well, Tapir South (where Chariot was the operator), failed to find commercial hydrocarbons after drilling to a depth of more than 16,000 feet; the second, Kabeljou (where Chariot's partners were BP plc and operator Petróleo Brasileiro S.A. (Petrobras)) was also effectively dry despite encountering good source rock and hydrocarbon shows.
Since those disappointments, Chariot has conducted 3D seismic data acquisition over several blocks in the central part of Namibia's offshore zone, and in May it confirmed that the Namibian Ministry of Mines and Energy has granted a one-year extension on these Central Area blocks. The firm said in a May 22 update that it has identified prospects within both the shallower and deeper petroleum systems in the Central Area. However, the firm added that although third-party results have de-risked the deeper petroleum system it intends to focus on targets in the shallower system.
While Chariot is being more cautious, the pre-salt in Namibia is still very much a target for other firms. Brazil's HRT Participações em Petróleo, for example, in early June spud the Murombe-1 well, located in Petroleum Exploration License 23 in the Walvis Basin offshore Namibia.
HRT is targeting several prospects offshore Namibia at different depths, including shallow objectives. But it is also targeting very deep carbonates and sandstones that are equivalent to Santos Basin pre-salt objectives.
1
2
3
View Full Article
Generated by readers, the comments included herein do not reflect the views and opinions of Rigzone. All comments are subject to editorial review. Off-topic, inappropriate or insulting comments will be removed.
RELATED COMPANIES