Suu Kyi Plans to Attend Myanmar Oil Meeting
by Jon Mainwaring
|
Rigzone Staff
|
Wednesday, May 29, 2013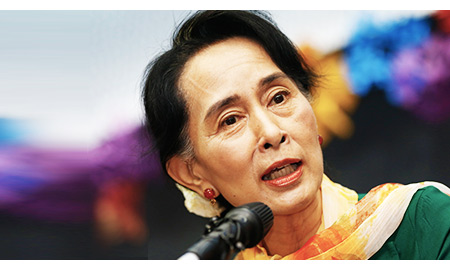 Myanmar opposition leader Aung San Suu Kyi will attend the Myanmar Oil & Gas Summit in mid-June, according to the organizers of the event.
Suu Kyi is a key figure in the country's opposition movement and the chairperson of Myanmar's National League for Democracy (NLD). Since the NLD won the 1990 general election in the South East Asian country, Suu Kyi has spent a total number of 15 years under house arrest, and was one of the world's most recognized political prisoners until her release in November 2010.
Myanmar is currently seeing increasing interest as an investment destination following democratic reform and the ending of international sanctions against the country. Several international oil companies are currently lining up to take part in a bidding round for rights to explore in several of the country's offshore blocks.
Myanmar Deputy Minister for Energy U Htin Aung was recently a guest at June's Offshore Technology Conference in Houston, where he stated his desire to see the country gain expertise and knowledge from international oil companies.
Neil McKenzie, conference production manager at Oliver Kinross (the organizer of the Myanmar Oil & Gas Summit), commented in a statement Wednesday:
"We host oil and gas conferences all around word, but we have never seen as much international interest in one country as we are currently seeing in Myanmar. Democratic reform and the ending of international sanctions has led to huge numbers of international companies now looking to invest in Myanmar.
"Due to the very high level of international interest in Myanmar at the moment we are delighted to hear that Aung San Suu Kyi has decided to attend the Myanmar Oil & Gas Summit."
Generated by readers, the comments included herein do not reflect the views and opinions of Rigzone. All comments are subject to editorial review. Off-topic, inappropriate or insulting comments will be removed.