AmericaCNG to Roll Out Solution to Associated Gas Production
by Karen Boman
|
Rigzone Staff
|
Wednesday, May 15, 2013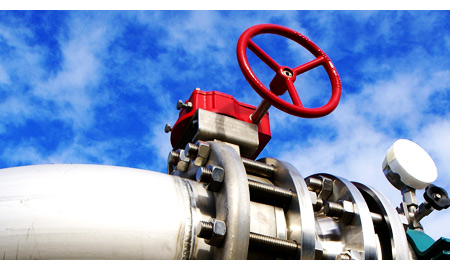 Dallas-based AmericaCNG.com Inc. will begin offering in September a new service that allows natural gas liquids (NGL) and methane to be stripped from production at the wellhead. The company's new mobile, portable plants offer producers a temporary solution for dealing with NGLs and methane until the necessary pipeline infrastructure is in place.
Through a Y-grade extraction process, natural gas is separated at the wellhead from oil production, and the NGLs and methane are separated through two pipes. The NGLs are sold off and the producer paid on the netback, while the methane is converted to liquefied natural gas (LNG). The converted LNG can then be used to power drilling rigs, allowing producers to keep drilling at fields where no gas lines are available and still make money. That LNG can also be transported to a pipeline on behalf of the producer.
The company's skid-mounted LNG machines allow LNG in the field to be sold for $1/gallon, depending on individual company analysis, saving exploration and production companies millions each month in fuel costs, allowing them to drill with no flaring, according to a company presentation.
The company's strategic alliance partners construct the plants based on the gas analysis obtained from oil and gas producers.
"The volume commitment that we get from the oil and gas producers and the gas analysis will dictate the sizes of these plants," said Joseph Farley, director of global business development, in an interview with Rigzone.
Plant sizes can range from 5,000 gallons up to 100,000 gallons.
AmericaCNG can also build a LNG/compressed natural gas (CNG) station for companies interested. Once methane is converted to LNG, it can be taken to a LNG/CNG station and distributed. LNG is stored at minus 260 degrees; however, once it begins to warm up, it turns back into a gas and that gas can then be compressed and placed in CNG storage tanks. The company would need to have a commitment of 5,000 gallons per day in order to build a CNG/LNG station for larger fleet customers.
AmericaCNG's initial approach is to offer fuel supply agreements to the oil and gas industry and transportation industry.
"Once we have customers that are buying a sufficient amount of LNG then we will start building our larger plants. There is a massive race on right now and some of the companies that are building these large plants are trying to sell fuel for 2016 to 2017," Farley commented. "That is a very hard sell to make. It's not easy selling six months out, much less two or three years out."
Farley said the company has been contacted by two major oil and gas companies that are constructing large LNG plants to buy supply from AmericaCNG in September until they get their plants built.
AmericaCNG was first established in 2011 with a focus on the CNG market. While the company is still committed to CNG, it is necessary in some locations to convert methane to LNG first and then transport the LNG to a CNG station, Farley commented.
A "whiskey idea" prompted Joseph Farley to establish a company in 2008 to serve the natural gas flowback market. However, agreements that had been reached with producers for flowback services fizzled as natural gas producers began to see that natural gas prices were going to fall.
"We got in at the exact wrong time as far as flowback work," said Farley.
Today, the company's approach is to form strategic alliances with producers in which no money changes hands unless the partner performs.
After three years of research, Farley found the market they wanted to target. The actual technology used in the skids has existed since 2002. AmericaCNG found the technology when it started hunting for a solution to the company's plans to supply CNG to a concrete company. The price for the local distribution center (LDC) price was too high and killed the deal, Farley said.
"The biggest problem we found exploration and production companies have is that there aren't enough lines to capture production," said Farley.
It can take between 1.5 to two years after a field is proven before pipeline infrastructure is put into place, and a massive delay appears to be occurring in new wellhead connections. The lack of gathering systems in some places means producers must flare gas. In some cases, producers must continue to produce condensate gas to maintain leases and to comply with held-by-production lease requirements.
Despite a shift away from natural gas drilling, production of associated gas with unconventional oil continues to rise, and in many cases, this gas has nowhere to go due to infrastructure constraints. To cope with this issue, some companies have been flaring natural gas or shutting-in wells. In some cases, a company will flare gas for 30 days and then shut-in production. By doing so, the company takes a chance that some reserves may be lost. Producers typically are limited to flaring gas for a one-year period from the start of oil production.
The problem of natural gas flaring has become significant enough in North Dakota that legislators in the state have proposed legislation that would offer North Dakota oil drillers tax breaks if they stop burning and wasting natural gas.
The lines that are available inside city limits through LDCs are also ridiculously expensive, incredibly slow and inefficient, Farley noted.
"They have been the only game in town for years and they know it. It's more a monopoly than anything else."
However, that monopoly is getting ready to change in a big way thanks to the presence of LNG in the field.
"It took one of the LDCs almost nine months before we got a price back from them from our locations. We just feel that's unacceptable in today's market."
Flared gas represents lost revenues not only for oil and gas companies, but for U.S. states in terms of revenue.
"We think we bring to the market a chance to clean up the environment while creating a great economic opportunity," Farley commented.
Farley sees potential for his company's products as people in the oil and gas industry become more comfortable with CNG and LNG. Some companies such as Apache Corp. are already switching over to using natural gas to power exploration and production.
The switchover can be attributed to the cost savings and environmental benefits associated with using natural gas. Oil and gas companies are also rushing to upgrade their production storage tanks to meet new requirements by the U.S. Environmental Protection Agency's requirements that volatile organic compound emissions from these tanks be reduced.
Farley sees the system as a win-win for everyone. Producers who utilize AmericaCNG's technology can substantially reduce or eliminate the amount of gas they value while realizing value from recovered NGLs, even natural gas, without any capital outlay, said Farley. AmericaCNG provides the initial capital, constructs the processing units, can build gathering lines and supply compression if needed, supply field tanks, and transport NGLs to market.
"The approach is so simple and it can save and make the producer so much money," Farley commented. "However, change is a hard thing for a lot of people."
But Farley believes the pure economics – with oil trading at $90 or more a barrel and natural gas selling for $4.20/Mcf, will win them over.
"So the question for the producer is, do you want to buy diesel at $4 per gallon or do you want to buy natural gas at $2 a gallon? The answer is usually diesel is more readily available, but with the mobile LNG machines you basically have a refinery out in the field."
The company will retain a portion of the NGLs and natural gas sales if any to recoup capital. The percentage of production retained is based on how the well will perform. AmericaCNG determines the percentage through an analysis process that takes around 60 days.
"We are always willing to horsetrade," said Farley. "We will even take publicly traded stock." Farley noted that most oil and gas producers are stock rich and cash poor, especially the ones that are heavy in the natural gas market.
"The United States of America is one of the last countries in the world that has caught on to natural gas," Farley commented. "We have been given an amazing gift of low natural gas prices, and now it's time to take technology from different parts of the globe and implement it here in America."
Generated by readers, the comments included herein do not reflect the views and opinions of Rigzone. All comments are subject to editorial review. Off-topic, inappropriate or insulting comments will be removed.