OTC Exhibitors: Technologies Trending Toward Deeper Water But Also Land
by Matthew V. Veazey
|
Rigzone Staff
|
Monday, May 13, 2013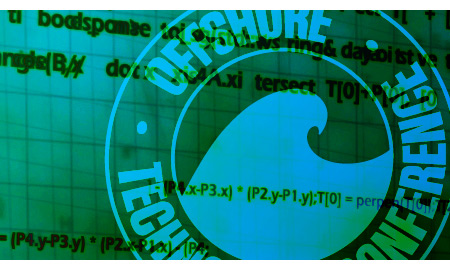 Based on a quick sampling of insights from a few of the more than 2,700 exhibitors at the Offshore Technology Conference (OTC) 2013 in Houston this past week, applications of innovations developed to expand the frontiers of the offshore oil and gas industry are broadening. However, they pointed out that larger companies stand to benefit from this trend.
"I think there is more emphasis on the higher pressures and higher temperatures that the wells, that the equipment, have to accommodate," said Paul Taylor, sales director with Trelleborg Sealing Solutions UK.
Trelleborg, which produces sealing systems for offshore applications such as seismic guns and well head connectors, is modifying how it manufactures and configures these parts so that they can endure these increasingly extreme conditions, Taylor said.
"We're looking at polymers technology to make sure that our product can accommodate the higher temperatures and the higher pressures," Taylor said.
Although the offshore industry is demanding seals and myriad other products that can withstand higher temperatures and pressures, Taylor added that it is seeking more evidence to substantiate the claims made by manufacturers.
"There's becoming an increasing emphasis on the certification of the parts," he explained.
"I think everybody has learned from the Deepwater Horizon that the industry is becoming perhaps a little bit more conservative on insisting the parts that they purchase are endorsed and validated with certificates of conformity."
The increased level of scrutiny – driven in part by more attention from government authorities – applies to constituent parts, measurements and testing, said Taylor. In addition, he believes this trend will benefit larger suppliers such as Trelleborg.
"I think what it will do is probably reinforce what has been done by the larger, more innovative companies that are going with the trends," Taylor noted.
He explained that smaller companies unable to validate the sources of their raw materials, conduct research and development, perform testing and take sundry other steps will be at a disadvantage.
"I think they'll get less and less business and the bigger companies, the bigger original equipment manufacturer end users, will use the bigger, more efficient companies," predicted Taylor. "So there may be a rationalization of competition in our industry as a consequence."
Jeffrey Lavers, vice president and general manager of 3M Mining's Oil and Gas Solutions Division, noted that the oil and gas industry's quest to exploit reserves in deeper waters off West Africa and other regions demands continual innovation from companies such as his.
"Just the basic pressure and force of going that deep in the water, from an engineering standpoint, changes a lot of dynamics of the project," said Lavers. "It's a much more challenging environment in a host of different ways, primarily just because of the heat and the pressure."
"What we have to do is adjust some of our products and we think, candidly, it puts us in a good position because we have the capabilities" to make those adjustments, he added.
Lavers said that 3M is also responding to oil and gas industry needs in mature offshore provinces such as the Gulf of Mexico and North Sea. Although many depleted wells in these areas still contain significant volumes of hydrocarbons and boast well-developed infrastructure, inadequate flow rates from these wells prevent the economic exploitation of the remain resources. 3M is also working to tailor some of its products to perform in these types of situations.
"We're gearing up a lot of technology to see if we can go back to these brownfield wells and make them productive," Lavers said.
Another company aiming to re-purpose existing technology is Tesco Corp., which provides drilling and tubular services technologies for land, offshore and deepwater operations.
Jeff Foster, senior vice president of Tesco's Top Drive business segment, said that more offshore technology is being transferred to land applications in the area of automation and rig mechanization. He explained that "iron roughnecks," which connect and disconnect drill pipe, and top-drive drilling systems are two examples of offshore technologies that are being adapted for onshore use.
Foster said the automation, preventive and predictive maintenance trend offers Tesco and other service providers an opportunity to reduce non-productive time.
"It's an add-on for us," he said.
Late Thursday, OTC organizer Society for Petroleum Engineers (SPE) reported that attendance at the 2013 event hit 104,800 – a 17-percent increase from last year's conference and the second-highest since the show began in 1969.
"We had a terrific conference with deep and broad technical coverage, supported by excellent panels and executive keynote presentations," OTC chairman Steve Balint said in a written statement. "Technology is at the heart of the offshore industry and it was all here on display at OTC 2013."
Houston's Reliant Park will again be the venue for the next OTC, which will run from May 5-8, 2014.
Generated by readers, the comments included herein do not reflect the views and opinions of Rigzone. All comments are subject to editorial review. Off-topic, inappropriate or insulting comments will be removed.