New Concept Icebreaker Set for 1Q 2014 Delivery
by Jon Mainwaring
|
Rigzone Staff
|
Friday, May 10, 2013
Finnish shipbuilder Aker Arctic Technology used this year's Offshore Technology Conference in Houston to highlight a new heavy duty icebreaker that it is bringing to market that is designed to be a "game changer" for year-round oil spill response in the Arctic.
Speaking to press at the conference, Aker Artic Managing Director Mikko Niini confirmed that the first version of its ARC 100 icebreaker will be delivered to the Russian Ministry of Transport in early 2014 when it will then complete ice trials.
The ARC 100 vessel uses three 2.5-megawatt engines to drive three asymmetric propellers that allow the vessel to cut through ice some 3.2 feet thick in an oblique mode, moving sideways using the 250-foot length of the hull of the vessel to cut a channel that is 165 feet wide. The vessel is dual-use, which means it will also be able to use its sideways movement function to use its length as a "sweeping arm" to collect up oil from oil spills.
Aker Arctic got the commission for the vessel from the Russian Ministry of Transport, which plans to use the vessel in several Arctic seas – including the Chukchi Sea, the Beaufort Sea, the Pechora Sea, the Kara Sea and the Okhotsk Sea – for escort and oil spill clean-up duties.
"The background was that in the Gulf of Finland where Russia had built two export crude oil terminals, the number of big tankers was increasing. We wanted to introduce an escort icebreaker for these tankers that could be made in a more efficient and more economical way instead of using two major icebreakers," Niini said.
Niini also reported that the firm is working on a bigger version of the oblique mode icebreaker that will have 2.5 times the pull offered by the ARC 100. The Aker ARC 100HD, which will have a length of 322 feet and will be able to cut a 165-foot channel through five feet of ice.
This vessel would take 2.5 years to build from order to delivery, Niini added.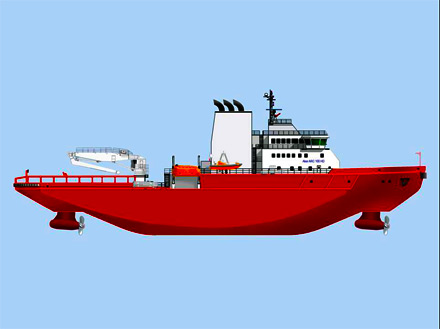 The ARC 100 can move in an oblique mode that enables it to cut wider ice channels and clean up oil spills more efficiently. Source: Aker Arctic
Generated by readers, the comments included herein do not reflect the views and opinions of Rigzone. All comments are subject to editorial review. Off-topic, inappropriate or insulting comments will be removed.