Brazil Seeks to Expand Oil, Gas Investment with 11th Bidding Round
by Karen Boman
|
Rigzone Staff
|
Thursday, May 09, 2013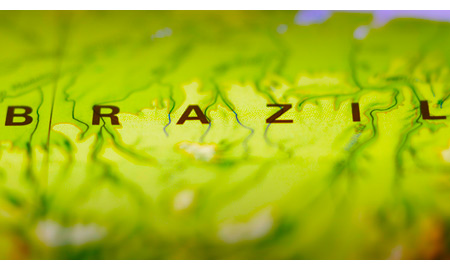 The director of Brazil's Agencia Nacional do Petroleo (ANP) reports significant interest from operators in Brazil's upcoming 11th bidding round as Brazil pursues its plans to double its oil and natural gas production. The bidding round is the first since December 2008 and the first under the nation's new hydrocarbon law.
ANP will offer 189 blocks across 11 Brazilian states. Ten of these states are located in north and northeastern Brazil in the 11th round, the largest in terms of activity since the ninth bidding round, in an effort to expand oil and gas investment from the southeast to other parts of Brazil, ANP director Magda Chambriard told attendees Wednesday at the 2013 Offshore Technology Conference in Houston.
Sixty-four companies were qualified for the round and 44 companies received bid bonds, and 30 oil and gas companies have already been classified as operators. Companies from 21 countries expressed interest in the round, including a number of new entrants to Brazil. Seventeen Brazilian companies have been qualified as operators, as well as seven U.S. companies, five UK-based companies, five Canadian companies and five Japanese companies.
Chambriard, who has worked in the oil and gas industry for over 30 years and took over as ANP director last year, said she has never seen such possibilities as what is being offered this year. Acreage being offered in Brazil's upcoming 11th bidding round bears similarities to oil producing regions in Africa's Equatorial Margin and the Gulf of Mexico, Chambriard commented. Salt movement seen in acreage in the Eastern Margin area is also similar to that found in the Gulf of Mexico.
The 2011 Zaedyus discovery offshore neighboring French Guyana indicates the potential of Equatorial Margin acreage being offered in the 11th round.
Additional oil and gas investment opportunities for onshore conventional and unconventional gas, mature basins and pre-salt will be offered in two separate bidding rounds later this year. Forty-four companies have applied to participate in Brazil's 12th bidding round, to be held Oct. 30-31, which will include acreage in several basins, including the Parnaiba and Pareas, which are estimated to contain in-situ gas volumes of 64 trillion cubic feet (Tcf) and 124 Tcf.
Requirements for the pre-salt bidding round – scheduled for Nov. 28-29 – call for Petroleo Brasileiro S.A. (Petrobras) to continue to serve as operator for concessions due in part to its experience in drilling pre-salt and safety concerns. Concessions will be awarded to the highest bidder. The company will retain a 30 percent interest if it loses in the bidding round, but can raise that stake higher if it wins a bid. Chambriard remains confident that development plans.
ANP may offer the Libra prospect, which has been initially estimated to contain 18 billion barrels of oil, in the upcoming round.
The 11th bidding round will have the same local content law requirements as seen in previous bidding rounds, but will change for the 12th round. However, Chambriard does not believe these new requirements will pose a significant issue for onshore projects.
Chambriard noted that the production sharing contract (PSC) being offered is similar to that seen in other countries. But in Brazil, the PSC is not negotiable, and concession holders must pay a 15 percent royalty. Concession holders will be able to deduct the royalty from oil production.
While unconventional gas acreage is being offered this year, Petrobras CEO Maria das Gracas Silva Foster has said that shale gas is not a priority for Petrobras. Chambriard believes this opens the door for opportunities for other Brazilian and international companies. However, Chambriard thinks that oil and gas companies will pursue conventional gas opportunities first.
"It doesn't matter if it's conventional or unconventional, just as long as it's being produced," Chambriard commented.
Chambriard noted that an estimated $400 billion in supplier opportunities to provide goods and services for the oil and gas activity will be available through the next decade.
Generated by readers, the comments included herein do not reflect the views and opinions of Rigzone. All comments are subject to editorial review. Off-topic, inappropriate or insulting comments will be removed.
RELATED COMPANIES