Tata Showcases Deepwater Pipeline Solutions at OTC
by Tata Steel
|
Press Release
|
Wednesday, May 08, 2013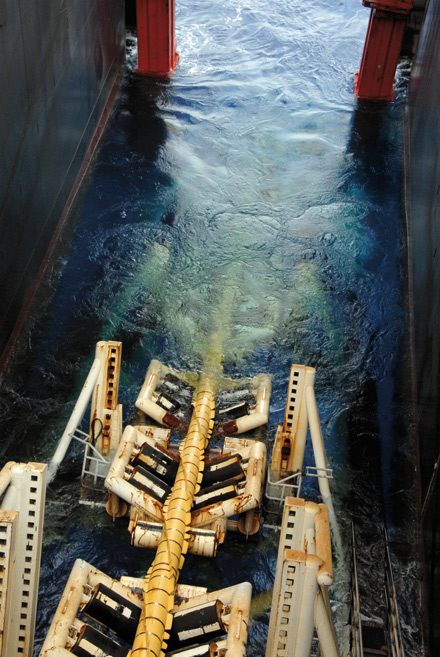 Tata Steel pipe laying. Source: Tata Steel
Tata Steel will demonstrate its ability to deliver pipeline solutions to some of the world's most challenging and complex projects at this year's Offshore Technology Conference (OTC) in Houston May 6-9 2013.
As global demand for key energy sources increases and the search for hydrocarbons takes the industry into deeper and more difficult environments, Tata Steel products will continue to play a vital part in their extraction and distribution offshore, meeting even the most demanding of offshore line pipe requirements.
The company has an extensive track record in every stage of hydrocarbon recovery, from exploration and drilling, oil and gas production and transportation through to refining, processing and developing renewable technologies.
Tata Steel recently completed a $150 million (GBP 100 million) project to provide pipe for the Discovery Producer Services L.L.C. (Discovery) gas pipeline in Keathley Canyon, Gulf of Mexico. Discovery is a 60:40 joint venture between Williams Partners L.P. and DCP Midstream Partners L.P.
Tata Steel supplied Discovery's Keathley Canyon ConnectorTM with 214 miles (345 kilometers) of 20-inch diameter submerged arc welded line pipe, weighing more than 110,000 metric tonnes, which was manufactured at the company's 42-inch mill in Hartlepool, UK. The pipe was laid at water depths of up to 7,380 feet (2,250 meters) and is designed to meet the required specification for deepwater conditions.
Richard Broughton, commercial manager for Pipelines & Petrochemical at Tata Steel, said: "Tata Steel applies decades of experience and expert knowledge to deliver strong, reliable and innovative pipeline solutions for challenging and complex projects around the world.
"At OTC this year, we will be showcasing our proven success in providing line pipe for deepwater conditions in the Gulf of Mexico, Brazil, the UKCS and Russia. Recent contracts have been awarded based on our excellent dimensional tolerance control, enabling us to offer enhanced deepwater anti-collapse properties, easy fit-up and fast lay rates."
Generated by readers, the comments included herein do not reflect the views and opinions of Rigzone. All comments are subject to editorial review. Off-topic, inappropriate or insulting comments will be removed.