All Hands Aboard for Historic Offshore Hiring 'Spree'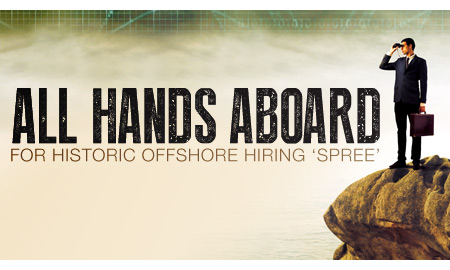 Hiring remains brisk amid the worldwide offshore petro-boom with demand centering upon experienced professionals and rig workers alike.
Key organizations expect the number of available jobs in the offshore drilling sector will keep growing — but at very different rates, depending on the field of specialty.
For example, demand for petroleum engineers will grow at 17 percent between 2010 and 2020, or about as fast as average for all other occupations, according to the U.S. Bureau of Labor Statistics (BLS).
BLS also expects employment of oil and gas workers to increase, but by less than half the pace of petroleum engineers, or only 8 percent, from 2010 to 2020.
"Because of higher prices for resources, oil and gas companies are more likely to drill in deeper waters and harsher environments than in the past. These complex operations require more workers," said BLS in its "Occupational Handbook for 2012".
"Higher prices will also encourage oil and gas companies to return to existing wells to try new extraction methods, thereby increasing demand for oil and gas workers. Also, changes in policy could expand exploration and drilling for oil and natural gas in currently protected areas, potentially boosting employment.
"However, new production technologies are expected to dampen overall demand for oil and gas workers," BLS added.
Yet skilled tradespeople with a yen to work in offshore petro-jobs might wish to consider avenues other than direct rig worker jobs. For example, BLS projects iron work employment to soar by an astronomical 49 percent between 2010 and 2020. Other good bets are pipefitting trades at 26 percent growth, construction, 25 percent, and steel at 22 percent. Maritime employment is another related field forecast to rise faster than the average for all occupations, at 20 percent over the period.
Hiring Spree
Yet U.S. government statistics hardly tell the whole story.
"Globally, the oil and gas market is very buoyant and companies are very active — and struggling — to hire competent, experienced resources. This competition for recruiting the right talent is particularly intense in Australasia, Brazil and the U.S., particularly Houston," observed Didier Beyent, corporate human relations director for Netherlands-based SBM Offshore N.V., a floating production, storage and offloading (FPSO) company.
Demand is especially keen in the following disciplines: engineering, regulatory compliance, health, safety and environmental and project planning, Beyent said.
"With many people about to retire, the industry can expect a mandatory and significant hiring spree in the following three years, certainly more than 20,000 people worldwide," Beyent said. "Required qualities from employees are team spirit, positive attitude and energy, tenacity, mobility [and] company spirit. Together we push the limits of what's possible – particularly in the field of technology."
High-Level 'Poaching' Concerns
Noble Corp. experiences a small turnover at the lower levels of the job ladder, due to its $35-million investment in training and benefits that encourage employees to stay with the company, John Breed, director of investor relations and corporate communications at Noble Corp. said. However, Noble faces considerable "poaching at the upper echelons" of the job ladder by recruiters for other companies and faces "many gaps" in specific areas, Breed added.
"With the addition of an ongoing new-build program industry-wide, competition for the best people is nothing short of extraordinary," wrote President and CEO of Noble Corp. David Williams, in the company's recently released 2012 annual report.
During 2012, Noble recruited more than 1,000 new team members, bringing the total employee headcount to more than 7,600. To speed new hiring, Noble uses a new web-based human resources information system and recruitment modules to identify and assess onboard top candidates at a previously unattainable speed, Williams noted. In addition, existing employees generated more than 2,000 referrals last year.
In response to industry-wide attrition concerns, Noble has stepped up efforts in providing opportunities for development and advancement, with related investments rising by more than 27 percent over 2011, setting a new company record. Offshore employee attrition rates have now dropped for three consecutive years, the company reported.
Fifty-three percent of oil and gas industry employees would consider leaving an employer due to a lack of training and development, according to a recently issued BP plc-study conducted by the Society of Petroleum Engineers (SPE). Seventy-five percent of respondents to a related survey said that training and development was important in their choice of role, while 37 percent felt that a lack of training in previous roles has held them back in their career.
"The Aberdeen jobs market is exceptionally busy for us right now, having clearly returned to pre-2011 levels due to the increased levels of drilling and an increase in available rigs," said Mark Charman, CEO of Faststream Recruitment Group & Faststream Executive Search in a recent issue of the company's quarterly magazine, Streamline. "There is no shortage of jobs, just people to place in them. There are more jobs in Aberdeen than people available to fill them."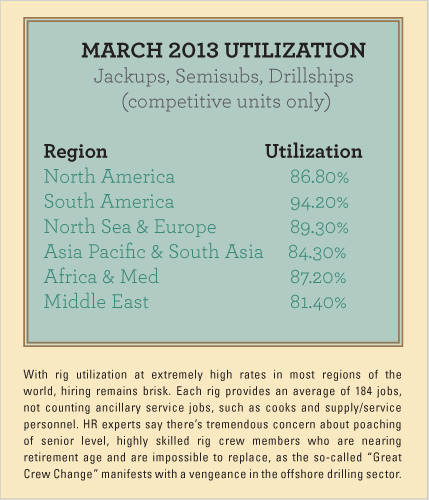 "The real challenge is finding experienced people across the board. Companies continually ask for candidates with 10-15 years' experience and this is what less-experienced people can be competing against. This is the bracket where we see a lot of movement too, as the same people get poached from company to company, resulting in an upwards spiraling salary," Charman added.
Based on its projection of worldwide offshore rig count growth in 2013, Faststream thinks that 11,000 more jobs may be added between fall 2012 and this time next year – the largest increase in a decade.
Hurry Up & Wait?
Progression up the ranks for newcomers could be slower now in the wake of 2010's Macondo rig blowout in the Gulf of Mexico, said offshore expert Duncan Weir of Weir International Ltd., an offshore consultancy firm in Scotland.
"The greater complexity of rigs building today compared with, say, fifteen years ago, is significant and requires additional people trained, educated and competent in different skill sets," said Weir.
"The number of new additional people required to man the new rigs while maintaining the crewing levels of the existing worldwide fleet is notable and has generally resulted in the time between promotions being reduced with respect to time. This significant human resource challenge is not only applicable to the drilling sector in the oil and gas industry, but is one which needs to be managed, especially when learnings from incidents like Macondo are to be rigorously applied. In short, historical lessons in the drilling business should not only be restricted to equipment issues but should embrace the need to allow time for people to become confident and competent at what they do before [being] promoted to a higher position.
"The 'great human resource conundrum' is all the more acute for new-start drilling companies, of which there is a small number," Weir continued. "Such companies are generally characterized by the setting up of a new entity with experienced management, a number of new building rigs and setting out to put them to work with competent personnel in charge offshore. HR challenges for such drilling companies are brought even more into focus in the present days. Similar challenges may also be experienced by drilling contractors attracted to diversify from their core segment of the offshore drilling business in, say jackup rigs, to deep water or ultra-deep water rig operations or by drilling contractors who decide to reactivate stacked rigs. It is considered vital to provide rig operations personnel with classroom training, but also with adequate time with hands-on operating experience on the rig prior to promotion."
It's also important that people in oil and gas offshore drilling take the time and make the effort to pass on their knowledge for the benefit of people starting out in the industry, since they represent the long term future of the business, Weir said. There are a number of professional development companies able to perform part or all of this function.
lndustry consultant Bill Rehm, of Houston, an expert in well pressure, well control, horizontal drilling and underbalanced drilling, formerly with Dresser Industries and Maurer Engineering, agrees that more hands-on experience will be important.
"Along with the great crew change, there has been a major change in attitude towards supervision and training among the operators in the drilling business. The change has been that supervisors and engineers do not [need] to have several years of hands-on experience. This is following the old Harvard Business School lesson that if you can run a Firestone Tire Store, you have the management skills necessary to manage.
"The problem is that the supervisors, engineers [and regulators] do not have the basic knowledge of the field practice. Hence, while hours of safety training are required, few in the training business, and less of the management, understand the actual practice. On the other hand, while safety efforts have been to a large degree effective and will probably continue so, there always remains the problem of major failures due to lack of supervisory and engineering hands-on knowledge."