Swire Introduces New Modular Systems, SAFE Tanks for Gulf of Mexico
by Swire Oilfield Services, LLC
|
Press Release
|
Tuesday, May 07, 2013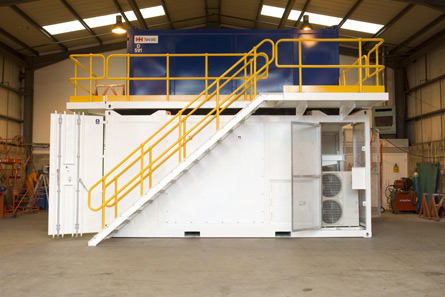 Swire Oilfield Services' Module Systems (SMS) are now being offered in the Gulf of Mexico. Source: Swire Oilfield Services, LLC
Swire Oilfield Services, LLC (Swire), the world's largest supplier of specialized offshore cargo carrying units to the global energy industry and leading supplier of modular systems, offshore aviation services and fluid management, is introducing two new products to the Gulf of Mexico region at the Offshore Technology Conference (OTC), May 6 - 9.

Swire's Modular Systems division and SAFE (Swire Advanced Fluid Engineering) Tanks address the industry's need for offshore workspace solutions and more advanced offshore fluid storage and transport. Both products will be on display at the conference.

"We are very excited about introducing our proven products to the Gulf of Mexico during OTC this year," said Steve Hardwick, Swire President of North America. "Swire's Modular Systems and SAFE Tanks are truly innovative and will give operators several solutions for their workspace and fluid storage needs. OTC is the perfect event to familiarize the industry with our products."

The company's Modular Systems offering is made up of a comprehensive range of both pressurized and non-pressurized modules, which provide reliable and effective workspace and storage solutions. Initial offerings in the Gulf of Mexico will include 12-foot, 16-foot and 20-foot pressurized offices, along with 10-foot and 14-foot non-pressurized workshops. 'Plug-and-play' design promotes the highest levels of operator safety while ensuring operations can begin immediately once onsite.
The 1,000-gallon SAFE Tank is at the forefront of innovation and engineered to carry a full range of oilfield chemicals to meet the ever-changing demands of the oil and gas market. By designing the overall height to 5-feet, 9-inches and making it fully operable from ground level, personnel are able to check fluid levels and operate the vent and discharge without fall-protection safety gear. The lower height and slotted fork lifting pockets minimize the chances of dropping incidents, makes stacking of the tanks easier and safer during transportation.

Both of Swire's products are certified and tested to the highest industry standards, including DNV 2.7-1.

"Both of these products are instrumental for offshore operators around the world and we know they will be gaming-changing for operators in the gulf region," said Hardwick.
Generated by readers, the comments included herein do not reflect the views and opinions of Rigzone. All comments are subject to editorial review. Off-topic, inappropriate or insulting comments will be removed.