Rigzone Ranks the Top 10 Oil & Gas Cities in the World
Rigzone Staff
|
Friday, May 03, 2013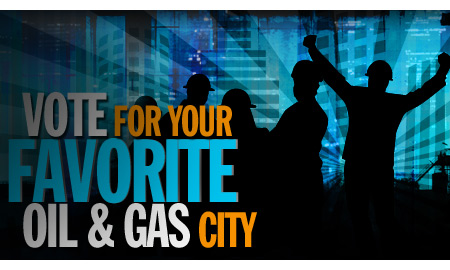 For years, the petroleum industry has created significant job opportunities and economic benefits through energy hubs around the world. Innovations in technology and old-fashioned determination have allowed vast supplies of oil and gas to be brought to market from key cities in nearly every country. The running list of active and pending projects, along with the amount of planned global investment, speaks volumes about the career options on the horizon for our industry.
For those with the right education and training, the opportunities for international mobility are unrivaled. In fact, many oil and gas companies are offering educational programs that encourage key job functions to train in different parts of the world over time. So the question doesn't have to be: where in the world do I want to live and work? It can now be: how many countries will I get to see during the course of my career?
While Houston has long dominated the list of key oil and gas cities, there are many amazing locations that have emerged as important centers for exploration, production, transportation, technology developments and refining. Today, a wide array of cities with close ties to the petroleum industry circle the globe.
Given the large group of Rigzone users and our focus on careers, we asked our readers to tell us which oil and gas cities represent the most important, promising opportunities for the industry and the employees that drive it. Nearly 8,000 people weighed in. In the pages that follow, see just how far a career in oil and gas can take you.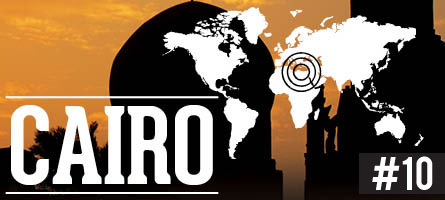 The largest city in Africa and the Arab world, Cairo is situated on the banks of the Nile River. Among one of the world's most densely populated cities, Egypt's capital holds more than 10 million people, according to the U.S. Central Intelligence Agency. This bustling city is one of the largest urban areas in Africa.
Energy Impact
A vital, non-OPEC member, Egypt is the second largest natural gas producer and largest oil producer in Africa. With its first oil well – Gamasah - dating back to the early 1900s, as of January 2012, Egypt holds nearly 4.4 billion barrels of proven oil reserves and nearly 77 trillion cubic feet of proven natural gas reserves, according to the U.S. Energy Information Administration (EIA).
Headquartered out of Cairo, the Ministry of Petroleum and Mineral Resources supervises all oil and gas activities in Egypt. The agency is comprised of six entities, including: Egyptian General Petroleum Corporation (EGPC), Egyptian Natural Gas Holding Company (EGAS), Egyptian PetroChemicals Holding Company (ECHEM), Ganoub El Wadi Petroleum Holding Company (GANOPE) and Egyptian Mineral Resources Authority (EMRA).
Five key oil production areas in Egypt are: the Eastern Desert, the Western Desert, the Gulf of Suez, the Nile Delta and the Mediterranean Sea. Although overall output is on the decline, enhanced oil recovery (EOR) techniques are being used in mature fields.
However, natural gas is predicted to grow Egypt's energy sector, considering the country holds the third highest proven gas reserves in Africa. More than 70 percent of Egypt's natural gas production is located in the Mediterranean and Nile Delta, according to the EIA.
Foreign companies dominating Egypt's upstream oil and gas sector include: Apache Corp., BG Group plc, BP plc, Dana Gas, Eni S.p.A., Hess Corporation, Royal Dutch Shell plc, Petroliam Nasional Berhad (PETRONAS) and OAO LUKOIL.
Due to its proximity, Egypt's government profits in international markets from fees generated by the Suez Canal Authority and Suez-Mediterranean (SUMED) pipeline, an Arab Petroleum Pipelines Company, transit routes for oil shipments between the African and Persian Gulf states and Europe.
City Highlights
Cairo's rich history dates back to A.D. 969 when the Fatimids established it as a capital for the Islamic Fatimid dynasty. Much of the construction that was commissioned during the Fatimid time remains today; Al-Azhar University - Gaza, which served as Cairo's first mosque, is currently one of the oldest universities in the world. Cairo underwent many dynasty-changes until 1805, when Muhammad Ali Pasha – the father of modern Egypt – began to rule the country. However, it wasn't until his grandson Ismail Pasha's ruling that the city's present-day landscape was established.
Cairo offers several historic sites of its own and nearby Ancient Egyptian wonders, such as the Pyramids of Giza and the Sphinx. The Museum of Egyptian Antiquities houses the largest collection of ancient Egyptian artifacts in the world.
Known primarily for its medieval Islamic architecture – the city is nicknamed "the city of a thousand minarets" – Cairo is also the center for Coptic Christianity, which originated during the apostolic period in Alexandria.
Lending from its rich historical heritage, Cairo's most famous marketplace – the Khan al-Khalili – dates back to the 1300s and offers a medley of crafts from local artisans, street food and 'ahwa (a traditional coffeehouse). Traditional Egyptian eateries include taa'miya (falafel), ful (bean paste), koushari (lentils, macaroni, rice and chickpeas) and kebab.
Author: Saaniya Bangee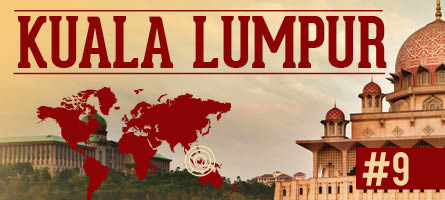 Malaysia's capital and largest city, Kuala Lumpur, serves as the commercial and industrial hub for the country. Kuala Lumpur, or KL as the local residents call it, is a bustling metropolis.
Literally meaning "muddy river confluence", the 150-year old city was founded by Chinese tin miners and is now a part of the urban agglomeration Greater Kuala Lumpur (commonly known as the Klang Valley), which includes adjacent cities Petaling Jaya, Shah Alam, Klang, Port Klang, Ampang, Selayang/Rawang, Kajang, Puchong and Sepang.
Energy Impact
With headquarters in Kuala Lumpur, Malaysia's national oil and gas company Petroliam Nasional Berhad (Petronas) holds rights to all of the country's oil and gas resources. However, it wasn't Petronas that discovered Malaysia's rich resources. In 1910, Royal Dutch Shell plc discovered Malaysia's first oil field – onshore Sarawak. Currently, the country's oil reserves are the third largest in the Austral-Asia region (after China and India).
Petronas made its first onshore discovery in January 2013 after a 24-year lapse. After years of international exploration, Petronas announced in early 2013 it will place a renewed focus on domestic exploration. Malaysia's gas reserves are approximately four times the size of its oil reserves – 3.4 billion barrels – as of January 2012. It holds 82.5 trillion cubic feet of gas reserves, with 59 percent located offshore Sabah and Sarawak and 41 percent offshore Peninsular Malaysia, according to Petronas.
Exxon Mobil Corp., Lundin Petroleum, Murphy Oil Corp. and Shell are among the foreign oil companies to participate in production sharing contracts in the country.
Malaysia has a limited oil pipeline network due to its island geography, but boasts one of the most extensive natural gas pipeline networks in Asia. As a result, the country is also a candidate for the hub in an ongoing trans-ASEAN gas pipeline project by the Association of South East Asian Nations (ASEAN), hoping to link major ASEAN gas output and consumption centers by 2020.
City Highlights
Almost accidentally, Kuala Lumpur was discovered in the mid-1800s as Chinese prospectors searched for tin at the confluence of the Klang and Gombak rivers. The "meeting spot" soon became a booming mining town that was destroyed by a fire and later a flood in the late 1800s. Briefly ruled by the British and Japanese, the city officially became the Federal Territory of Kuala Lumpur in 1974.
From its humble beginnings, Kuala Lumpur's ethnic diversity and economy have evolved the city into a major cultural, economic and political center in Southeast Asia. Kuala Lumpur is a host city for the Formula One World Championship and it hosted the 1998 Commonwealth Games.
Kuala Lumpur"s Golden Triangle, comprising Jala Ampang, Jalan Imbi and Jalan Tun Razak, houses most of the city's glitzy shopping and nightlife, including the iconic Petronas Towers – the tallest twin skyscrapers in the world. Two companies, Japanese Hazama Corp. and South Korea's Samsung C&T Corp., were hired to construct the buildings.
Although it is mainly known for its cuisine and shopping, the city holds many architectural treasures blending modern skyscrapers with the unique Malay style. Including Islamic and Asian influences, Kuala Lumpur's architecture styles include: Moorish, Tudor, Neo-Gothic, Grecian-Spanish, Late Modernist and Post-Modernist.
For a more historic feel, Kuala Lumpur's City Centre retains much of the colonial-era buildings and traditions. The Merdeka Square – where Malaysia won its independence – the Moorish-style Kuala Lumpur Railway Station and the Islamic Arts Museum offer a glimpse of the city's colonial district. Nearby, the traditional commercial district, now commonly referred to as Chinatown, is lined with temples, mosques and markets.
Author: Saaniya Bangee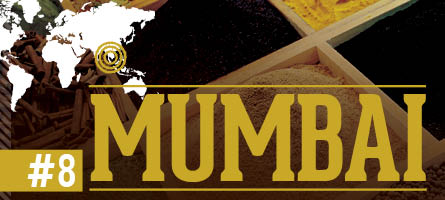 Often described as lively, energetic, chaotic and enterprising, Mumbai is the capital city of the Indian state Maharashtra. With a total metropolitan area population of about 20.5 million, Mumbai is the most populous city in India and is the fourth most populous city in the world.
India has emerged as one of the most prospective regions in the world with Mumbai serving as the country's economic hub.
Energy Impact
With Mumbai being at the center of the business and oil and gas industries, most of the country's important dealings occur in Mumbai. The city even has one of the world's largest oil fields named after it. Mumbai High Field, considered to be the most important oil field in the country, resides west of India's Mumbai coast. This massive oil and gas field contributes roughly 65 percent of the country's indigenous crude oil production.
The country had 5.5 billion barrels of proved oil reserves at the end of 2012, mostly in the western part of the country, and 43.8 trillion cubic feet of natural gas reserves at the end of 2012, mostly offshore, according to US. Energy Information Administration (EIA)
The two biggest state-owned oil companies, Oil & Natural Gas Corporation (ONGC) and Oil India Ltd. dominate the country's upstream gas sector with Reliance Group – Reliance Industries Ltd.'s parent company, headquartered in Mumbai – is touted as India's largest private sector enterprise. To further increase the country's reserve base outside of the city, energy companies have made a number of large gas discoveries in the Krishna-Godavari (KG) basin off of India's eastern coast.
Recently, India's government announced plans to unveil its shale gas policy in the second quarter of 2013 to exploit unconventional resources to fuel its expanding economy and cut subsidies.
The availability of natural gas, including imported LNG, is expected to intensify in the country by more than 52 percent to 272 million cubic meters a day by 2013-2014. Presently, the total availability of natural gas in the country, including LNG, is around 168 million cubic meters a day, the Union Minister of Petroleum and Natural Gas stated.
To capitalize on the alarming gas surge in India, the Gas Authority of India Ltd. (GAIL) is investing and broadening its pipeline network that mainly resides in the northern and western parts of the country. For the next three years, GAIL plans to invest roughly $661 to $771 million to enlarge its transmission capacity from the current 150 million standard cubic meters per day to 300.
City Highlights
Four years ago, Mumbai was ranked among the fastest growing cities in the country for business startups and was ranked seventh in the list of "Top Ten Cities for Billionaires" by Forbes magazine. Mumbai is considered the third most expensive office market in the world with state and central government employees forming a large percentage of the city's workforce. With more than 6.29 million foreign tourist arrivals in India in 2011, the World Travel and Tourism Council calculated that tourism generated $121 billion, or 6.4 percent, of the nation's GDP that same year.
The Mumbai-based Hindi film industry, Bollywood, produces nearly 200 more films a year compared to Hollywood. Each year, a staggering one billion moviegoers dash to see renditions that are almost 50 percent longer and produced using a fraction of the budget with more color, melodies and melodrama.
Mumbai is also home to the world's most expensive residence: Antilia. The 27-story skyscraper, built and owned by local tycoon Mukesh Ambani, cost a staggering $2-billion dollars. In 2006, construction started on the 568-feet tall building that boasts 4,000,000 square feet of interior space. Antilia reportedly has three helipads, six floors of parking and a full-time staff of 600.
Author: Robin Dupre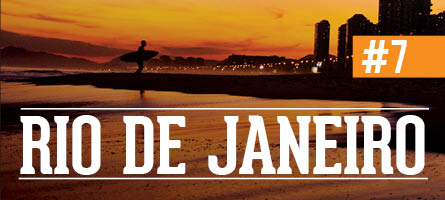 Rio de Janeiro, Brazil's second urban and economic center after Sao Paulo, is the continent's center for oil and gas exploration, driving business opportunities. Last year, the city received $7.3 billion in foreign direct investment, estimated to be seven times more than the year before, and more than twice as much as Sao Paulo, the state's capital.
Increasing domestic oil production, which is predominantly produced offshore Rio de Janeiro, has been a long-term goal of the Brazilian government. Brazil holds roughly 14 billion barrels of proven oil reserves and holds the second-largest net amount in South America after Venezuela, according to the U.S. Energy Information Administration (EIA). The offshore Campos and Santos Basins hold the vast majority of the country's proven reserves with oil production to reach 3 million barrels of oil per day in 2013, according to EIA.
Petroleo Brasileiro S.A. or Petrobras, Brazil's leading integrated oil and gas company, is headquartered in Rio de Janeiro. Considered the world's largest deep water operator, Petrobras reported that its crude reserves reached 12.88 billion barrels of oil and natural gas equivalent in 2012 and is a major distributor of oil products.
Energy Impact
Due to its resource-rich economy and booming oil and gas sectors, many businesses have opened offices in Rio causing prime office rent to skyrocket higher than anywhere else in the Americas, according to property-consultants Cushman and Wakefield.
Until recently, Petrobras held a monopoly on most oil-related activities in the country, but the city is now home to many Brazilian branches of oil and gas companies, such as Royal Dutch Shell plc, EBX Group, Anadarko Petroleum Corp. and Exxon Mobil Corp. Today, only 2 percent of oil exploration in Brazil is conducted by foreign companies with an estimated research and development budget of $500 million in 2011, according to Forbes magazine. This number is expected to increase 25 percent, attracting investments from Chevron Corp., Repsol S.A., BP plc and a few other O&G companies. The total amount of foreign research and development investment is forecasted to hit $7 billion by 2017, said Forbes. With more and more foreign investment, there is an extensive range of job opportunities for expats moving or relocating to Brazil.
City Highlights
With a strong presence in the energy industry, Rio de Janeiro is known for much more than its thriving energy businesses. The 2014 FIFA World Cup and the 2016 Summer Olympics are coming to the city soon, showcasing what many Cariocas, as the people of Rio are called, already know – just how beautiful this city really is. Most visitors opt to stay in the Zona Sul, the Southern Zone beach areas of Copacabana, Ipanema and Leblon, which boast some of the world's most pristine beaches.
With breathtaking views from Corcovado Mountain, which houses Brazil's best-known image, the 2,329-foot tall famous Christ the Redeemer statue, the mountain represents the highest peak in Brazil and the world's largest urban forest – the Tijuca forest. The mountain offers 360-degree panoramic views and the Christ the Redeemer statue, elected as one of the New Seven Wonders of the World, crowns its peak.
Rio de Janeiro is also well-known for its annual Rio Carnivale. Although Carnivale, or Carnaval in Portuguese, is celebrated in towns and villages throughout Brazil and other Catholic countries, Rio de Janeiro is regarded as the Carnivale capital of the world. The festival draws in roughly 500,000 tourists each year for its four-day celebration 40 days before Easter.
Author: Robin Dupre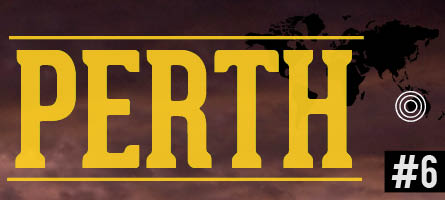 Regarded by some as the most remote city on earth, Perth is more than 1,300 miles away from the nearest city that has a population of more than 100,000 people. The capital city of the state of Western Australia, Perth has a population of more than 1.8 million people – which means that the city has around three times as many people in its environs than that entire population of the rest of the state.
Founded in 1829, the city's population swelled in the late 19th Century amid Western Australia's gold rushes. Today, the city is benefiting from the state's recent energy boom.
Energy Impact
Western Australia has seven major sedimentary basins, four of which – Carnarvon, Perth, Bonaparte and Canning – are largely located offshore and have been producing hydrocarbons for several years, and one – the Browse Basin – is currently being developed.
Perth-based Woodside Energy, along with its partners, owns extensive gas reserves in the Browse Basin. Royal Dutch Shell plc is another company active in the basin and is developing its Prelude project there – a floating liquefied natural gas (FLNG) facility that will be used to develop Shell's Prelude and Concerto gas fields located in the basin.
Western Australia has a number of major gas projects currently under development including: Chevron's $45-billion Gorgon gas project that aims to develop some 35.3 trillion cubic feet of natural gas located 120 miles from the state's coastline; the $31-billion Browse LNG project; and the $30-billion Chevron-Wheatstone LNG project.
The recent boom in its energy sector has seen Western Australia outstrip the rest of the country when it comes to job growth, as reflected by migration statistics that show Western Australia's population growth increased by a whopping 3.4 percent in 2012 – compared to just 1.7 percent for Australia as a whole, according to the Australian Bureau of Statistics.
City Highlights
Australia is renowned for some of the most beautiful beaches in the world and Perth has several of the best. Sun seekers and those interested in swimming, surfing and snorkeling in the Indian Ocean will be well served by the city.
Perth residents are no different from the average Australian when it comes to a love of sports. As with many regions in Australia, the two main sports in Western Australia are cricket and Australian rules football.
Taking part in sports is encouraged everywhere in Australia but for those who prefer to watch, Perth has plenty of sports venues. The "home" of Australian rules football in Perth is the Subiaco Oval, while the city's WACA Ground is well-known to cricket fans worldwide. Perth also has teams participating in Australia's national basketball, field hockey, rugby union, rugby league and soccer leagues, while also hosting golf and tennis tournaments.
While prejudice might assert that food in Australia is all about barbecues and kangaroo burgers, Perth belies this view with a wide range of restaurants that serve food from around the world, one or two of which even boast a Michelin-starred chef. The nearby city of Freemantle, which serves as the port to Perth, also has the 'Cappuccino Strip' that features many Italian eateries.
Wine lovers could do worse than set up camp in Perth since the city is close to the Western Australian wine country. Several tours often start in the city to take visitors to some of the region's many renowned wineries.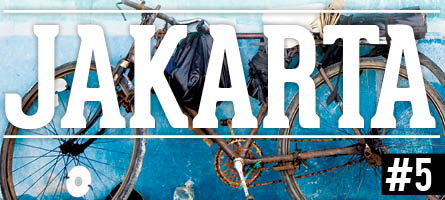 Jakarta has been the capital of Indonesia since the country gained independence in 1950.
The Big Durian, as Indonesians call Jakarta (inspired by the South East Asian fruit), is a well-earned nickname for the city. Although half the size of New York and with more than 10 million people, it is still the most populous city in Southeast Asia and the 13th most populated city in the world.
Energy Impact
Indonesia is located where the Australian, Pacific and Southeast Asian tectonic plates meet. Most major petroleum discoveries in Indonesia have been associated with Tertiary-era sediments or, locally, with either basement or Tertiary volcanic phenomena.
A one-time OPEC member, Indonesia – the world's fourth most-populous country with almost 240 million people – remains heavily dependent on petroleum. Its economy saw primary energy consumption increase by more than 50 percent during the last decade.
The country has 60 sedimentary basins. Thirty-six of these in the mature west have been well explored, with 14 currently producing oil and gas. In the under-explored east, 39 Tertiary and Pre-Tertiary basins show strong potential for hydrocarbons.
Jakarta is a well-placed base for the Indonesian oil industry and its workers since it is located on the northwest of Java – an island that is proximate to the key oil and gas producing regions of Sumatra, the Java Sea and East Kalimantan. Approximately three-quarters of the country's exploration and production activity are in western Indonesia.
As well as the state-owned energy company PT Pertamina, a number of international oil and gas companies operate in the country. Majors with upstream activities in Indonesia include BP plc, Chevron Corp., ConocoPhillips, Exxon Mobil Corp. and Total S.A., while China National Offshore Oil Corp. and South Korea's Korea National Oil Corp. are two national oil companies involved in the country's upstream sector.
Indonesia is the eighth-largest gas producer in the world, with proven reserves of 108 trillion cubic feet in 2010. These gas reserves are approximately three times the size of the country's oil reserves, according to PwC.
In January, Indonesia said that 74 contractors are expected to invest around $23.5 billion in production and exploration in the country during 2013. Approximately $14.7 billion will be earmarked for production activities, such as Total's South Mahakam block in East Kalminatan and ConocoPhillips' Sumpal field in South Sumatra, while $5 billion will be used in development projects. Nearly $2.3 billion is forecast to be spent on exploration.
More recently, in March, Indonesia awarded 14 new oil and gas exploration blocks to several companies, including Japan's Inpex Corp. and UK independent Premier Oil.
City Highlights
Jakarta has something for everyone. A wide selection of more than 200 bars and clubs are distributed across the city, while there are more than 800 restaurants that are regularly used by visitors to the capital.
Foreigners know Indonesian cuisine for its spiciness and a few of the country's national dishes such as satay are world famous. However, visitors to Jakarta will be able to sample a wide range of Indonesian food. The country is made up of approximately 6,000 populated islands meaning many regional dishes exist.
The city also hosts several prestigious arts and culture festivals, including Jakarta Fashion Week and the Jakarta International Java Jazz Festival. The Jakarta Fair, a trade fair held annually from mid-June to mid-July, features a variety of entertainment including performances from local musicians.
Most of Jakarta's landmarks and monuments were built in the 1960s, but for those with an interest in the more-distant past there is the Batavia Stadhuis in the city's Old Town district. This was built by the Dutch in 1710 and it has served as the home of the Jakarta History Museum since 1974.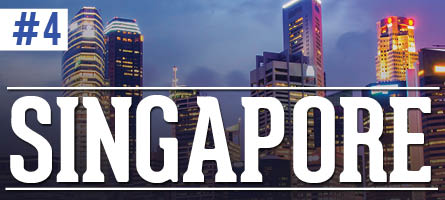 Located on the southern tip of the Malay Peninsula near the Straits of Malacca, Singapore has played a significant role in international trading. The island nation – which offers strategic advantages of a natural deep harbor, fresh water supplies and wood for repairing ships – first rose to prominence in the 14th century as a trading post that drew seafarers from as far away as Europe. Sir Stamford Raffles' establishment in 1819 of a British port in Singapore marks the birth of the modern city-state. The nation's importance as a trading hub grew with the opening of the Suez Canal in 1869 and the invention of the telegraph and steamship, as well as a free trade policy that drew merchants from across the globe.
Energy Impact
Singapore began evolving in the 1960s from a third-world status nation with poor infrastructure and limited capital to a global manufacturing and business hub for a number of industries, including electronics, biotechnology and marine and offshore engineering. This transformation resulted from Singapore's effort to create jobs and build a manufacturing base following the establishment of Singapore as a republic independent of Malaysia. The Singapore Economic Development Board (EDB) was also established during this time to attract foreign investment to the island nation. Singapore has prospered under its free-market approach combined with economic planning.
The oil and gas industry has also played an integral role in Singapore's economy since oil trading began in 1891. Singapore is one of the world's top three export refining centers, according to the EDB. A number of drilling rig and offshore support vessel manufacturers, including Keppel Corporation and SembCorp Marine Ltd., call Singapore home.
In 2013, these companies are expected to continue reaping the benefits of higher oil prices, growing offshore exploration and production investments worldwide and demand for high-specification drilling rigs. Singapore's marine and offshore sector is expected to benefit from investments by Asian companies in deepwater exploration, drilling and production. Last year, Douglas Westwood forecast that, from 2011 to 2016, Asian companies will invest $28.8 billion in these activities, more than double the $11.6 billion spent in the previous five-year period of 2007 to 2011.
Singapore is also home to a number of companies that provide marine-related services such as classification services, maritime and insurance services, as well as offshore support services. The EDB reports that Singapore is the largest manufacturer of jackups and commands 70 percent of the world market. Singapore also holds 70 percent of the global market for the conversion of floating production storage and offloading units and a 20-percent share of the world's ship repair business.
City Highlights
Singapore's establishment as a British port in the early nineteenth century drew immigrants from across Asia. Home to nearly 5 million people, Singapore's culture reflects the diversity of its population, a blend of mainly Chinese, Indian, Eurasian and Malay cultures, languages, cuisine, arts, customs, architecture and festivals. Singapore's population today also includes a large number of expatriates from North America, Australia, Europe, China and India.
Residents and visitors of Singapore will find no shortage of things do in this cosmopolitan city-state. This roster of things to do includes museums such as the Peranakan Museum that showcases Singapore's history and culture. The city also offers abundant and diverse dining options and high-end shopping, as well as the chance to see Singapore's past through strolls in its historical sections such as Chinatown, Kampong Glam, Little India and its colonial district. Visitors can also take a spin on the 541-foot (165-meter) high Ferris wheel known as the Singapore Flyer or a view of the Merlion statue, the iconic mythical lion-fish creature that represents Singapore.
They also can tour the city-state's many historical landmarks dating back to early migrants to Singapore, memorials commemorating heroes of World War II such as the Changi Chapel and Museum, nature trails that include the Bukit Timah Nature Reserve and gardens such as the Singapore Botanical Gardens.
Author: Karen Boman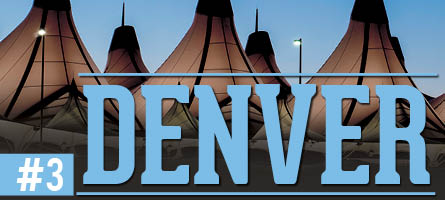 Nicknamed the Mile High City because of its elevation, Denver was established in 1858 just east of the Rocky Mountains as a mining town during the Pikes Peak Gold Rush. Originally known as Denver City, the city was named after Kansas Territorial Governor James W. Denver. At the time, the area was part of Kansas Territory. Later, Denver City's name was shortened to Denver after it became the capit al of the Colorado territory, which was created in 1861. Completion of the Denver Pacific Railroad in 1870 that linked Denver to the transcontinental railroad enabled Denver to prosper as a supply and service hub.
Energy Impact
While gold mining brought the first settlers to Denver, companies that are part of the air transportation, telecommunications, aerospace, and manufacturing industries are also found in Denver today. A number of oil and gas companies are also present in Denver, including Halliburton, Noble Energy Inc., Anadarko Petroleum Corp., EnCana Corp., EOG Resources Inc., and GE Oil & Gas.
Innovation in multi-stage hydraulic fracturing and horizontal drilling technology has allowed the oil and gas industry to begin exploring Colorado's unconventional resources. These resources include shale and tight sands within three basins. Of these plays, the Niobrara currently is the most active, according to a report by the Institute for 21st Century Energy. Some analysts have estimated the Niobrara, which is mainly a liquids-rich play, to hold reserves of approximately 2 billion barrels of recoverable oil reserves, according to the Colorado Oil & Gas Association.
Unconventional oil and gas activity in Colorado created 77,600 jobs in the state in 2012, according to the second part of a report by the Institute for 21st Century Energy into the impact of unconventional resources on the U.S. economy. The number of jobs in Colorado supported by shale activity will grow to 121,398 in 2020 and 175,363 in 2035. Unconventional oil and gas activity contributed value-added economic activity of more than $11 billion in Colorado last year; that contribution is estimated to grow to more than $26 billion by 2035.
The nine-county Metro Denver and northern Colorado region ranked fourth for fossil fuel energy employment and seventh among the nation's 50 largest metros for clean technology development concentration in 2012, according to the Metro Denver Economic Development Corporation. The energy industry cluster employs more than 44,000 people in the area, and the state of Colorado ranked tenth in fossil fuel energy jobs. Energy research centers and universities such as the National Renewable Energy Laboratory and the Colorado School of Mines are also found in the Denver area.
The energy industry not only has impacted Denver's economy in real life, but in prime time as well – the popular 1980s TV soap opera, "Dynasty" followed the lives of a wealthy oil family living in Denver.
City Highlights
Denver residents can enjoy an active lifestyle, thanks to the city's proximity to the ski resorts and outdoor recreation opportunities in the Rocky Mountains, as well as the city's golf courses, dog parks, swimming pools and tennis courts. Not surprisingly, Denver's access to outdoor recreation opportunities means its residents are among the healthiest in the United States. In 2011, Forbes magazine ranked Denver fifth among America's Top 20 Healthiest Cities. The city's overall good weather, performing arts and cultural opportunities, panoramic view of the Rockies and excellent schools make Denver an ideal place to work.
Residents and visitors can glimpse the city's past at historical sites such as the Molly Brown House – the home of the Unsinkable Molly Brown, an American socialite and philanthropist who survived the sinking of the Titanic – to Denver's Four Mile Historic Park, which features the city's oldest standing structure and exhibits of pioneer life in the West. Other landmarks and attractions include Colorado's state capitol building, the U.S. Mint and Elitch Gardens, an amusement park located in downtown Denver. The city offers something for everyone, from art and science museums to performing arts and sporting events to its aquarium, zoo and botanical gardens.
Author: Karen Boman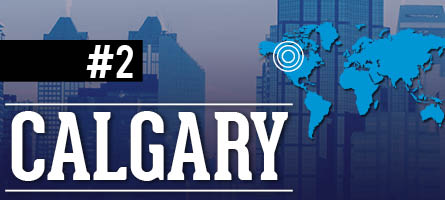 Energy Impact
Accessible to some of Canada's top oil and gas plays, Calgary is Canada's energy capital and Alberta's largest city. The city's growth has paralleled the fortunes of Alberta's oil and gas industry, which rose to prominence with the province's first major oil discovery at Leduc in 1947.
Alberta's Energy Resources Conservation Board (ERCB) reports the province's conventional established oil reserves stand at approximately 1.5 billion barrels; the province produces nearly 500,000 barrels per day of conventional crude. Conventional oil production has tapered off in the mature Western Canadian Sedimentary Basin, but Alberta's oil sands will ensure that Alberta maintains a prominent role in the global energy industry. The province's oil sands reserves hold nearly 170 billion barrels of bitumen recoverable with technology available as of 2011.
More than two-thirds of all natural gas produced in Canada originates in Alberta, with an estimated recoverable conventional natural gas reserves base of 73 trillion cubic feet (Tcf). Reserves of the province's coalbed methane may be a whopping 500 Tcf. Although the extent of Alberta's unconventional shale gas resources in as many as 15 formations is still under review, a preliminary estimate reveals that five of these formations – Basal Banff/Exshaw, Duvernay, Muskwa, North Nordegg and Wilrich – could hold nearly 1,300 Tcf of gas in place.[i]
According to Calgary Economic Development, nearly 56,000 Calgarians worked in the energy industry in 2010. That same year, roughly 1,700 business establishments comprised Calgary's energy sector. The Canadian Association of Petroleum Producers expects more than 5 percent of global oil production to originate in Western Canada by 2025. Calgary's best days as an oil and gas hub may yet be ahead.
City Highlights
Established as a fort by the precursor to the Royal Canadian Mounted Police, Calgary officially became a town in 1884. By that time, it was home to a new Canadian Pacific Railway station that greeted homesteaders lured by cheap land. The influx of newcomers fostered Calgary's emergence as an agricultural and commercial center. So robust was Calgary's growth that it was re-incorporated as a bona fide city in 1893. Farming and ranching have long been mainstays of Calgary and Alberta's economies, and Calgary pays tribute to this heritage every July during the world-famous Calgary Stampede celebration. Oil was first discovered in Alberta in 1902, but the aforementioned Leduc discovery 45 years later ushered in Calgary's transformation into a petroleum industry hub.
Since then, Calgary has become a thriving city of approximately 1.1 million that continues to welcome newcomers. Much more than what its "Cowtown" moniker suggests, Calgary offers a plethora of things to see and do that do not require cowboy hats and boots. Located in foothills and grasslands east of the Canadian Rockies near the 51st parallel north, Calgary experiences four distinct seasons. Luckily for locals and visitors alike, there are many ways to spend them. If you're fond of the outdoors, the Calgary area will not disappoint. The city offers more than 400 miles of bike trails and 31 square miles of parkland and public green space. The area is also a hot spot for anglers eager to tie a fly and cast a line in the Bow River, which runs through the city. Looking for some spectacular scenery? The world-class mountain vistas of the Canadian Rockies and Banff National Park are less than two hours away by car.
Sports fans can visit Canada's Sports Hall of Fame or cheer on the city's professional hockey, lacrosse or Canadian Football teams. Calgary also hosted the 1988 Winter Olympics – the first Canadian city ever to do so. Some 25 years later, one can ice skate at the speed skating venue for the 1988 games: the Olympic Oval.
If you consider shopping a sport, check out Calgary's boutiques in upscale Inglewood or bohemian Kensington Village. In addition to offering great shopping, the Stephen Avenue Walk pedestrian area downtown boasts great architecture, nightlife and more. In addition, Calgary's Cultural District houses venues for art enthusiasts to experience theatrical, musical and other performances.
Tipping a hat to its Western heritage, Calgary is a great place to order a steak. However, the city's numerous restaurants serve up cuisines originating from Addis Ababa to Zacatecas and virtually everywhere in between.
[1] Reserves and production figures are taken from the Alberta ERCB website: http://www.ercb.ca/learn-about-energy/energy-in-alberta/production-reserves
Author: Matthew Veazey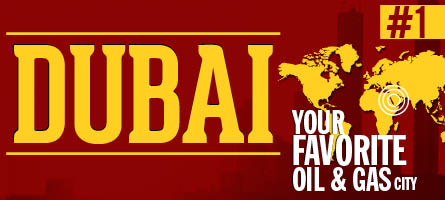 The glitziest of the seven emirates in the United Arab Emirates on the Arabian Peninsula, Dubai has aptly been called the "City of Gold." The city's gleaming – and expanding – skyline reflects the luster of the city's booming economy, which has provided opportunity to people of various nationalities and walks of life. Dubai's newcomers, in turn, have transformed the city into much more than a major hub for the oil and gas industry.
Energy Impact
Although Dubai is located in the country that boasts some of the world's largest oil and natural gas reserves, its bounty of hydrocarbon resources pales in comparison to those of neighboring emirate Abu Dhabi. Nevertheless, Dubai has been an offshore oil producer since the 1966 discovery of the Fateh field in the Persian Gulf. In addition to Fateh, other key offshore fields developed by national oil company Dubai Petroleum Establishment (DPE) have included South West Fateh, Falah and Rashid. In February 2010, DPE made another significant offshore discovery that is currently under development: the Al Jalila oil field.
Aside from DPE, E&P companies such as Dragon Oil, drilling contractors such as KCA Deutag Drilling Inc. and Odfjell and service companies such as Halliburton Co. and Wood Group are among oil and gas industry players maintaining a significant presence in Dubai. Wealth generated from the oil and gas industry has spurred aggressive economic diversification measures in Dubai. Having leveraged its business-friendly climate, cultural openness and accessibility to markets in Africa, Asia and the Middle East, the city has become a major hub for finance, real estate and construction, retail, international trade and tourism.
City Highlights
Located in an area with evidence of human habitation dating back to the Bronze Age, Dubai traces its more recent origins to a 17th century Portuguese settlement. From the beginning, the remote outpost on the Persian Gulf was destined to be a cosmopolitan place. Dubai's residents supported themselves by fishing, pearl diving and trading with outsiders from India, Portugal, France, the Netherlands and Great Britain. The city's profile in international shipping began to rise in the 1890s when Sheikh Maktoum bin Hasher made Dubai a tax-free port. For several decades, Dubai prospered as a trading hub. Since gaining independence from the United Kingdom in 1971, Dubai's fortunes have continued to rise. The emirate's economic development has been particularly robust since the 1990s.
Today, more than 2 million people representing scores of nationalities live in the emirate. Expatriates outnumber native-born "Emiratis" by a comfortable margin in Dubai and make up a clear majority of its workforce. Some of the larger expatriate groups in Dubai include natives of Bangladesh, Egypt, India, Iran, Jordan, Lebanon, the Philippines, South Africa, the United Kingdom and the United States. Arabic is the official language of the UAE, but English, Hindi, Tagalog and other languages are widely spoken as well.
Dubai's tradition of welcoming outsiders extends to leisure travelers, and the city has cultivated a reputation as one of the world's leading vacation destinations. Many visiting families enjoy relaxing on Dubai's white sandy beaches, frolicking at a water park or even hitting the slopes at the Middle East's first indoor ski resort. Travelers can also go "dune bashing" in a desert safari tour, topping off the experience with camel rides, a barbecue dinner and a belly dance performance. Sports enthusiasts can enjoy horse or Formula 1 racing, cricket, field hockey, soccer and even American football. Art and history buffs can also check out Dubai's rich assortment of galleries and museums.
Located at an intersection of major trade routes, Dubai is also a shopper's paradise that caters to a broad array of tastes and budgets. Bargain-hunters flock to the city's souks and shopping malls in search of jewelry, rugs, spices, clothing, kitsch, furniture and virtually any other item imaginable.
Shopping and other leisure pursuits can make one hungry, and Dubai boasts a vast assortment of local and international cuisines to suit any palate and budget. When it's time to call it a night, travelers can stay at what has been billed as the world's only 7-star hotel: the Burj Al Arab. If one's budget demands more modest accommodations, there are tens of thousands of hotel rooms at dozens of other establishments – with many more under construction – to suit a wide range of lodging needs.
Author: Matthew Veazey
---
Generated by readers, the comments included herein do not reflect the views and opinions of Rigzone. All comments are subject to editorial review. Off-topic, inappropriate or insulting comments will be removed.