Schramm Unveils New 'Walking, Talking' Telemast Rig
by Karen Boman
|
Rigzone Staff
|
Friday, April 26, 2013
Walking and talking are two verbs typically not associated with a drilling rig. However, the latest version of Schramm Inc.'s Telemast drilling rig can do both, a company official told Rigzone.
The Westchester, Pennsylvania-based company recently shipped one of its new T500XD Telemast drilling rigs to a customer for use in the Utica and Marcellus plays.
The latest rig in Schramm's Telemast drilling rig line, the T500XD, has a number of interesting characteristics, said Fred Slack, vice president of business development at Schramm, in an interview with Rigzone. Unlike traditional rigs which are on rails that only allow movement from left to right or front to back, the T500XD has a walking subbase which lifts the entire rig six inches allowing the rig to turn.
The rig can walk at a pace of 30 feet per hour and move a full 360 degrees, rather than moving forward and back or side to side, and can move quickly from hole to hole without the traditional two-axis pad mounted design limit. The T500XD also "talks" in that it allows drilling data to be transmitted via the Internet or satellite communications systems to remote operations centers in multiple locations, Slack noted.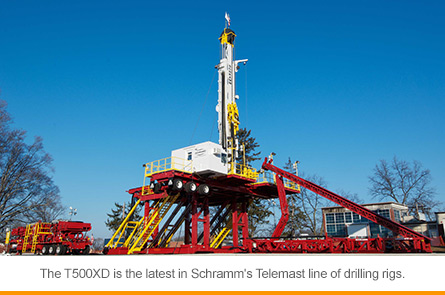 The rig, which is in the 500,000-pound hook load class, can drill horizontally or directionally to 15,000 feet or more, and can control weight on bit without utilizing traditional drill collars and gross string weight alone. This method is not a particularly accurate science, Slack noted.
The T500XD also offers best in class 35,000 feet-pounds of top head torque, third party directional steering interface and 80,000 pounds of hydraulic pulldown capacity, third party directional steering interface and 80,000 pounds of hydraulic pulldown capacity, meaning the rig can be used in a number of shale play opportunities globally.
The T500XD also features the LoadSafe XD automated pipe handling system can handle 24-inch diameter Range III tubulars weighing up to 10,000 pounds. In this system, drill pipe also is racked in the horizontal position for easy loading and offloading, dramatically improving operator safety.
"Traditionally you've had roughnecks working with their bare hands. With safety an important consideration, the joystick controls now allow workers to operate the rig without touching moving parts," Slack said.
The rig can be set up without a crane within a short period of time, and the rig, walking subbase, power unit and pipehandling system can be transported in only eight truckloads, said Slack. This compares with competitor rigs that advertise 12 truckloads.
Five to six crew members would typically be needed for a rig of this size, but the T500XD only requires three crew members, two in the control room operating joysticks and a helper, Slack noted. As a result, Schramm's rigs have a smaller footprint, and are less disruptive to the environment, Slack said.
Launched in 2002, the Telemast rig line features a telescoping mast instead of a traditional erector-set type gantry seen in traditional drilling rigs. The telescoping mast uses hydraulics to retract a rig into a truck transportable position in one piece, Slack said. The initial Telemast rig, the T130XD, was utilized in coalbed methane drilling; it then grew into the TXD rig, which has been used for tophole work in the Marcellus and Utica plays as well as the Permian Basin in Texas, Slack commented.
One approach operators have been using is to use a TXD rig to go in quickly and drill a tophole, the use a larger rig to drill the lateral. The latest Telemast rig now allows for both operations to be carried out with one large Schramm rig, Slack said.
Founded in 1900, the company made air compressors for a number of years – the company was the first to a portable engine driven air compressor, Slack noted. In the early 1950s, the company transitioned to manufacturing drilling rigs that used high pressure air instead of mud.
"We are an industry leader in mining and mineral exploration applications with reverse circulation that uses high pressure air to blow the material out of the hole instead of traditional cones with mud drilling applications," Slack commented. "One of the advantages of our rigs is that the TXD uses air hammer for tophole drilling, which allows for a more efficient process than traditional rotary drilling with mud."
Energy, mineral and water exploration make up the three legs of Schramm's business. The company has also been involved in the geothermal drilling market, although that market is quiet at the moment, Slack noted.
Approximately 70 percent of the company's rigs are exported overseas to markets that include China – where the company has enjoyed tremendous success – Australia, Uzbekistan, Iceland and Cameroon. The roster of countries in which Schramm rigs operate literally runs A to Z, from Australia to Zambia, said Slack. At a recent service school, the company actually had students from the two countries.
Slack said the company is in discussions with a number of operators for the rigs to be utilized in other U.S. shale plays in addition to the Utica and Marcellus.
The company, which currently has 250 employees, has had offices at the same location in WestChester since 1917, and has employees who are the fourth generation of families who have worked for Schramm. Schramm manufactures up to 200 rigs per year; the price of each rig ranges from $750,000 to $7.65 million. The newest Telemast rig has as a price tag of $7.65 million.
Slack credits the company's culture of doing good for the company's families, community and the industry – a principle driver of Schramm's business – with the company's ability to design and manufacture innovative products. This same culture was also behind the company's successful 2010 rescue of 33 miners trapped in in the San Jose Mine in Copiapo, Chile, after the mine collapsed in August of that year.
Nine Schramm rigs that were being used in mineral exploration nearby were used to drill holes to find the miners. A T685 rig, which drilled probing holes 5.5 inches in diameter approximately 2,300 feet deep, found the miners Aug. 22, two days before they would have run out of food. The hole drilled by the rig allowed rescuers to supply the miners with food and supplies. A second T685 rig completed a 5.5 inch hole that would ultimately become the Plan B borehole through which the miners were rescued.
Three drilling plans – A, B and C – were pursued in the rescue attempt. The Chilean government had initially estimated that it would take up to four months to rescue the miners. However, the fast progress made in reaming out the Plan B borehole allowed the miners to be rescued Oct. 9, 2010, instead of sometime before Christmas.
Following the Chilean mine rescue, the company began offering a mine rescue rig package. Slack said the company recently sold such a package to a company in China for use in a mining accident there.
"They are making tremendous progress in improving safety," Slack commented.
In January, the company's quality management system received a number of American Petroleum Institute and ISO certifications. Three of the specifications – API-Q1, ISO-9001: 2008 and ISO/TS 29001 – certify that Schramm's rigs comply with internationally recognized quality management system requirements.
This certifications help Schramm ensure that its design, manufacturing and order fulfillment processes consistently satisfy its customers across all markets served. These certifications also are increasingly asked for by customers as safety, Slack commented.
"The API Q1 [certification] was a major event for us and very important for larger rigs," Slack noted. "Our customers are calling for that as safety becomes a major focus. The company also is getting into CE-marked rigs. The CE mark is a manufacturer's declaration that their product complies with European Union legislation, allowing the product's free movement within Europe. The company has sold a number of rigs to customers in eastern Europe," said Slack.
The company's rigs can be converted to burn natural gas, Slack said.
"We don't take the attitude that what you see is what you get. We have standard products but can also fit them out on a case-by-base to meet customer needs."
Generated by readers, the comments included herein do not reflect the views and opinions of Rigzone. All comments are subject to editorial review. Off-topic, inappropriate or insulting comments will be removed.