Noble, PXP Shake Hands on UDW Drillships for Gulf of Mexico
|
Thursday, April 18, 2013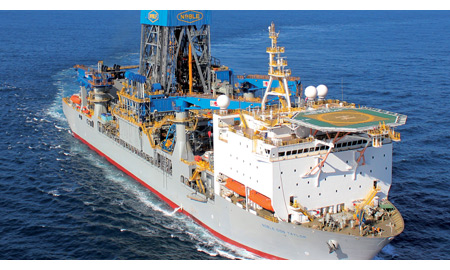 Noble Corp. and Plains Exploration & Production Company (PXP) have entered into two three-year term drilling contracts for the Noble Sam Croft (UDW drillship) and the Noble Tom Madden (UDW drillship), two new ultra-deepwater drillships under construction at the Hyundai Heavy Industries Co. Ltd. shipyard in Ulsan, South Korea.
In the second quarter of 2014, the Noble Sam Croft is expected for delivery followed by the Noble Tom Madden, which is expected for delivery in the second half of 2014.
"With the addition of these units to our U.S. Gulf of Mexico fleet, Noble will have one of the most modern and capable fleets in the region, a fact that demonstrates the fundamental change going on across the company," noted David W. Williams, chairman, president and Chief Executive Officer, in a released statement. "At the same time, these contracts provide us with significant additional backlog, while expanding and diversifying our customer base as we grow our relationship with an important new customer."
Noble expects for the contracts to commence following mobilization of the drillships to the Gulf of Mexico and customer acceptance. Revenues generated over the three-year terms are expected to total about $693 million per rig, including mobilization fees, stated Noble in a press release.
"In the U.S. Gulf of Mexico, which accounted for 31 percent of contract drilling services revenues in the first quarter, four of the region's seven active rigs experienced improved operating performance," stated Williams, in the company's first quarter 2013 earnings report. "Contract opportunities remain strong, especially for rigs addressing customer needs in deepwater."
In September 2012, Plains Exploration acquired more than $6 billion of oil and gas properties in the deepwater Gulf of Mexico.
"Since its acquisition of strategic deepwater oil and gas properties in the Gulf of Mexico, analysts and investors are bullish that Plains can significantly increase its revenues," stated Joe Thomas, an analyst at Wall Street Source, in a press release. "The company's fourth quarter and full-year 2012 financial and operating results highlighted the success of its one-month benefit from its Gulf of Mexico assets."
The company plans to grow its offshore oil and gas production to 275,000 barrels of oil equivalent per day by 2020.