Escalating Violence Holds Back Libya's Oil, Gas Sector
by Jon Mainwaring
|
Rigzone Staff
|
Tuesday, April 16, 2013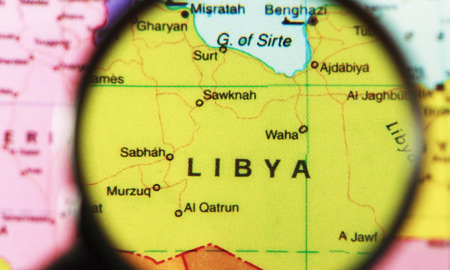 Two years on from the revolution that ousted dictator Muammar Gaddafi and his regime, Libya is still suffering from violence that is threatening to hold back the country's oil and gas sector from returning to pre-war levels of production.
Before the 2011 revolution, Libya had been a major oil producer. With Africa's largest proven reserves of sweet oil (some 40 billion barrels), the country had been producing at a rate of around 1.6 million barrels of oil per day, according to the Libyan National Oil Company. Libya's Deputy Oil Minister Omar Shakmak recently stated that the government plans to increase current production from 1.5 million barrels of oil equivalent per day (boepd) to 1.7 million boepd by the end of this year.
But recent violence between various militias, along with less-violent actions such as strikes and protests, could scupper that plan.
A number of clashes were reported in March at various oil fields and gas facilities in Libya, including the Dahra and Ghani oil fields. Also last month, Deputy Oil Minister Shakmak warned that production at Libya's Waha Oil Company was at risk amid strikes at the Gialo field, which produces up to 125,000 barrels a day.
The escalation in violence, particularly around oil and gas facilities, was cited as a reason why French pipeline company Ponticelli decided to pull out of the country earlier this month.
However, some oil sector companies have come back into the country – perhaps spotting opportunities to steal a march on their more fearful rivals.
For example, in spite of the escalation of violence Russian oil firm OAO Tatneft decided at the end of March to reintroduce its staff into the North African country. The company, which first obtained a concession to develop an oil block in Libya in 2005, has invested several hundred million dollars into the country.
The largest international oil and gas company that looks to have the most faith in an improving situation in Libya is Italy's Eni S.p.A. In December 2012, the company announced that it was resuming exploration activities in the country after restarting its production in the country in the autumn.
The Libyan Revolution caused Eni's production in 2011 to suffer a significant hit. The company said its average production during the year was down 12.9 percent, which Eni blamed on a lowered flow rate from its operations in Libya where the firm shut down almost all of its plants and facilities. However, Eni made a major effort in late 2011 to restart production and was the first international oil company to do so in the country when production recommenced at the Abu Attifel field. It also reopened the GreenStream pipeline, which saw the firm bring its production back towards pre-revolution levels.
Eni said that the firm's 7-percent improvement in its gas and liquids production during 2012 was partly due to a near-complete recovery in its activities in Libya, according to its annual results statement for 2012. The firm also confirmed that it resumed its exploration activity in the country last year, with December's spud of the A1-108/4 exploration well in the Sirte Basin south of Benghazi; this was the first well of an onshore exploration campaign that Eni is conducting in the country in 2013.
More recently, around the start of March, Eni was forced to suspend gas exports to Italy because of clashes between Libyan militant groups near one of its facilities. However, the firm soon resumed exports after a few days.
Shell Setback, BP Question Mark
Arguably, the biggest setback for the Libyan oil and gas sector so far was Royal Dutch Shell plc's decision in May last year to abandon two exploration blocks there. Shell blamed the decision on disappointing exploration results, stating that it was still interested, although reports at the time indicated it was also concerned about the insecure situation in the country.
Despite a very negative response to its decision from Libya's National Oil Corporation, a Shell spokesman reiterated at a North Africa oil and gas conference in November last year that it was still "very interested in other upstream activities" in the country and that it was maintaining a dialogue with Libyan officials.
Then there is the question of BP plc's eventual resumption of operations in the North African country.
Throughout 2012, the UK oil major made noises about restarting its operations in Libya. But the January 2013 attack on the In Amenas facility in neighboring Algeria – in which four BP employees died – led to reports earlier this year that the company was reconsidering an onshore exploration campaign in Libya scheduled for the second half of this year.
BP signed a deal with Libya's National Oil Company in 2007, when it committed to spend at least $900 million on exploration in the country. Back then, the firm planned to drill a total of 17 exploration wells, after acquiring 2D and 3D seismic data in the onshore Ghadames and offshore Sirt basins. But when the Libyan revolution occurred in early 2011, BP decided to bring most of its personnel out and has since maintained a skeleton staff of up to 90 people in the country.
Although Eni and a few smaller companies clearly feel the situation is safe enough to have already sent staff back to the country, it would surely be a strong signal that Libya has once again become a place for the oil and gas industry to do business when BP finally resumes operations there.
However, April brought news that Libya will now allow foreign security forces in its oil zones.
"I will not allow any form whatsoever of foreign security presence in the oil zones," Libya National Oil Company Chairman Nuri Berruien said April 10 after having met with a BP security official.
This stance could prove to be an obstacle to BP's restarting operations in the country in the wake of the In Amenas attack.
Generated by readers, the comments included herein do not reflect the views and opinions of Rigzone. All comments are subject to editorial review. Off-topic, inappropriate or insulting comments will be removed.
RELATED COMPANIES