Houston: Oil, Gas Boomtown
|
Thursday, April 11, 2013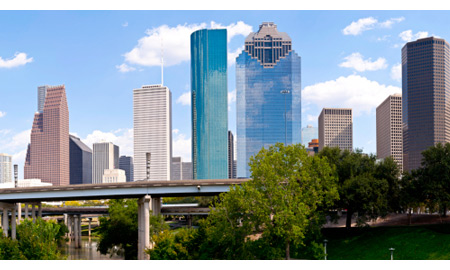 Houston, Texas' energy industry is flourishing, making the job market for today and tomorrow very robust, remarked Huw Rothwell, executive director of Michael Page International at the American Petroleum Institute's (API) Houston chapter luncheon Tuesday. Michael Page is a global publically traded professional and executive recruitment consultancy with more than 5,000 employees worldwide.
"The oil and gas industry in Houston is in very good condition, adding about 102,000 jobs in the last three years," he said.
The driving economic growth is attributed to:
high oil prices - levels that encourage investment
innovative technology - hydraulic fracturing, deep water
increased domestic production
investments made to new infrastructure
Overall, Texas is witnessing an increase in employment in the oil and gas industry. Last week, the Texas Independent Producers and Royalty Owners (TIPRO) published the "State of Energy" report focusing on quarterly Bureau of Labor census data. Oil and gas industry employment in the state increased from 65,000 to 971,000 in 2012, according to TIPRO.
The industry itself has witnessed growth in the United States over the past five years, which has mainly been driven by increased domestic production from shale, said Sandy Fielden in her report "We Should be Heroes! – The Economic Bounty of Shale Oil & Gas".
In 2012, 65,000 new jobs were created in the nation's industry, including 36,000 new jobs in operations and support activities, 12,750 jobs in crude oil and gas extraction and nearly 8,000 jobs in oil and gas field machinery and equipment, according to the TIPRO report. These numbers are then broken down state by state with Texas ranking as the biggest oil and gas employer, adding more than 380,000 new jobs in 2012. Louisiana ranked second at 81,400, followed by Oklahoma (74,600), California (46,400), and Pennsylvania (34,900).
With Texas ranking number one on the employment list, Houston is also ranked at the top as far as employment and people relocating to the city.
"The number of mid-to-large companies relocating to the city in 2011 was 195," stated Rothwell. "People see Houston as the real hub and investments in and around Houston are apparent."
Fifteen major buildings were completed in the first three quarters of last year, and currently, 3.9 million square feet of office space is under construction. Exxon Mobil Corp. is building a new complex on 385 acres near the Woodlands, a suburb north of downtown Houston. It is estimated the company will bring 10,000 jobs to the Woodlands in 2014. Additionally, ExxonMobil businesses in Virginia and Ohio and a refinery in southeast Houston are also relocating to the new campus.
With the booming job market and companies moving to Houston, the city is expected to see an increase in people relocating, making it the fastest growing major metropolitan area in the country, according to a Comerica Regional Economic report.
Job creation in the Houston-Sugar Land area increased 3.7 percent through October 2012, compared to the same time period in 2011. The area's average job creation outpaced the nation's 1.5 percent average increase through October 2012, according to the Comerica Regional Economic report. Furthermore, the report predicts that the unemployment rate will slip to 6.8 percent in 2013 and 6.4 percent in 2014.
"We anticipate that this boom will continue for the next five to 10 years, with Houston remaining a buoyant candidate-driven market," stated Rothwell.