Lundin Strikes Oil at Luno II
by Rigzone Staff
|
Monday, April 08, 2013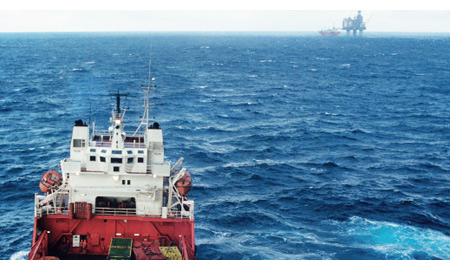 Lundin Petroleum reported Monday that it has made a "potentially significant" oil discovery in Norwegian North Sea.
The firm said its exploration well 16/4-6S, drilled in water depths of 330 feet and targeting the Luno II prospect in production license 359 in the central North Sea, found a 130-foot oil column in a section of approximately 650 feet of sand. Oil-water contract was encountered at around 6,400 feet below mean sea level.
Lundin said that discovery is composed of light oil of good quality. Pressure data indicates that the petroleum system in Luno II is different to that seen in the nearby Evard Grieg and Johan Sverdrup fields.
Coring, logging and fluid sampling have been completed, and the discovery will now production tested.
Lundin CEO Ashley Heppenstall commented in a company statement:
"We are very pleased that Luno II appears to be another significant discovery on the Utsira High. The existence of a thick reservoir section at this location is excellent news. The reservoir quality, whilst not the same as Johan Sverdrup, appears good and will now be tested. We expect to provide a range of recoverable resources from the discovery after testing is completed in two to three weeks time."
The well was drilled using the Bredford Dolphin (mid-water semisub) rig. Following the completion of the testing programme the rig will be moved to the Lundin Norway-operated production license 501 to continue appraisal drilling on the Johan Sverdrup discovery.
Lundin is the operator on PL359, with a 40-percent interest. Statoil and Premier Oil each hold a 30-percent stake in the license.
Generated by readers, the comments included herein do not reflect the views and opinions of Rigzone. All comments are subject to editorial review. Off-topic, inappropriate or insulting comments will be removed.
RELATED COMPANIES
For More Information on the Offshore Rig Fleet:
RigLogix can provide the information that you need about the offshore rig fleet, whether you need utilization and industry trends or detailed reports on future rig contracts. Subscribing to RigLogix will allow you to access dozens of prebuilt reports and build your own custom reports using hundreds of available data columns. For more information about a RigLogix subscription, visit
www.riglogix.com
.