As Big Drillers Move In, Safety Goes Up
by Dow Jones Newswires
|
Daniel Gilbert & Russell Gold
|
Tuesday, April 02, 2013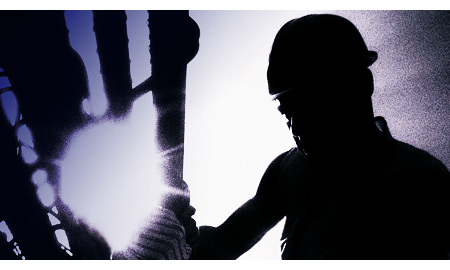 WELLSBORO, Pa. - A firm called East Resources Inc. was among the first to drill into the Marcellus Shale, a rock layer found to be rich in natural gas. As the small wildcatter drilled, starting in 2008, regulators repeatedly cited it for spills or other environmental infractions, almost two for every shale well it drilled.
In 2010 Royal Dutch Shell PLC bought East Resources. The first thing the oil giant did was shut down the rigs for two weeks and retrain the workers. Since taking over, Shell has averaged less than one violation for every four wells.
A similar pattern is showing up across the Marcellus Shale, a vast underground stretch that holds more natural gas than any other rock formation in the U.S., by government estimates. As big energy companies buy out smaller rivals, one side effect is an improving environmental record, according to a Wall Street Journal analysis of Pennsylvania records.
The state offers a glimpse of the direction the U.S. drilling boom may be headed in Texas, North Dakota and elsewhere, as Big Oil increasingly takes over from the smaller, risk-embracing but often cash-strapped companies that pioneered tapping oil and gas from shale. Regulators and some environmentalists say the multinationals bring more rigorous approaches, mindful that one big mistake can affect their ability to operate everywhere. Superior financial resources allow them to wield teams to analyze and reduce violations as they carry out the complex process needed to unlock oil and gas trapped in shale.
The growing role of the largest companies in shale-gas extraction "increases the likelihood of excellent drilling," said John Hanger, secretary of Pennsylvania's Department of Environmental Protection from 2008 to 2011. He cautioned that a big wallet doesn't guarantee that a company will operate safely, or that it will own up to its mistakes.
It isn't clear how far better regulatory compliance would go to assuage concerns among some local residents over hydraulic fracturing, or "fracking," a shale-drilling process that has stirred opposition in some places over potential impacts to drinking water and air quality. The process involves blasting a slurry of water, sand and chemicals into wells to break up rock and allow oil and gas to flow out.
The idea of safer drilling by the energy giants may seem counterintuitive in view of some spectacular spills linked to them. Exxon Mobil Corp., whose name still evokes the oil-tanker crash that soiled Alaska's Prince William Sound in 1989, had a pipeline rupture in Arkansas Friday that spilled several thousand barrels of crude oil. BP PLC operated the Deepwater Horizon drilling rig that exploded in the Gulf of Mexico in 2010, leading to the worst offshore oil spill in U.S. history.
Chevron Corp.'s recent operational troubles, ranging from offshore-Brazil oil leaks to a California refinery fire, prompted its board last week to cut top executives' pay. As for Shell, the Interior Department recently reviewed its operations after the company encountered problems that included a drill-ship grounding in Arctic waters.
In the Marcellus, too, these companies have had some problems. Last June, a geyser of methane-laced water erupted from a well drilled in the 1930s and long since abandoned, near where Shell was drilling and fracking in northern Pennsylvania. The company determined that its operations likely caused gas to migrate underground into the old well. To relieve the pressure, Shell burned off gas at its producing wells. Shell says it hasn't detected any fracking fluids in water samples it has collected near the geyser.
Despite such incidents, the rate of environmental violations has steadily dropped as major energy companies have bought up smaller drillers, according to a Journal review of Pennsylvania Department of Environmental Protection inspection records for Marcellus operations from 2008 through 2012.
Since XTO Energy Inc. became a unit of Exxon in a 2010 acquisition, its violation rate has fallen by half, even though drilling takes place in the same counties, often with the same personnel. The rate of citations fell more sharply still when Shell took over East Resources in 2010 and when Chevron in 2011 bought most of Atlas Energy Inc.'s assets.
An Exxon spokesman, Alan Jeffers, said that XTO was committed to operating safely before the acquisition but now is "benefiting from our systemic approach to safety and environmental management."
Bruce Niemeyer, who heads Marcellus operations for Chevron, said that although the industry's performance in general was improving by the time of the Atlas deal, Chevron's compliance operation "probably represents an improvement." He said a Chevron leadership team meets frequently to review drilling mishaps and make changes to prevent them. Atlas, which still operates certain wells it didn't sell to Chevron, says safety and environmental performance are priorities.
"We invest significant resources in terms of both dollars and manpower to ensure a constant focus on safety and compliance," said Brian Begley, a spokesman for the successor company, Atlas Resource Partners LP.
The review of inspection records found that Shell, Exxon and Chevron were cited for infractions in about 6.5% of inspections.
Midsize companies-meaning those with stock-market values of $2 billion to $50 billion or private firms with comparable production-were cited in about 14% of inspections.
Cited most often-during 17% of inspections-were small private firms and public companies below $2 billion in stock-market value.
By another measure, Exxon, Chevron and Shell averaged 38 violations for every 100 Marcellus wells they drilled. Midsize companies averaged 69 citations per 100 wells. The smallest averaged 132 citations per 100 wells.
The state database doesn't make it easy to gauge the severity of the violations. They range all the way from failure to post certain signs to serious spills. Often, a single citation refers to a range of offenses.
But the financial penalties are revealing. Midsize companies, which drilled 71% of the wells, paid 81% of the $4 million in Marcellus-related fines assessed by the state from 2008 through 2012. Exxon, Chevron and Shell drilled 13% of the wells but paid less than 2% of the fines.
On an individual level, some midsize companies had low violation rates. Range Resources Corp., which has a stock-market value of about $13 billion, was cited for violations in only 8% of inspections of its drilling sites.
Companies big and small showed better regulatory compliance in the past two years in Pennsylvania.
Inspections of Marcellus operations more than doubled between 2010 and 2012, according to Pennsylvania Department of Environmental Protection data, as the DEP doubled its staff of inspectors. Violations fell by about 50% over that period.
Some critics have suggested that less-aggressive enforcement under the administration of Republican Gov. Tom Corbett might explain part of the decline. Mr. Hanger, the former secretary of the state Department of Environmental Protection, and others point to a DEP directive in March 2011 that called for inspectors to clear all notices of violation with top department officials before issuing them.
"The industry has been getting better over time, and I think there's also been a different regulatory philosophy in place," Mr. Hanger said.
Steve Hvozdovich, of environmental group Clean Water Action, said he believed the decline in violations over the last two years is likely a product of several factors, including better operator compliance, less drilling activity and less-aggressive enforcement. "The [Corbett] administration has been clearly open and public about its support of this industry," he said.
A DEP spokeswoman said that the memo about clearing citations with top officials was geared at improving consistency and that the department doesn't require inspectors to obtain permission before issuing violations. State officials including the governor's spokesman, deny that enforcement has been less aggressive, instead crediting the decline in violations to stepped-up inspections and improving operator compliance. They also point to more-exacting standards for well construction and emissions.
"We have been committed to helping this industry grow because it's been helping our economy, but that's not to say we haven't been doing it safely," said Eric Shirk, a spokesman for the governor.
Throughout the history of the oil patch, small, nimble companies typically have shouldered the risks of exploring for oil and gas in unproven areas. When this so-called wildcatting pans out, the companies often flip their discoveries for a profit to bigger companies. The buyers, with less appetite for risk but more cash, then undertake the expensive, lower-return but steadier work of harvesting the oil and gas.
Now, some drillers with weaker balance sheets are selling assets. Energy giants are snapping them up, a trend analysts expect to continue across the country.
In September, Shell and Chevron bought big swaths of oil-rich acreage in West Texas for more than $2 billion from Chesapeake Energy Corp., a natural-gas powerhouse in need of more operating cash. The same month, Exxon expanded its holdings in North Dakota's Bakken Shale by acquiring assets from Denbury Resources Inc., which had doubled its debt over three years. Exxon paid $3 billion to buy a Canadian shale explorer that had been regularly spending more money than it brought in from sales.
Joining them in the hunt for shale gas and oil are energy titans based in other countries, from France and Norway to Australia and China. Combined, multinational producers have spent about $100 billion since late 2008 to buy companies and acreage across North America.
The arrival of bigger, better-financed companies is welcomed by some in Tioga County, Pa., an agricultural region home to lakes, pine-covered hills and a gorge known locally as Pennsylvania's Grand Canyon. Erick Coolidge, a county commissioner and dairy farmer, says he has been impressed with Shell, which owns the lease he originally struck with East Resources.
East was "eager to grow an industry, and they did so to the limits that they could," Mr. Coolidge said. But Shell's greater resources, he said, enable it to harvest gas "in a manner that encompasses every aspect of what should take place," from compliance to community engagement.
Not everyone in Tioga County is as happy about Shell's arrival. Last May, regulators said gas drilling had affected the water well that supplies the Wellsboro home of Jeff and Tina Richardson. The Richardsons, whose tap water smells of sulfur, drink bottled water from Styrofoam cups, eat on paper plates and worry they might need to abandon their home.
"A 20-year dream down the tubes," Mr. Richardson, an investment manager, said of the house he and his wife built to retire in.
Pennsylvania regulators have concluded that drilling contaminated their well but are still investigating and haven't yet assigned blame.
The Richardsons, who say they reluctantly signed a lease with East, blame the state of their water on Shell, which took over the lease and has a drilling site less than a mile from their home.
Shell says it hasn't determined yet whether it is responsible for causing the contamination. Nonetheless, the company is addressing the matter and trying to resolve it. "We have continued to work diligently to return the Richardsons' water to pre-drill conditions," a Shell spokeswoman said.
One day in late January, Shell workers performed maintenance on a several-stories-high drilling rig at the crest of a frosty hilltop in Tioga, wearing hard hats, fire-retardant coveralls and ice cleats for traction in the mud. Around the rig, the ground was draped with sheets of plastic topped with felt and rimmed with a berm, a strategy to catch any spills.
The rig operators planned to drill down more than a mile, then bore sideways through the rock in long extensions.
The wells are lined with steel pipe encased in cement that fills the space between pipe and earth to prevent gas or fluids from escaping into shallow rock layers and potentially into aquifers.
Shell says it has put in place a host of new practices since acquiring East Resources-from connecting pipes with flanges instead of screwing them together, for a better connection, to tweaking its cementing process to improve the integrity of wells.
The company says it is taking greater care to prevent gas from migrating through cracks in the rock through a more in-depth examination of potential pathways. And it has stopped storing wastewater in pits, which can spring leaks, a violation for which East Resources was repeatedly cited.
"I don't think there's any question that the culture around safety has changed considerably since Shell came here," said J.R. Justus, Shell's general manager for its Appalachian operations, including in Pennsylvania. "We've got a lot more technical resources to bring to bear than a smaller independent company would."
Terry Pegula, who founded and ran East Resources, declined to comment through a spokesman.
Shell's practices have become a marketable standard. At the Gaslight Bar & Grill in downtown Wellsboro, the centerpiece of a place mat is an ad for a company offering "Shell-accepted" training classes for such work as operating rigs, forklifts and cranes.
Some in the environmental community are hopeful that Shell and its peers, with their resources and technical know-how, will further minimize drilling-related accidents.
A. Scott Anderson, a senior policy adviser at the Environmental Defense Fund, said it is too early to tell whether Big Oil is bringing significant benefits. But "there is reason to think," he said, "that as more of the business is handled by large companies, we will see improvement in environmental performance."
Generated by readers, the comments included herein do not reflect the views and opinions of Rigzone. All comments are subject to editorial review. Off-topic, inappropriate or insulting comments will be removed.