MesoCoat Offers New Process for Clad Pipe Manufacturing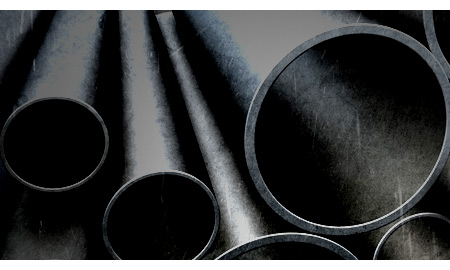 Surface engineering company MesoCoat this year will launch large-scale commercial production of clad pipe that involves a manufacturing process that company officials say is faster, more efficient and can meet the growing demand for clad pipe in the global oil and gas industry.
Euclid, Ohio-based MesoCoat, a subsidiary of Miami-based Abakan, will begin operations in September of this year at a new clad pipe manufacturing facility which will utilize its CermaClad process. MesoCoat has been recognized by The Wall Street Journal and Forbes for this cladding manufacturing process, which company officials say can meet the growing need for clad pipe as oil and gas producers pursue oil and gas reserves in highly corrosive and extreme environments.
By year-end 2013, the company expects to be capable of producing more than 1.1 million square feet (100,000 square meters) of CermaClad clad pipe, plates, and other components each year.

The Plasma Arc Lamp used in the CermaClad manufacturing process
How CermaClad Works
Cladding is a process in which a corrosion-resistant alloy or composite surface layer is bonded integrally and permanently onto another dissimilar metal, or substrate, to enhance its durability or appearance. Cladding protects oil and gas pipes from heat, pressure and corrosion. Carbon steel is one of the most common substrate metals used in clad products today.
Most clad products have a substrate comprised of a carbon steel structural material with aluminum, nickel, nickel alloys, titanium, and/or stainless steel as the clad layer to protect the structural material from corrosion, while tungsten carbide, chrome carbide and/or hardness steels are used for resisting wear and erosion.
The CermaClad process utilizes a superhot plasma arc lamp – essentially an artificial sun – which rapidly fuses corrosion-resistant alloys to metal surfaces at around 2,400 degrees Fahrenheit. By using the lamp, which stands 8 to 10 inches in length, alloys can be bonded on a pipe in a much wider swatch. While laser/weld cladding systems cover approximately .7 centimeters to 1 centimeter at a speed of 400 millimeters per minute, CermaClad can cover an area of around 12 to 30 centimeters, around 30 to 40 times wider at the same pace.
By using an arc lamp versus laser cladding or weld overlay, which are two predominant metallurgical cladding techniques, Abakan can produce an improved corrosion-resistant metal 15 to 100 times faster than the current cladding processes. MesoCoat's primary product offering is a corrosion-resistant seamless clad pipe for use as risers and flowlines in deepwater oil and gas projects, where field's high corrosiveness requires the use of high quality corrosion-resistant pipes.
The resulting product also lasts three to six times longer than traditional weld and laser technologies, which can save oil and gas companies 20 percent in lifetime costs. Additionally, these nano-enhanced products also have been shown to be safer and more ecofriendly than hard chrome coatings.
MesoCoat's clad pipe process can provide pipe for the production not only of wet and sour gas fields, but oil sands as well. The oil sand mining process involves a lot of iron ore processes, which can scour the inside of a transport vessel. This wear and tear drives up maintenance and replacement costs, and is one of the reasons that oil sands extraction costs are high, said Robert Miller, member of Mascot's board of directors and CEO of Abakan.
The technology on which the CermaClad process is based was originally developed by the U.S. Department of Energy's Oak Ridge National Laboratory. MesoCoat secured a research and development license for the technology in 2009 and secured an exclusive commercial license for the technology in 2010.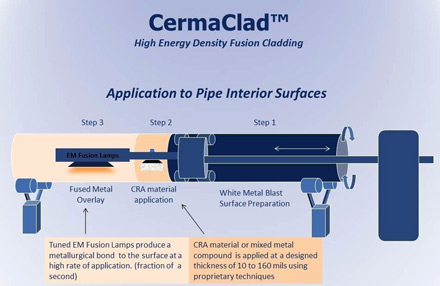 The CermaClad Process
Clad Pipe Demand to Grow in O&G Industry
The need for clad pipe in the oil and gas industry is expected to grow as the world's remaining unproduced oil and gas reserves exist in highly corrosive environments. Abakan officials say they are seeing a 30-4 percent per year increase for clad pipe demand. They also point to International Energy Agency estimates that over 70 percent of the world's remaining oil and gas reserves are highly corrosive – this percentage would be higher if newfound energy resources such as oil sands, shale and pre-salt resources were included. Of the 225 oil and gas fields now being developed across the globe, 158 are highly corrosive.
The increasing remoteness of offshore oil and gas fields is partly drivingthe oil and gas industry's acceptance of avoiding maintenance and liability risk by making an initial higher capital investment in clad pipe. Following the 2010 Deepwater Horizon incident, the liability for equipment failure has grown, meaning more resilient front-end engineering is required.
"The more difficult is it to service and inspect a pipe makes the risk of failure higher," said Miller.
MesoCoat had initially looked the technology's application for propulsion shafts for nuclear submarines before Abakan acquired a 71 percent interest in MesoCoat in late 2009. MesoCoat officials switched their focus to oil and gas after learning about the industry from an Abakan board of director member; the more MesoCoat officials learned, the more it realized it had a significant market opportunity.
The wait time is long for oil and gas companies to obtain clad pipe, which is only manufactured by a few companies worldwide. MesoCoat officials attribute this to the fact that the same laser and welding technologies that haven't changed in 50 years are still being used, which makes the cladding pipe process slow. MesoCoat officials say they have also been approached by operators of fields offshore Australia who say they have seen long lead times for ordering clad pipe.
"Even if they order it three years ahead of time, they may still not get it in time," Miller commented.
Five companies across the globe companies currently manufacture clad pipe, including Japan Steel Works and Arcelor Mittai. To increase capacity, manufacturers would have to increase manufacturing space. The cost of expanding an existing facility varies with the technology. A lined pipe or metallurgical clad pipe facility expansion costs anywhere in the $150 million to $300 million range, while expanding a rolling mill facility for the production of roll bonded clad plate costs approximately $1 billion, Miller noted.
We are witnessing a huge demand for clad pipes, for example, 100 kilometers of clad pipe has been ordered in the past few months for just two out of the hundreds of the corrosive oil and gas projects across the globe that require clad pipes, Miller commented. Given the high-pressure, high temperature deepwater projects that oil and gas companies are pursuing, long-lasting pipe with a low risk of failure means less maintenance and lower inspection costs is a necessity. The costs associated with nickel alloys for clad products represent half the project costs for a number of field development projects.
World crude steel production in 2011 was estimated at a record 1,527 million metric tons. The U.S. steel industry each year ships over $70 billion of material. However, global costs of corrosion are exceeding $2.2 trillion each year, stronger steel products that are less susceptible to corrosion, wear and other forms of stress are needed.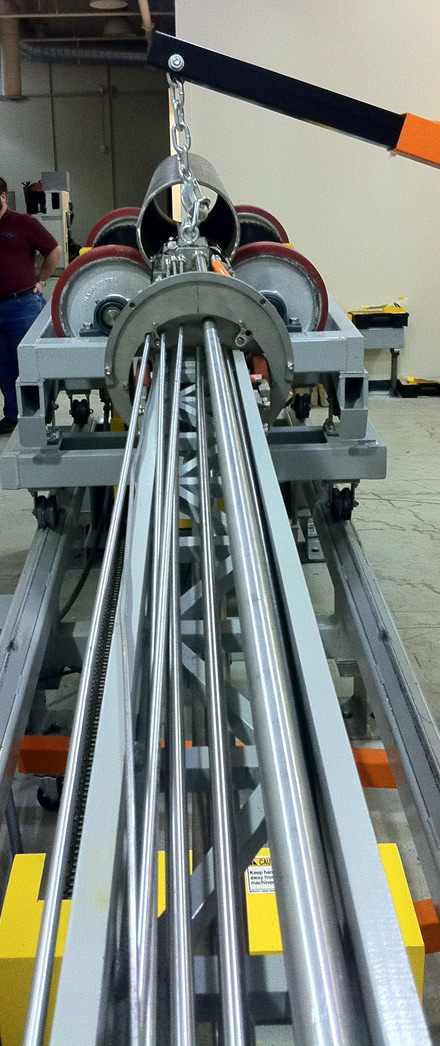 CermaClad pipe cladding set-up for production of corrosion-resistant clad pipes.
Company Seeks Expansion Overseas
The company has firm plans for three cladding plants over the next few years, with options for three more, including the existing facility in Ohio, Brazil and Indonesia. This does not include acquisitions/start-up of job-shop component manufacturing and repair facilities, which would bring the total facilities to around 10 over the next three years. A single four-line plant can manufacture up to 538,195 square feet (50,000 square meters to 861,112 square feet (80,000 square meters) per year.
The company is working with Brazilian state energy company Petroleo Brasileiro (Petrobras) to meet demand for clad pipe in that market. Abakan is seeking to construct a 4-line clad pipe manufacturing facility in Brazil, and has hired law firms, auditors, a construction manager and construction firm, and expects to secure land soon and order long lead items to start construction of the facility. The Brazil plant will be capable of producing 49 miles to 62 miles (80 kilometers to 100 kilometers) a year of 10 to 16-inch diameter pipe to service the primarily sour oil that Petrobras will produce from fields offshore Brazil.
Petrobras has turned to MesoCoat because it needs anti-corrosive pipe for the more than $220 billion in oil and gas exploration projects it will pursue offshore Brazil. These projects involve corrosive pre-salt and deepwater environments. Additionally, the company is working with a number of U.S. Gulf of Mexico operators, where a number of projects are entering the front-end engineering and design stage of development.
Company officials also hope to close a deal next month to expand its offerings to oil sands operations in Canada, and are in discussions to partner with sovereign wealth funds and strategic partners to set up international operations in Indonesia, Middle East, India and South Korea.
The company is also partnering with the Northern Alberta Institute of Technology and the Alberta Innovates Technology Futures organization to expand its offerings to oil sands operations in Canada. MesoCoat anticipates additional partnerships with Alberta to be announced sometime in the near future. The company added it is in discussions to partner with sovereign wealth funds and strategic partners to set up international operations in Indonesia, Middle East, India and South Korea.
Abakan officials also see market opportunity in the Caspian and Middle East regions, which will need clad pipe as water injection operations when both regions run out of sweet crude forcing oil and gas operators to begin producing sour oil.
Generated by readers, the comments included herein do not reflect the views and opinions of Rigzone. All comments are subject to editorial review. Off-topic, inappropriate or insulting comments will be removed.