Canada the New 'Land of Opportunity'
|
Wednesday, March 27, 2013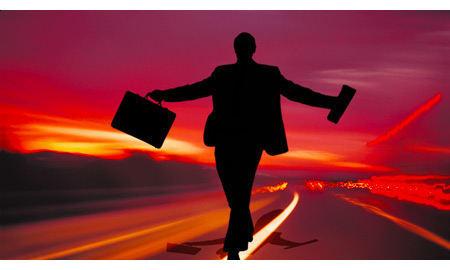 Canada is being proactive in their recruiting efforts by searching the globe to fill much-needed positions in the oil and gas industry. The rapid expansion of oil sands production has made oil critical to the Canadian economy and with more than $100 billion invested in oil sands over the past 10 years, economic and political power has shifted westward to Alberta. It is estimated that production is connected to 75,000 jobs nationwide, and this number is expected to increase over the next 25 years.
The Canadian Association of Petroleum Producers estimates that Canada's current production of 3.2 million barrels of oil a day will reach 6.2 million barrels a day by 2030, with oil sands representing majority of this output. Additionally, it is estimated that $283.4 billion will be spent on the development of new oil sands projects by 2035, noted the Conference Board of Canada. With an increase in production, the demand for skilled employees surges.
Essentially, conventional oil and gas producers need additional workforce to produce a barrel of oil or a cubic foot of gas today compared to 10 years ago. Canada's oil and gas industry will need to fill a minimum of 9,500 jobs by 2015, according to a report released by the Petroleum Human Resources Council of Canada.
Between now and 2015, the country's oil and gas industry is at risk of losing about 3 percent of its overall workforce because of obstinately low natural gas prices, the report "Canada's Oil and Gas Labour Market Outlook 2015" highlighted. Two primary factors, growth in certain operations and age-related attrition across the industry, will offset most job losses and contribute to increased overall hiring needs, the report stated.
"It is a national problem," said Francis McGuire, chief executive officer of Moncton, N.B.-based Major Drilling Group International Inc., to the Globe and Mail. "It is very difficult to attract people. Salaries are very good … but they don't want to be out with the black flies and the snow and the cold and sleeping in camp and being away from home for 21 days at a time."
By 2015, employment in the oil sands sector is projected to increase by 29 percent over 2011 levels, or about 5,850 jobs. The pipeline sector is estimated to add 530 jobs over the same period. And both sectors will need to amp recruiting efforts for turnover and replacing retiring workers. Looking forward, Canadian oil and gas employment is expected to rise to 145,000 jobs by 2035.
"This is a complex labor story," said Cheryl Knight, executive director and CEO of the Petroleum HR Council, in a released statement. "At a granular level, we're seeing high demand for, and reduced supply of, skilled workers in specific occupations, many of which are unique to the oil and gas industry. And employee turnover is the wild card that could have recruiters working to fill hundreds of additional job openings over the next four years."
Which positions are needed?
One of the largest supply chain effects associated with oil sands investment is in the oilfield services industry. For every billion dollars of inflation-adjusted investment, 745 jobs are supported, according to the Conference Board of Canada. Total employment in the oil and gas sector has risen from 57,000 in 2001 to 96,000 in 2011.
Oil and gas well servicers, which include derrick operators, rotary drill operators, service unit operators, drillers, and testers, are the high-demand occupations in Calgary, based on the "Calgary Labour Demand Forecast 2012" report. In 2010, there were an estimated 2,200 oil and gas well servicers in the Calgary labor force, but between that year and 2020, demand for these workers will increase by 40 percent, resulting in the demand for about 3,100 workers in 2020.
And according to current recruitment trends, employers will likely face difficulties recruiting qualified workers for both newly-created jobs and existing positions that become vacant.
A portion, or if needed, a majority of the vacant positions in Calgary may need to be recruited through labor markets outside of Calgary, including international labor markets, noted the report. The Calgary Economic Development (CED) has identified the best cities and regions for recruiting workers in Canada, the United States, the United Kingdom and Ireland.
The report noted that the top-recommended cities for recruiting these workers include:
Houston, Texas
Dallas-Fort Worth, Texas
Corpus Christi, Texas
Longview-Marshall, Texas
Odessa, Texas
Oklahoma City, Okla.
Tulsa, Okla.
Bakersfield, Calif.
Lafayette, La.
Shreveport, La.
Nine of the top 10 recommended U.S. cities for recruitment are located in the states of Texas, Louisiana and Oklahoma. Houston offers the largest total labor force with roughly 9,300 workers, followed by Dallas-Fort Worth with 3,000 workers. Furthermore, Longview-Marshall and Odessa, TX as well as Oklahoma City offer a younger oil and gas labor force with high-out migration probability index scores, the report noted.
In addition, oil and gas well servicers in the top-recommended cities could potentially earn higher incomes by relocating to Calgary. The U.S. average salary for oil and gas well servicers was about $48,000 in 2010, while in Calgary, the base pay for these workers averaged at $61,000 per year.
"With the oil sands coming on-stream more and more with every passing year, the draw of people from every sector into oil and gas is going to become stronger and stronger, making it more and more difficult for employers in other parts of the economy to find qualified people," said Richard Truscott, director of provincial affairs in Alberta for the Canadian Federation of Independent Business, to the Globe and Mail.
With so many vacant positions in Calgary, more and more Americans are relocating to Canada and dubbing it the "land of opportunity" according to a 2011 report by Citizenship and Immigration Canada. In 2010, Canada welcomed the highest number of legal immigrants in 50 years - about 280,636 permanent residents.
And there are programs in the United States that are targeting Americans to relocate to Canada. Grice Energy, recruiting specialists providing workers for the energy industry, launched a Boots to Energy project, to place veterans into the oil and gas industry. Although the program hasn't placed anyone in Canada, yet, "we are working both with the American State Department and the Canadian Consul General's office to try to lower the barriers of entry that now exist," stated Rick Grice, president of Grice Energy, to Rigzone. The American Chamber of Commerce in Calgary is also involved in this effort.
"Our mission is to connect our returning heroes with energy companies who need and respect them," he added. "If the barriers to immigration are relaxed in order to bring in the labor force needed, the effect must naturally be positive."