Rail to Become New Key Player in Crude Transportation
by Robin Dupre
|
Rigzone Staff
|
Monday, March 18, 2013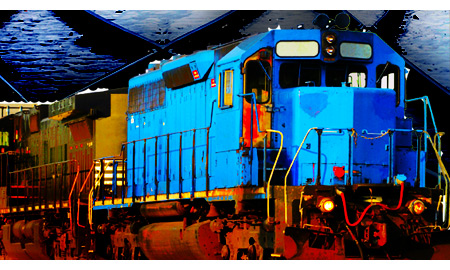 While America has gone through an energy transformation, so have railways, thanks to shale production growing faster than available pipeline space. Although rail is typically more costly than pipelines, railcars are able to reach markets that pipelines don't, particularly North Dakota's Bakken formation, yielding higher prices for producers.
This trend is not temporary. Small amounts of crude have long been transported by rail, but since 2009, the increased movements have been significant. U.S. railways have seen a boost in transportation of crude oil and petroleum products in the first half of 2012 by about 38 percent, compared to the same period in 2011, according to the U.S. Energy Information Administration.
"Rail is the new player in the infrastructure expo for oil. Five years ago nobody was talking about rail infrastructure," said IHS' Vice President of Upstream Research Andrew Slaugher at the recent IHS CERAWeek conference.
Rail deliveries of crude oil and petroleum products in June 2012 jumped 51 percent to 42,000 tanker cars from a year earlier to an average weekly record high of 10,500 tanker cars for that same month.
Furthermore, North Dakota produced 747,000 barrels a day in October 2012, up 50 percent from 2011, and an estimated 52 percent of the crude moved was by rail, versus 38 percent by pipeline, according to the North Dakota Pipeline Authority.
The most important shale plays for the rail industry are the Bakken in North Dakota and Montana; Barnett in Texas; and Marcellus in the east, explicitly in Pennsylvania, Ohio and New York.
"If recent patterns hold, crude oil movements by rail could easily surpass 600,000 barrels per day within a quarter or two," said Holly Arthur, Association of American Railroads (AAR) vice president of media and public relations, to Rigzone. "The movement of crude by rail is definitely growing at a fast pace."
Rail crude oil originations have risen for 11 straight quarters through the third quarter of 2012, according to AAR. And much of this crude is being shipped by Burlington Northern Santa Fe LLC (BNSF), transporting one-third of Bakken oil production alone with unit trains carrying up to 85,000 barrels of oil. BNSF witnessed a 60-percent increase in car loadings of crude oil and petroleum products during the first six months of 2012.
"We have garnered a lot of attention lately on our crude by rail, hauling about 525,000 barrels a day of crude oil, and we expect to be hauling about 700,000 barrels a day by the end of this year," said BNSF CEO Matthew Rose. "By year-end, we will have moved out of the Bakken about 350 million barrels of crude oil."
Advantages of Crude Oil by Rail
Historically, pipelines have been the main mode for transporting crude oil long distances. However, shale output is exceeding pipeline capacity and the time lag in planning and building new pipelines is causing producers to use railways to reach the most profitable refineries. It takes about 40 days for crude oil from the Bakken to reach the Gulf via pipeline while trains average about 90 hours each way, according to Credit Suisse analyst Chris Ceraso in a February 2013 research note.
Rose said rail is becoming the infrastructure of choice because of three components: flexibility, reliability, and safety.
By the end of 2014, BNSF will offer service from shale plays throughout North America to more than 50 in or around coastal refineries and ports by using both unit and manifest trains, while offering market participants enormous flexibility to shift products quickly to different places in response to market needs and price opportunities.
In recent years, U.S. railroad companies have been reinvesting in their businesses, about $23 billion was invested in 2011 to create and maintain a healthy freight rail network, according to AAR.
"Every dollar of investment in rail infrastructure generates another $3 in economic activity," said Arthur.
"The enormous flexibility that the rails have to respond to rapidly changing and unforeseeable market conditions is a tremendous asset that should ensure the industry's long-term sustainability in the shale revolution," Ceraso stated.
BNSF to Test LNG Fuel
With tighter Environmental Protection Agency regulations set for 2015 and the 10 million gallons of diesel U.S. railroads use in a day (at a cost of $31 million per day), BNSF has started to look at natural gas as a fuel.
The company will begin testing a small number of locomotives using liquefied natural gas as an alternative fuel in the second half of the year, Rose announced at CERAWeek. Natural gas could help railroads lower emissions and save on rising diesel fuel prices.
BNSF is working with two principal locomotive manufacturers, GE and EMD, a unit of Caterpillar, to develop the technology that will be used in the pilot program. The company originally launched this program in the late 80s and operated the LNG trains for about two years, but eventually shelved the project due to high LNG prices.
The company re-launched the project about two years ago due to improved economics and technology. The pilot will be the first step in how the technology can be implemented with hopes of reducing rail diesel consumption by about 76 percent.
"It's really transformational for our industry, specifically BNSF. This will be the largest change from the C locomotive to the diesel locomotive," said Rose. "It makes tremendous societal sense in terms of reducing our emissions that we put into the environment as well as providing a more competitive rail product versus the highway that suffers mightily from underfunding. But, its like everything else, any great idea comes with lots of challenges and this one certainly will as well."
Over the next year, the company will work with federal regulators to determine the safety of the new LNG fuel tanks, devise new supply systems for delivering the gas to the train depots and train employees in how-to and safety.
Generated by readers, the comments included herein do not reflect the views and opinions of Rigzone. All comments are subject to editorial review. Off-topic, inappropriate or insulting comments will be removed.