SandRidge Agrees to Either Fire CEO or Give TPG-Axon Control of Board
by Dow Jones Newswires
|
Daniel Gilbert & Alison Sider
|
Thursday, March 14, 2013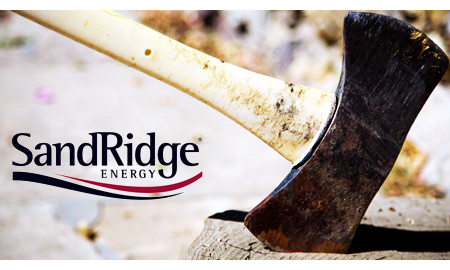 SandRidge Energy Inc. agreed to fire its chief executive or give control of its board to an activist shareholder, settling a closely watched proxy battle amid an outbreak of investor unrest in the oil patch.
SandRidge, an oil-and-gas producer with a stock-market value of about $3 billion, immediately appointed four directors to its board who were nominated by hedge fund TPG-Axon Capital Management LP, which owns 7.3% of its shares.
The company, which is based in Oklahoma City, Okla., said Wednesday that it would review its strategy, costs and certain transactions with entities controlled by relatives of Tom Ward, its chairman and chief executive. The company also cut directors' annual pay to $250,000 from $375,000.
Mr. Ward's prospects of retaining his job appeared to dim. SandRidge said it would decide whether to fire him by the end of June; if he remains, three incumbent directors would resign and TPG-Axon would get another seat on the board, giving the hedge fund, which has repeatedly called for Mr. Ward's ouster, majority representation.
"We believe these actions open a new chapter for SandRidge," its lead independent director, Jeffrey Serota, said in a statement.
A SandRidge spokesman said Mr. Ward had no comment.
In what SandRidge said was a separate development, Matthew Grubb, its president and chief operating officer, said he would resign.
The company's shares jumped sharply late Wednesday afternoon, but ended 4 p.m. EDT trading on the New York Stock Exchange little changed at $5.85, up two cents.
Dinakar Singh, TPG-Axon's founder, said, "We all believe that SandRidge has tremendous asset value, and we expect that the company will relentlessly focus on growing and realizing that value through a particular focus on execution and efficiency."
"Score one for the activists," said Mark Hanson, a Morningstar Inc. analyst.
TPG-Axon and another large shareholder, Mount Kellett Capital Management LP, have questioned SandRidge's transactions with entities controlled by Mr. Ward and his family. SandRidge said Wednesday that a board review of the transactions hadn't found any improper conduct by Mr. Ward, but that it would examine the issue further with the help of a law firm.
The proxy battle is the latest case of a shareholder shaking up the board of an energy-industry company, as activists demand better stock performance and more-generous dividends from laggards. In January, Chesapeake Energy Corp. Chief Executive Aubrey McClendon agreed to step down by April after the company's biggest shareholders took control of the board.
Hess Corp. is tussling with hedge fund Elliott Management Corp., which is opposing the company-backed directors who are up for election with its own slate.
Investor Carl Icahn, who agitated for change at Chesapeake, is now demanding that offshore driller Transocean Ltd. increase its dividend to $4 a share, up from the $2.24 the company plans to pay.
TPG-Axon took aim at SandRidge in November, pointing to poor stock performance and rich executive pay. It also demanded the ouster of Mr. Ward, who founded the company in 2006 after leaving Chesapeake, which he co-founded with Mr. McClendon in 1989.
Generated by readers, the comments included herein do not reflect the views and opinions of Rigzone. All comments are subject to editorial review. Off-topic, inappropriate or insulting comments will be removed.