Norway May Adjust Planning Guidelines for Oil, Gas Projects
by Dow Jones Newswires
|
Kjetil Malkenes Hovland
|
Wednesday, March 13, 2013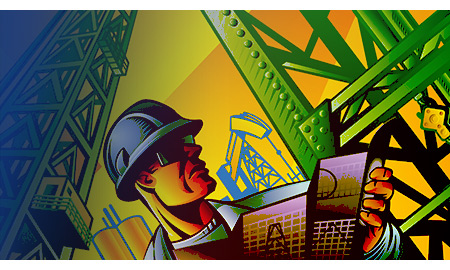 OSLO - Norway will review some oil and gas projects and may change its planning guidelines, the government said Wednesday, after the operator and owner of the unsafe Yme platform agreed to scrap it before it had produced a drop of oil.
The Norwegian Ministry of Petroleum and Energy will ask the country's Petroleum Directorate "to review some bigger development projects that recently have or should have entered production," said ministry state secretary Per Rune Henriksen.
The owner of the Yme platform in the North Sea, Dutch oil service company SBM Offshore NV, said Tuesday it would pay operator Talisman Energy Inc. $470 million to remove Yme, located in the southeastern part of the North Sea. The platform was evacuated last summer when cracks were discovered in its structure. This is the first time in Norway a platform is to be scrapped without producing oil.
The dismantling of Yme platform is an untypical case, but it raises critical issues over the safety and planning of oil and gas projects, and also has serious cost implications for the government. Other recent oil and gas projects in Norway have also been hit by delays, cost overruns and quality concerns.
In total, the 24 ongoing oil and gas developments off Norway are estimated to overrun their initial budgets by 49 billion Norwegian kroner ($8.6 billion), according to the 2013 government budget. The lion's share of the overruns are at the Skarv, Valhall and Yme projects, it said.
The government's revised project cost of the BP PLC-operated Valhall field is now NOK46.7 billion, up 85.7% from BP's initial estimate from 2007. And the Yme project cost was estimated at NOK14.1 billion, up 188.4% from the initial estimate, the government said.
In Norway, oil companies can deduct 78% of their investments from their tax base, which means that the government can incur huge losses in the form of lost tax revenue due to overruns. The government said that in the case of the Yme project taxes would be handled by the appropriate authorities, without giving any figures.
"This is a project that up until now has only had losers. The economic losses have been huge for all the involved parties," said Mr. Henriksen.
The Norwegian government said it may change the planning of oil and gas projects to reduce the risk of repeating past mistakes, but didn't specify what changes it was considering. Such a review would also reduce tax revenue losses.
Based on the directorate's review, the ministry "will consider whether adjustments should be made, for instance in the guidelines for plans for development and operation," said Mr. Henriksen.
Generated by readers, the comments included herein do not reflect the views and opinions of Rigzone. All comments are subject to editorial review. Off-topic, inappropriate or insulting comments will be removed.