Team Hydra Wins BP Ultimate Field Trip
by Jon Mainwaring
|
Rigzone Staff
|
Monday, March 11, 2013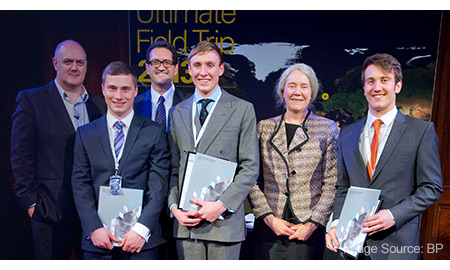 Team Hydra with UK television personality Dara O'Brian (back row, left), BP Head of Group Technology David Eyton (back row, center) and BP Chief Scientist Ellen Williams
(back row, right)
A team of three Strathclyde University students has won a two-week field trip to BP operations in Norway and the Shetland Islands, Scotland, after coming first in this year's BP Ultimate Field Trip competition.
The Ultimate Field Trip – which last year saw another Strathclyde University team travel to BP sites in the Gulf of Mexico and Trinidad & Tobago – is an annual competition open to science, technology and engineering (STEM) students that is designed to encourage interest in the oil and gas sector. Previously only available to students studying at UK universities, the competition has now gone international.
The UK final of the 2013 competition was held Friday at the Royal Institution of Great Britain in London, where Team Hydra – Eric Brown, Hugh McQueen and Theo Scott – impressed BP's judges with its ideas on how to develop a mode of transport that reduces the cost of passenger travel in a particular country. Team Hydra's concept involved a hybrid car that uses plug-in, compressed natural gas and which can be refueled at home.
Brown commented in a statement:
"It's an amazing feeling to win. I'm really proud of our team's achievement. It's definitely a competition I would recommend to other students as it gives you a chance to really show what you're capable of. It's hard work but it's worth it."
BP Head of Graduate Resourcing Emma Judge:
"The UFT competition continues to go from strength to strength. This year a record 1,221 students registered to take part in the UK, and the eventual winners really deserve the great field trip that they will embark upon this summer. We launched the UFT globally this year, adding the US and Trinidad & Tobago to the competition. Watch this space for further international additions to next year's competition."
BP said that students from Team Hydra will begin their field trip in June 2013 for a two-week period along with winning teams from the Ultimate Field Trip's Trinidad & Tobago and U.S. competitions. They will visit BP's onshore control room at Stavanger, Norway before spending time at the Sullom Voe oil terminal in Shetland and finally finishing the experience at BP's International Centre of Business & Technology in Surrey, UK.
The winners will also receive Amazon vouchers worth GBP 1000 ($1,490) as well as guaranteed interviews for graduate or internship roles at BP.

Generated by readers, the comments included herein do not reflect the views and opinions of Rigzone. All comments are subject to editorial review. Off-topic, inappropriate or insulting comments will be removed.
RELATED COMPANIES