Germany Debates Fracking as Energy Costs Rise
by Dow Jones Newswires
|
William Boston
|
Friday, March 01, 2013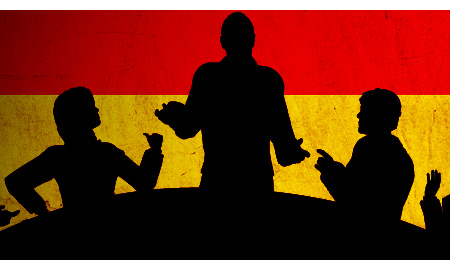 BERLIN - Germany is debating whether to allow hydraulic fracturing, a controversial drilling technique to extract natural gas from shale, amid growing concern that rising energy costs in the country could threaten its industrial backbone.
The German public is deeply suspicious of the drilling practice, commonly known as fracking. Many Germans worry that the process, which involves using a high-pressure mixture of water, sand and chemicals to break apart energy-rich rocks, could contaminate underground water supplies.
This week the government unveiled a proposal that it hopes can bridge the gap between pro-fracking advocates in industry and environmentally conscious voters. Through a change to existing laws, the government is proposing banning fracking near any water supply and in all national parks and conservation areas. Drilling anywhere else would be subject to approval based on an environmental-impact study.
The fracking debate comes as Germany is pursuing a radical restructuring of its energy sector. In the wake of the Fukushima nuclear disaster in Japan in 2011, Chancellor Angela Merkel abruptly declared that Germany would abandon nuclear power and transition to renewable energy sources such as wind and solar. As the use of nuclear power declines, Germany is filling the gap with a combination of renewable energy and coal-fired plants.
Yet Ms. Merkel's "energy revolution," as the shift away from nuclear has been dubbed, is having unexpected side effects.
Subsidies for renewable-energy producers that are financed in part through household electricity bills are causing electricity prices for ordinary consumers and industry to rise. Germany's biggest industrial power consumers have seen electricity prices per kilowatt hour rise nearly 40% in the past five years, according to the Cologne Institute for Economic Research, also known as IW. Electricity prices for industry are nearly 15% higher than the average in the 27-nation European Union, IW said.
"We have reached the pain threshold," said Michael Huther, IW's director. He added that data show that energy-intensive industries are already beginning to curtail investment in Germany because of higher electricity charges.
"We are beginning to observe a creeping disinvestment," he said.
As the country turns its back on nuclear power, it is also seeing its carbon emissions rise. Long a leader in cutting CO2 emissions, Germany's emissions rose 1.6% last year, according to the Environment Ministry, the first rise in years.
It is unclear what immediate impact increased natural-gas supplies would have on German electricity bills. Still, the availability of cheaper natural gas could help avert a large-scale return to coal in 2020. That is the year that Germany will shut down about six nuclear power stations and many of the country's coal-fired power plants will also shut down due to age. A plentiful supply of domestic natural gas could provide a better bridge fuel to replace nuclear power as Germany continues to build its alternative energy supply, say analysts.
If fracking is ultimately banned in Germany, analysts warn that Germany could miss out on a broader European energy boom. Eastern European countries like Poland and Ukraine have large shale deposits and are keen to exploit them.
Experts don't believe Germany has the kind of massive shale-gas deposits that are transforming the U.S. energy market. But there could be enough natural gas trapped underground to meet Germany's gas needs for about 50 years, based on the current rate of gas consumption, at costs below what Germany now pays for imported gas, analysts say.
So far, Ms. Merkel has sided with her wary public, expressing doubts about the viability of fracking in Germany and pledging to allow it only if it can be proven entirely safe. Ms. Merkel is trying to please the broader public, which surveys show is frightened by fracking, while not alienating industry, which is lobbying the government to do something about Germany's soaring energy costs.
"The compromise here is to allow for pilot projects to do testing," said Miranda Schreurs, director of the Berlin-based Environmental Policy Research Center and an adviser to the German government on the issue. "The government is trying to keep the door open for fracking to be able to say that if they do it, it will be safe."
Germany's energy industry welcomed the fact that the government has shied away from an outright ban on any fracking. The government's proposals are a compromise between the environment minister, who initially wanted to ban fracking, and the economy minister, who wants to allow it. Industry sees the compromise as a step that would allow for some testing and which could help determine whether fracking is harmful to the environment.
"Only at the end [of testing] will we be able to judge using all relevant criteria whether this makes sense-economically, environmentally, and regarding its acceptance by society," a spokesman for chemical and energy group BASF AG said. "To do that, we need the framework which is now being established."
Germany's powerful environmental lobby says the government's proposals don't go far enough and demand an outright ban. The opposition Green Party called the government's move a smoke screen. "It's like banning skiing in the Sahara," said Oliver Krischer, a Green Party member of parliament. "An environmental-impact study, which is also embraced by the gas industry, will do little."
Generated by readers, the comments included herein do not reflect the views and opinions of Rigzone. All comments are subject to editorial review. Off-topic, inappropriate or insulting comments will be removed.