Anadarko Sets Capital Spending for 2013 at Up to $7.6B
by Dow Jones Newswires
|
Ben Fox Rubin
|
Wednesday, February 20, 2013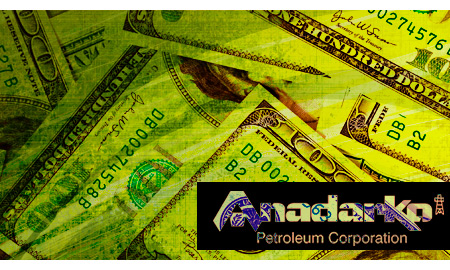 Anadarko Petroleum Corp. unveiled capital spending plans for 2013 at $7.2 billion to $7.6 billion, as the energy producer seeks to put more funds into U.S. onshore and Gulf of Mexico projects.
The spending program is sharply higher than 2012's budget projections of $6.6 billion to $6.9 billion, which were disclosed last March.
"Following our highly successful 2012 exploration program where we nearly doubled our original targeted resources, we plan to be among the most active deepwater explorers in the world again in 2013," Chief Executive Al Walker said. "We expect to drill approximately 25 deepwater exploration and appraisal wells this year, including high-potential prospects in the Gulf of Mexico and three potentially play-opening international opportunities."
Anadarko plans to allocate most of its spending to U.S. onshore projects, accounting for 60% of the total budget, up from the 55% estimated for 2012. The company expects to increase U.S. onshore sales volumes by approximately 10% over last year, increasing sales of higher-margin oil volumes by approximately 30,000 barrels per day.
Gulf of Mexico projects are expected to take up 15% of the budget, up from 10% slated for 2012.
International projects should account for 15% of spending, down from the 25% set for last year.
Midstream and other spending will be 10%, the same level set for 2012.
Anadarko's operations in shale fields such as the Eagle Ford in south Texas and the Wattenburg in northeast Colorado have driven higher production in recent quarters. The company has also had a string of exploration successes off the coast of Mozambique.
The company this month said it swung to a fourth-quarter profit, compared with a prior year hit by charges tied to the 2010 Deepwater Horizon oil spill, though revenue declined as energy prices fell.
Generated by readers, the comments included herein do not reflect the views and opinions of Rigzone. All comments are subject to editorial review. Off-topic, inappropriate or insulting comments will be removed.
RELATED COMPANIES