Obama 'Will Keep Cutting' O&G Red Tape
by Rigzone Staff
|
Karen Boman & Jon Mainwaring
|
Wednesday, February 13, 2013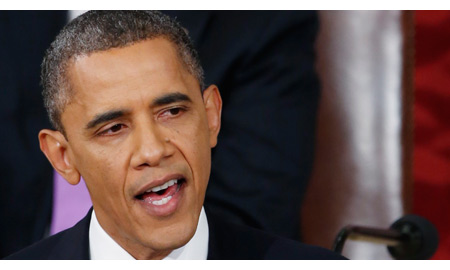 In his State of the Union address Tuesday night President Obama pledged to keep cutting red tape in the energy sector and to speed up new oil and gas permits, while also announcing the launch of a new oil and gas sector-funded Energy Security Trust aimed at developing technologies to help wean U.S. vehicles off oil.
President Obama noted that the recent U.S. boom in natural gas had led to cleaner power and greater energy independence.
"That's why my Administration will keep cutting red tape and speeding up new oil and gas permits. But I also want to work with this Congress to encourage the research and technology that helps natural gas burn even cleaner and protects our air and water," Obama said.
American Petroleum Institute (API) President and CEO Jack Gerard welcomed the president's call for more investment in domestic oil and natural gas resources, noting that more development will create jobs and help the United States become an energy superpower.
"President Obama recognized the oil and natural gas industry as a robust economic engine that is investing in American jobs, generating billions of dollars for the government each year, and making our country more energy secure," Gerard commented in a statement Tuesday.
But Gerard noted that 83 percent of federally controlled land and offshore areas in the United States remain off-limits to oil and natural gas development.
To encourage further domestic oil and gas resource development, the president must follow through with implementing a national energy policy, lifting existing restrictions in support of responsible development of our vast energy resources, approving the Keystone XL pipeline, and "standing up against unnecessary and burdensome regulations that chill economic growth."
Energy industry group Western Energy Alliance (WEA) was critical of Obama's address, saying the president was taking credit for the United States' improved energy profile while promising more policies that will continue to counteract his stated goals.
The group also called on Obama to allow the responsible development of oil and gas on federal lands, which would simultaneously create the jobs and energy the nation needs while protecting the environment. WEA President Tim Wigley pointed out that oil and gas companies already deliver 18 percent of U.S. oil and 26 percent of U.S. gas production while disturbing .07 percent of federal lands.
"Time and time again President Obama says the right things publicly when he talks about our nation's energy and economic potential," Wigley commented. "However, while touting the success of increased oil and natural gas production in America, he continues to ignore the fact that those increases are almost exclusively on state and private lands, and that federal lands are not keeping pace."
Barclays Capital views the president's commentary – which included an allusion to an energy trust, support for oil and gas drilling permits, and potential for government-directed investment in modern pipelines and research and development overseen by the Department of Defense and Department of Energy – as positive for further development of the nation's hydrocarbon resources, particularly natural gas due to its low carbon and abundant care, said Barclays analyst James C. West.
The president spent little time discussing geopolitical threats in his speech, underscoring an ambitious second-term domestic agenda and waning public support for foreign intervention.
The president's speech also avoided mention of changes in tax provisions for oil and gas companies such as intangible drilling credits, which Obama has threatened to repeal. The plan to set up an Energy Security Trust to redirect oil and gas revenues into alternatives research "comes as no surprise, given the administration's pre-existing alternative energy focus," according to an analyst research note from TPH Energy Research.
While the president cited low natural gas prices as the reason for lower energy bills, he called for more investment in alternative fuels, including the divertment of oil and gas tax revenues to fund transportation fuel alternatives, said GlobalData's Global Director of Energy Resources and Consulting Matt Jurecky in a Wednesday statement.
Jurecky noted that major issues related to the oil and gas industry such as progressing hydraulic fracturing regulation, approval of the Keystone XL pipeline, and U.S. liquefied natural gas (LNG) exports, went unmentioned in the address.
"An absence of these issues from the administration's agenda and their lack of priority mean that the private sector will be required to continue leading the charge on replacing crude imports from unfriendly nations, advancing safer drilling of unconventional reservoirs, and creating a mega-industry in natural gas," Jurecky commented.
Generated by readers, the comments included herein do not reflect the views and opinions of Rigzone. All comments are subject to editorial review. Off-topic, inappropriate or insulting comments will be removed.