Gulf of Mexico Poised to Remain Strong in Coming Years
by Robin Dupre
|
Rigzone Staff
|
Monday, February 18, 2013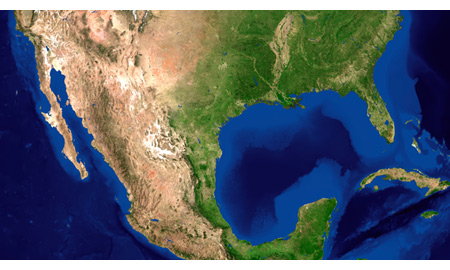 The Gulf of Mexico (GOM), one of the major petroleum-producing areas of the world, is in the early stages of an extended growth cycle and is poised to remain one of the strongest offshore markets in the world in terms of deepwater activity. Overall, rig count and exploration and production (E&P) activities are at pre-Macondo levels and look to continue on an incline for the next couple of years.
Over the years, GOM has developed into an area with an extensive installed operational infrastructure housing more than 3,275 platforms, 669 subsea units including 503 subsea satellite template wells and 6,855 pipelines, according to data compiled by Infield energy analysts.
"The Gulf of Mexico remains one of the most geologically attractive areas," stated James West, lead oil service and drilling analyst for Barclays Capital, in a Rigzone exclusive interview. "It's also located in a fiscally and politically stable region of the world. In addition, companies have all made strong exploration success in recent quarters in the Gulf."
"There is a lot of momentum in the future and we will continue to see an increase in the level of activity," West said.
Rigs Reach Record Highs
"Clearly, the Gulf of Mexico is expanding very rapidly," he added. "Perhaps the fastest growing deepwater market in the world today and one that we think will grow into 2014."
Specifically, the rig count for deepwater rigs is forecasted to be the highest it has been in five years and even higher in 2013. The overall floater fleet is set to expand by 31 percent with the current pipeline, while the jackup fleet will expand by 18 percent, according to an analysis conducted by Tudor, Pickering, Holt & Co.
"We are looking at announced contracts in 2013 and 2014 for rigs that will come into the Gulf of Mexico, which should be in the 45-50 deepwater range until 2014," stated West. "And we do think there will be more on top of that."
In the first half of this year, the Gulf of Mexico is expected to have 46 competitive rigs with this number projected to increase by mid-2014 to just over 50 competitive deepwater units, according to Rigzone's RigLogix Database.
Last year, eight newbuild floaters entered the Gulf of Mexico with another eight expected to enter in 2013.Thus far, five newbuild floaters are forecasted to enter the 2014 GOM market with only one new unit projected for 2015 thus far.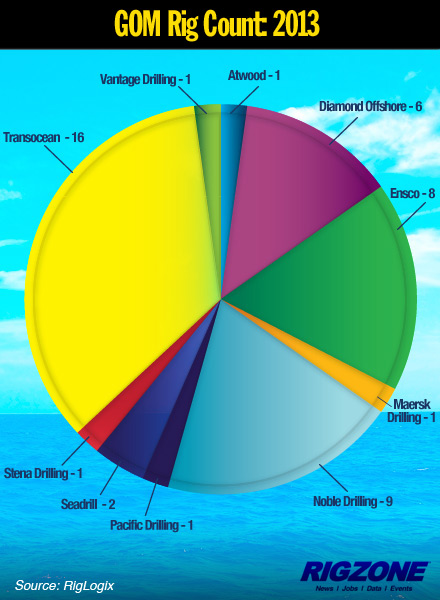 Information reflects data until October 2013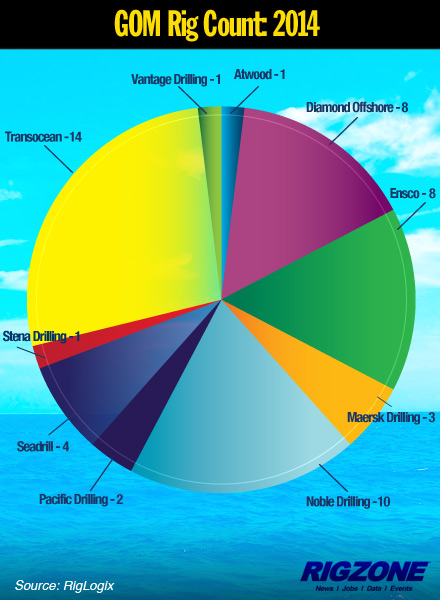 Information reflects data until mid-2014
GOM Investments Set to Peak
Additionally, development drilling activity is expected to reach a new peak in 2013, which will then likely be superseded in the following two years, according to a Wood Mackenzie report. Investment levels in 2012 were expected to equal the pre-Macondo peak and push well beyond it in 2013; this is largely in part due to major commitments to fields such as Atlantis, Mad Dog, Bigfoot, Hadrian and Thunder Horse.
"The moratorium and exodus of several mobile offshore drilling units from deepwater GOM in 2010 sharply hindered drilling activity through 2011, but it has rebounded very well in 2012," explained GOM Analyst for Upstream Research at Wood Mackenzie Lauren Payne said in a report. "We expect this trend to continue, driven primarily by development drilling as operators seek to boost production levels and bring new projects on stream."
In 2012, federal regulators have issued the most permits for deepwater drilling in the Gulf of Mexico since 2007, according to data from the Bureau of Safety and Environmental Enforcement. Additionally, the government issued 90 new drilling permits for wells deeper than 500 feet – more than the last two years combined and more than each of the two years before the Deepwater Horizon incident. Overall, the agency has approved 332 deepwater permit applications where subsea containment is required since February 2011.
GOM offshore capital expenditure is set to increase from $9 billion in 2011 to over $12.5 billion per annum by 2015, energy analysts Infield Systems forecasted in "The US Gulf of Mexico Oil & Gas Infrastructure & Integrity Map to 2017" report. Deepwater activity is expected to account for over 76 percent of total North American offshore infrastructure investment until 2015, with pipelines, subsea equipment and floating platforms forecasted to assume 94 percent of this spending.
In the longer-term, major project developments, including the installation of a forecasted 13 floating platforms (five TLPs, five semisubs, and three Spars) by 2016 will provide the additional capacity required to push GOM crude production above and beyond its 2010 record, Infield Systems added.
The U.S. Energy Information Administration (EIA) expects GOM production to increase to an average of 1.37 million barrels of oil per day in 2013. Much of that increase is due to the new projects that started production in 2012 but did not reach peak production until early 2013.
Specifically, over the next five years, a forecasted 49 deepwater fields are expected to come online in the Gulf of Mexico – the majority of which are expected to consist of subsea tiebacks to existing fixed and floating platforms. Wood Mackenzie emphasizes that over $20 billion will be spent drilling development wells for onstream projects alone through 2015.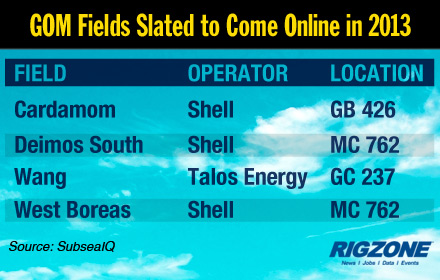 Furthermore, in terms of reserve additions, the Jack and St. Malo joint hub development located in the Walker Ridge area, places Chevron as the leading ultra-deepwater operator, reported Infield. The development, located at water depths of 6,965 and 6,890 feet, is expected to come online in 2017.
Since October 2012, 55 wells have been cleared for drilling with the top three operators working in the Gulf being Chevron, Shell and BHP. In December 2011, the administration held its first offshore auction since the BP oil spill, granting leases for more than 20 million acres in federal waters. The leases are worth more than $330 million to the federal government with the potential to produce 400 million barrels of oil.
ConocoPhillips was the highest bidder in Western Lease Sale 218, offering $103.2 million for the Keathley Canyon Block 95, which lies next to BP's Tiber discovery in a water depth of 4,155 feet. The company's offer was higher than offers made for the same block by six other companies, including BP, Royal Dutch Shell and a subsidiary of A.P. Moller-Maersk, according to the Bureau of Ocean Energy Management.
ConocoPhillips was the highest bidder on 75 blocks in Central GOM Lease Sale 218, the most for any company, and had the most in bonus bids, $157,816,740.
The Department of Interior recently announced plans for the Administration's Central GOM Lease Sale 227, which is the second Central Lease sale since the Deepwater Horizon Incident. This lease sale, offering 38.6 million acres offshore Louisiana, Mississippi and Alabama, will be held at the Mercedes-Benz Superdome in New Orleans March 20 and includes all un-leased areas in the Central Gulf of Mexico Planning Area. The next Western planning area lease sale, Western GOM Lease Sale 233, will also be held in 2013.
Generated by readers, the comments included herein do not reflect the views and opinions of Rigzone. All comments are subject to editorial review. Off-topic, inappropriate or insulting comments will be removed.
For More Information on the Offshore Rig Fleet:
RigLogix can provide the information that you need about the offshore rig fleet, whether you need utilization and industry trends or detailed reports on future rig contracts. Subscribing to RigLogix will allow you to access dozens of prebuilt reports and build your own custom reports using hundreds of available data columns. For more information about a RigLogix subscription, visit
www.riglogix.com
.