Pickens: Lack of Govt Leadership 'Missing Link' in O&G Development
by Karen Boman
|
Rigzone Staff
|
Friday, February 08, 2013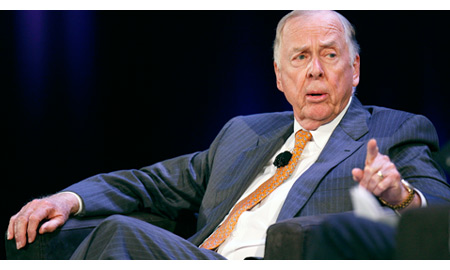 A decade ago, energy industry veteran T. Boone Pickens struggled with the speeches he gave on U.S. college campuses, hesitant to tell students whether or not they had picked the right career by going into oil and gas.
When he spoke at Southern Methodist University six months ago, Pickens felt confident he could tell his audience of petroleum engineering and geology students that they had picked the right career.
"I didn't know where the industry was headed as we were starting to grind down on drillable prospects," Pickens said of his previous doubts at the North America Prospect Expo (NAPE) Winter Expo Thursday in Houston.
But the North American unconventional and tight sand boom changed the industry's future.
However, Pickens views lack of leadership at the federal government level as the missing link in the United States fully developing its resources and weaning its dependence on oil imports from the Organization of Petroleum Exporting Countries (OPEC).
Pickens was shocked by the fact that neither President Barack Obama nor former Republican presidential candidate Mitt Romney credited the U.S. oil and gas industry's efforts for the cheap energy prices the United States enjoys versus other countries. Pickens, who advised Romney during his campaign, said both candidates seemed afraid to associate themselves with oil and gas.
"Now the president is saying that the industry makes enough and that rich people don't pay their fair share of taxes," Pickens commented on Obama's calls to eliminate oil and gas tax provisions such as intangible drilling credits.
Pickens noted that he paid $665 million in taxes and gave away over $1 billion from ages 70 to 84. But in a three-part interview for CNN, the section about how much Pickens has paid in taxes was edited, Pickens commented, noting that it "didn't fit with what they wanted to feed the public."
As with the media, the oil and gas industry also does not get much help from Washington. Pickens questioned whether he had accomplished anything with his efforts to act as a champion for the industry and his advocacy of switching the U.S. heavy duty truck fleet from diesel to natural gas. If the U.S. heavy duty diesel truck fleet was converted overnight, it would save three million barrels of oil, or reduce imports by two-thirds.
"With all their talk of green and cutting coal fired plants, it comes down to the fact that they really don't like anything that's fossil," said Pickens, adding that he found it unbelievable that the federal government would not support development of additional oil and gas resources.
Pickens also criticized lack of leadership on energy policy decisions, noting that somebody who calls for study after study doesn't want to make a decision.
"When you see somebody who doesn't want to make a decision, it's probably because they're in a position they shouldn't be in."
However, Pickens acknowledged that some of the biggest mistakes he made occurred when he decided to do something too quickly. Pickens, who spent 40 years as CEO of Mesa Petroleum, said he'd made good decisions, bad decisions, and some he wished had been rained out. These mistakes include not believing natural gas prices would plummet and not anticipating the shale and tight sands plays.
But he also said he'd made a lot of money, most of that after 1996, when he founded BP Capital.
"Some decision- makers hesitate because they don't want to make mistakes," Pickens commented, relating a story from childhood about his grandmother saying he would have to "sit on his own bottom" sooner or later, or take responsibility for his actions.
"You should analyze carefully, but don't hesitate to pull the trigger."
Additionally, Pickens said he supports liquefied natural gas (LNG) exports from the United States, criticizing Dow Chemical and Koch industries for wanting to block LNG exports to keep domestic natural gas prices low and cheap manufacturing feedstock available.
"If you go out and risk your money, you should be allowed to sell the gas into any market you want."
But he also supports increasing opportunities to use natural gas at home.
Pickens also called into question the need for the Strategic Petroleum Reserves, which currently contains 750 million barrels.

"Nobody has questioned me on it," Pickens commented, adding that nobody can have a five-minute conservation in Washington on energy. "After three minutes, you run out of everything they know."
With four U.S. aircraft carriers in the Middle East and $2 trillion in funds spent by the United States since the first Iraqi war in the Middle East, Pickens questioned why the United States continued to put its soldiers at risk for the 2 million barrels of oil per day (MMbopd) destined for the United States out of the 17 MMbopd that flows through the Strait of Hormuz.
"When we buy OPEC oil, we're paying money to the Taliban. They'll hate you and burn your flag and you'll get absolutely nothing out of the campaigns," Pickens commented.
Instead, Pickens advised the United States should join forces with Mexico and Canada to make up the 2 MMbopd in production.
Pickens, who likes to see younger workers given a chance to prove themselves and employed a young workforce at Mesa, wishes he could go back and experience the energy industry again with the opportunities that the shale plays bring to the table. But he also sees no reason to step aside and let someone younger take the reins.
"I see opportunity in America in terms of a feed trough in a feed lot that is infinite in length. You don't have to wait for someone else to finish. All you have to do is get up to the feed trough."
Generated by readers, the comments included herein do not reflect the views and opinions of Rigzone. All comments are subject to editorial review. Off-topic, inappropriate or insulting comments will be removed.