DOI: 38 Million Acres in Gulf of Mexico Up for Grabs
|
Thursday, February 07, 2013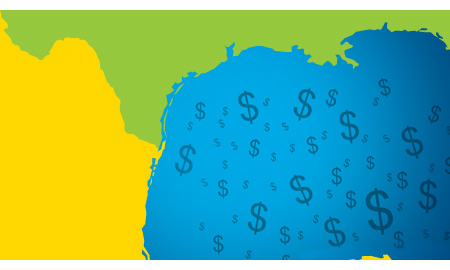 To follow through with President Obama's all-of-the-above energy strategy to expand domestic energy production, the U.S. Department of the Interior announced that the upcoming Central Gulf of Mexico Lease Sale 227 will offer 38.6 million acres offshore Louisiana, Mississippi and Alabama for oil and gas exploration and development.
The Interior stated that this lease sale could lead to the production of nearly one billion barrels of oil and almost 4 trillion cubic feet of natural gas.
"The Obama Administration is fully committed to developing our domestic energy resources to create jobs, foster economic opportunities, and reduce America's dependence on foreign oil," said Secretary of the Interior Ken Salazar in a released statement. "Exploration and development of the Gulf of Mexico's vital energy resources will continue to help power our nation and drive our economy."
The lease sale will be held at the Mercedes-Benz Superdome in New Orleans March 20 and includes all un-leased areas in the Central Gulf of Mexico Planning Area. The Administration created a new outer Continental Shelf Oil and Gas Leasing Program for 2012-2017, and this lease sale marks the second sale under the administration and the first of five central Gulf of Mexico lease sales that will be held under the new program.
"We are seeing a very positive trend for the offshore industry in the Gulf of Mexico, and we look forward to Central Gulf sale 227," said National Ocean Industries Association (NOIA) President Randall Luthi. "It should provide a more accurate barometer of industry's interest in the region than the last Central Gulf sale, which was delayed for over a year and saw pent-up industry interest on display."
BOEM estimates the lease sale, which includes 7,299 blocks in water depths of more than 11,115 feet, could result in the production of 0.46 billion to 0.89 billion barrels of oil, and 1.9 trillion cubic feet to 3.9 trillion cubic feet of natural gas.
"Lease sales such as this are a good reminder that offshore oil and natural gas are a vital part of an 'all of the above' energy strategy," added Luthi.
Generated by readers, the comments included herein do not reflect the views and opinions of Rigzone. All comments are subject to editorial review. Off-topic, inappropriate or insulting comments will be removed.
RELATED COMPANIES
Company: US Department of the Interior
more info