Big Oilfield-Services Companies Are Poised for a Reawakening
by Dow Jones Newswires
|
Alison Sider
|
Wednesday, February 06, 2013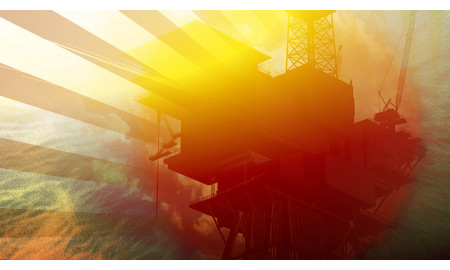 HOUSTON - Oilfield services companies had reasons to celebrate throughout the North American drilling boom, then spent much of last year hung over amid stalling U.S. profit margins. Now analysts say a more-muted party could resume as the companies have adapted to new circumstances.
Last year, Schlumberger Ltd., Halliburton Co. and Baker Hughes Inc. were challenged by an oversupplied market for fracking services, a pullback in drilling by producers nervous about commodity prices, and the high cost of some materials.
This year, though, analysts consider these companies are poised for take-off, having grown their businesses offshore and in strong international markets and anticipating that there will be at least some rebound in North America operations. The reason is that domestic exploration and production companies may have pulled back too much at the end of last year, and might have to ramp up drilling to hold on to precious shale acreage in early 2013. Also, rigs are becoming more efficient, allowing more wells to come online that need to be fracked and completed, padding the profits of these large oilfield-services companies.
"The stars are finally aligning both from a macro and fundamental perspective such that you do want to buy the bottoming expectations," said Mike Urban, an analyst with Deutsche Bank. "I think you want to be involved now," Mr. Urban said.
Investors have noticed the potential. So far this year, Schlumberger, the largest global oilfield-services company, is up 13% to $78.47, and runner-up Halliburton is up about 16% to $40.91. Analysts with BMO Capital Markets see room to grow: they have set target prices of $52 for Halliburton and $85 for Schlumberger. Most analysts surveyed by FactSet have buy ratings on these two companies. The view is more mixed on Baker Hughes, the smallest of these three companies. Shares are up more than 9% this year to $44.98, but the company has less international exposure than peers and lagged behind in making the shift from gas to oil drilling in North America last year. BMO analysts give it a target price of $43.
Kyle Wade, a partner with Copia Capital LLC in Chicago, said some investors who had been wary are rushing to buy back into these companies before they become too expensive. "When you look at Schlumberger and Halliburton, that's clearly where people are afraid they're going to miss the cycle," Mr. Wade said. "You've got actual panicked buying" by some funds, he said.
To be sure, the upward path might be long and rocky. All three of the largest oilfield-services companies reported that their profits were down in the fourth quarter from a year earlier. Schlumberger and Baker Hughes said in earnings calls last month that the U.S. onshore market for pressure pumping services, which allow oil and gas producers to fracture tight rock formations by injecting high-pressure jets of water and chemicals, remains oversupplied.
Baker Hughes chief executive Martin Craighead told analysts that the U.S. market has 20% to 25% "too much horsepower," which translates into 125 fracking fleets that are idle or underutilized. Another 300 rigs would have to come back online to get those fleets fully utilized, Mr. Craighead said. Schlumberger, which had previously been insulated from the troubled North American market by its international operations, reported a 3.7% decline in net income.
Sandy Pomeroy, a portfolio manager at Neuberger Berman, said she doesn't think the oilfield-services market will have much in the way of momentum until natural-gas prices reach $4 per million British thermal units. Natural-gas futures recently traded at $3.30 per million BTUs, and haven't risen above $4 since 2011. When the supply glut dries up, Ms. Pomeroy said exploration and production companies will eventually start spending again to levels that would spur oilfield-services companies' revenue and profits, she said, but not soon enough.
"That's on the horizon, but not the investible horizon from my perspective," Ms. Pomeroy said.
However, the companies have predicted some recovery in the first quarter as exploration and production companies start fresh in the new year and ramp up from self-imposed fiscal discipline in the final months of 2012. Halliburton chief executive Dave Lesar said he was calling the bottom for North American margins in the fourth quarter, and Schlumberger said last week that it anticipates 100 to 150 rigs will come online in North America in the first quarter.
Bill Herbert, an analyst with Simmons investment bank, said the North American market is in the process of hitting its bottom.
"It is our belief that in the second half of the year, North American margins are in structural recovery mode," Mr. Herbert said. Though the timing of a pickup in the rig count is unclear, Mr. Herbert said prices for services will hit a bottom by the second quarter of this year.
Also, international and deep-water markets are picking up the slack, with high global oil prices and new projects able to go forward because of government go-aheads and availability of new drilling rigs. The companies that have traditionally worked mostly in onshore North America are working to grow their presence in other parts of the world. Halliburton, the largest provider of fracking services in North America, reported that its international revenue jumped 12% from the third quarter to the fourth.
"International on the margin looks a bit better than what people thought regarding outlook," Mr. Herbert said , with exploration and production companies planning double-digit percentage increases in spending outside the U.S. "As long as the macro economy appears relatively constructive, you've got to think about getting in now."
Generated by readers, the comments included herein do not reflect the views and opinions of Rigzone. All comments are subject to editorial review. Off-topic, inappropriate or insulting comments will be removed.